After New York and London Fashion Weeks last week it was Milan's turn. The city of Donatella Versace, Giorgio Armani and Miuccia Prada; the city of bling, expertly tailored suits and fashion items. Where as the look for this coming summer in Milan was dominated by a fairly nude bohemian vibe, the picture for autumn-winter is reversed.
1. Teddy Coat
Wide and fluffy, the teddy coat is one to curl up into. The most literal version of the coat was spotted at Moschino, complete with cuddly ears. But there were also variations of the teddy bear coat seen at Versace, Emporio Armani, Gucci, Etro and Bally.
Bally - Moschino
2. Fluffy Shoes
There was a lot of attention paid to accessories in Milan, which is a no brainer since the accessories such as shoes, bags and sunglasses bring in the most revenue for the majority of higher end fashion labels. This season in Milan high boots and long gloves were all the rage. The gloves were beautifully paired with short sleeves at Prada, but most striking of all accessories seen on the catwalk was the flurry shoes. Who would have thought that shoes inspired by Star Wars' Chewbacca would become a hit?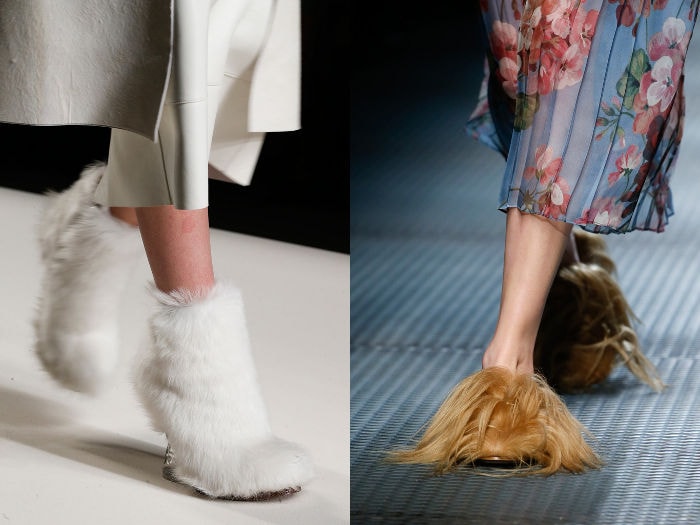 Fendi - Gucci
3. Structured
Directly opposite to the soft, fluffy image of the teddy coat described above, comes a more structured look with architectural jackets and skirts parading the runways. Karl Lagerfeld found inspiration in the new headquarters of Fendi, whilst Consuelo Castiglioni for Marni had a strong Amazonian in mind when designing the collection.
Fendi - Marni - Prada
4. Playful
Fashion is a serious industry, but that does not mean that there is no room for humor and lightness on the catwalk. Since Jeremy Scott took over the creative helm at Moschino, the shows have become a happy culmination of Milan Fashion Week. Donatella Versace took branding through social media as a starting point and then added a cheerful wink to it. Dolce & Gabbana put 'la mama' at the center of it's collection and used applications and playful children's prints on their designs.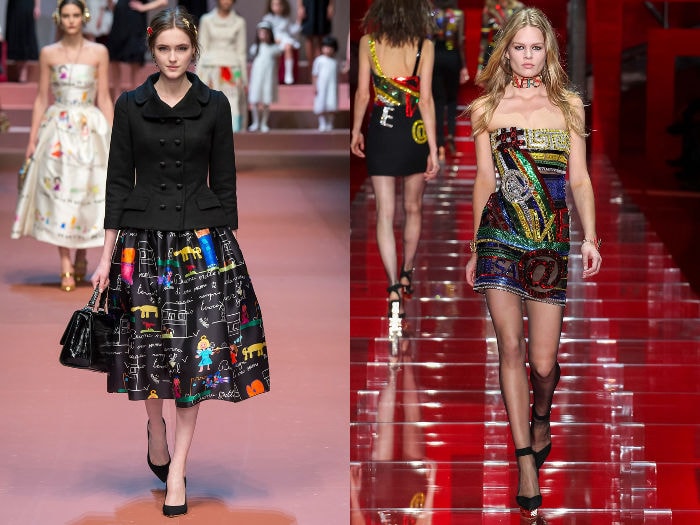 Dolce & Gabbana - Versace
5. Sweaters
The oversized sweater remains indestructible, and although the winters are warmer, thanks our internal heating systems and temperature regulators, the appeal of the detailed, spacious knits is still irresistible.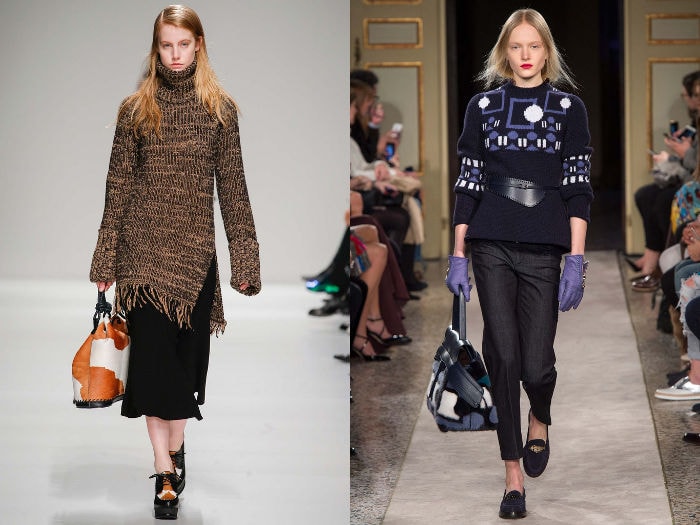 Sportmax - Tod's
Photos: Style.com