There rarely is a book that, upon turning its last page, you want to read again. "Autobiography of a Wardrobe" by American author Elizabeth Kendall is just such a book especially if you are interested in fashion. The book takes the reader on a tour of the fashion of the 1950s through 1980s, just by-the-way telling the coming-of-age story of a girl. The narrator? Her wardrobe. An interesting, fun and thought-provoking read? You bet.
In fact, the girl and der development are so secondary, that we simple get to know her by the initial "B", which is short for body. Because for a wardrobe, all that matters is a body to dress. Which is not to say that B and the wardrobe do not grow close in the end but what really matters are the clothes - saddle shoes, camp shorts, girdles, bell-bottoms - an endless array of changing fashions.
"Wardrobes start out like children, without conscious identity. ... I came into being in the last moments of that two-centuries-old institution called Childhood, in which everything was ironed: collars, sashes, sailor suits", remembers B.'s wardrobe in the opening pages of the book.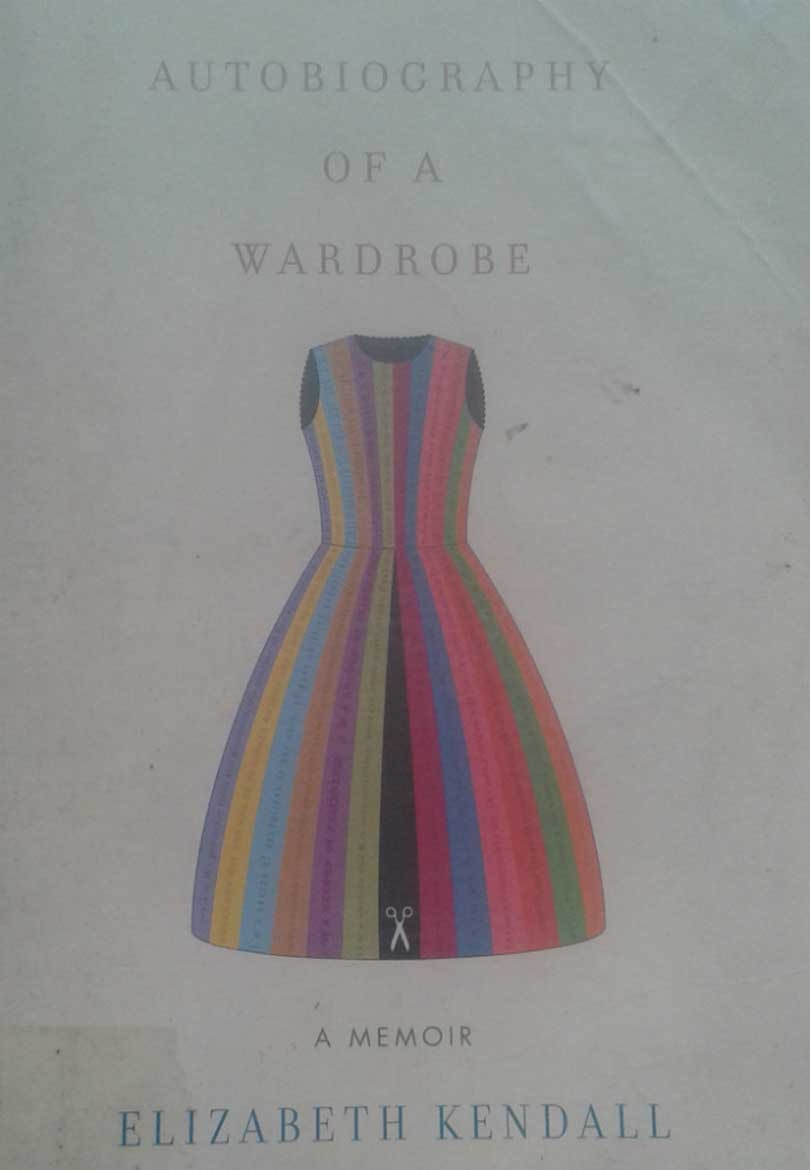 From B.'s five-year-old self (daffodil-yellow pinafore, white blouse with puffed sleeves, red party shoes), the journey of clothes continues with a reddish Jantzen swimsuit, a dark blue cotton-printed Lanz dress with black curlicues that matched her mother's, a ballet skirt, dungarees for riding and finally a sleeveless red coral dress with a dropped waist and white piping when she is twelve, illustrating not only B.'s fashion sense but also her real-life adventures.

Puberty comes as a shock with before unknown female undergarments: girdles, stockings, and yes, bras. "The biggest mark against these dresses was, in My opinion, this rubbery armor needed under them, which brought discomfort and shame in its wake", finds the wardrobe, citing training bras, girdles and a stiff half-crinoline as proof for the subjugation of the developing female body.

In the '60s, B. is an adult and enjoys all the fashion pleasures of the time: A-line dresses, high-cut leather pumps, Jacqueline Kennedy-inspired style and shopping at Saks Fifth Avenue. When B. has to go for a funeral in 1969 (her mother's), she discovered she has nothing black to wear. "No black in a female wardrobe - that's hard to believe. Back then it was normal. Pastels dominated most female wardrobes. The masses of black in women's closets would come later", explains the wardrobe.

College time brings travel to New York, Germany and France and exposure to a whole new set of wardrobes and styles - and the '70s with mint green corduroy pants, army coats, blue-and-brown strriped denim bell-bottoms, hiking boots, red overalls and half-moon skirts.

The journey ends in the '80s: "My autobiography is coming to an end, since at this point, I'm on the verge of becoming Myself. B. is almost thirty," explains the wardrobe. The reader is left with questions about their own relationship to their body and wardrobe to ponder - do the clothes we wear define us or do we define the clothes? Is our choosing a particular style indeed a free choice or one influenced by the styles and meaning-makers ("influencers") of the time?

"Autobiograpy of a Wardrobe", published in 2008, is as much coming-of-age story as it as a journey through the fashion of the Midwest in the '50s to Bohemian New York in the '70s and '80s. Not to forget an exploration of the stores and brands of the time - Margaret Jerrold, Abercrombies, Design Research, Marimekko, Biba, The North Face, Charivari and others - a list of which Kendall kindly provides at the end.

New York City-based Kendall is the author of "Where She Danced", "The Runaway Bride" (also a major motion picture) and "American Daughter", and her work has appeared in The New Yorker and The New York Times, among other periodicals.

The last words of her book will strike a chord not only in the fashion world: "Don't forget: We wardrobes exist, in the end, so that Our bodies can forget Us, so that they can plunge into the world, showing themselves as they wish to be seen, taking in (unimpeded by shame or discomfort) whatever of the world's offering come their way."

Photos: Rainer Sturm/pixelio.de ; FashionUnited