Retail
Herve Dewintre

|
PARIS Ian Rogers, like all Silicon Valley insiders, looks like an eternal teenager. Even when he is wearing a bespoke suit, this Indiana-born native continues to resemble a computer whiz kid, a hip-hop and punk rock aficionado, who travelled long distances to Ann Arbor so he could freely use his skateboard far away from the hostile looks of the people of Gosers, the small industrial town of 20,000 inhabitants where he was born. I was surprised to learn that Ian Rogers is over 40 years old. His tattoos show the smiling face of Sly Stone, the NeXT logo (the computer company founded by Steve Jobs in 1985) and the names of his two daughters. He stands out among the group of top executives of LVHM, and his CV does as well. In 1993, long before iTunes, he founded one of the first online music sites, totally dedicated to the work of the Beastie Boys. At the time, there were very few people who had heard of the "world wide web".
In the decades that followed Ian Rogers became the oracle of a hesitant music industry with a new model based on "pay-what-you-like". According to him it's common sense to facilitate access to music ("the fans are ready to pay"), while the big players used evil software and stillbirths to invent sophisticated complications to curb the climb of digital and the decline in physical sales of the Compact Disk. (Do you remember cd's?). Was he wrong or was he right? There is no denying that the music industry has suffered from this digital transition, but Ian Rogers is convinced that digital, far from killing off music, will ultimately be a creator of value for the industry. "When I was CEO of Topsin (a company that helps artists interact directly with their listeners) the Pixies, for example, used the company's software to collect fans' email addresses, identify them by postcode and organize an entire tour by playing at cities previously overlooked by the promoters. It was a gigantic innovation for the artists," he says.
A positive attitude, a vast experience, the ability to handle contradictions and to understand the friction that comes with revolution: itś understandable that companies like Yahoo, then Beats Music (founded by Dr Dre) then Apple and now LVMH wanted to get hold of this talent. Since October 2015, Ian Rogers is digital chief officer of the powerful French luxury group LVMH. Bernard Arnault, advised by his son Alexandre, took on recruiting Rogers himself. Rogers is now responsible for the digital transition of LVMH's70 independent brands, each with a strong identity, 6 universes - from fashion to leather goods, to perfumes, jewelry, selective distribution, wines and spirits.
"At the time of infinite choice, it is the quality of the products that makes all the difference"
One of the first visible results was the launch last June of the platform 24Sevres.com which brings together most of the LVMH group's leading brands as well as iconic department store Le Bon Marché. The platform - led by Eric Goguey - distinguishes itself by editorial quality, merchandising, its exclusive collaborations, and services where video chat and personal shopper intermingle. It's a flash of brilliance that is only the tip of the iceberg. Ian Rogers is already looking further. He is at the forefront of the transformations that await the profession. During the second edition of the Viva Technology fair held last June at the Paris Nord Villepinte Exhibition Centre, Emmanuel Macron listened with obvious pleasure to the explanations of the chief digital officer concerning the various startups that participated in the LVMH Innovation Award. The winner was a deep learning company capable of producing software linking social networks and e-merchants.
This privileged contact with the new guard does not seem to have stunned Ian Rogers too much, nor crumbled his common sense. To define his vision of the future, he also turns to history and the upheavals that have marked the great saga of humanity. "Progress always has two sides. When you are given a brick, you can break windows or build houses. The Internet has brought about a fundamental change in the way we communicate, learn, are entertained and consume. It is a real cultural revolution and this inevitably causes tension". From disorder comes progress? "Today we have unlimited access to knowledge. It has changed our relationship to the world, but it also presents challenges to our political systems. Brexit or the election of Donald Trump, for example, are probably also correlated with the Internet. But on the other hand, we have an ocean of unprecedented and stimulating possibilities open to us, like augmented reality for example; we are only at the very beginning".
Why did the net take so long to seduce iconic fashion firms? "There was an Internet bubble in the late 1990s, but this was not because the promise of the Internet was false. It lacked two essential bricks for innovation to meet its audience: the smartphone and mobile broadband networks. If we could make a comparison, I would say that we are in a situation of transition, equivalent to that faced by the Lumière brothers: in their time, we knew how to record a sequence of images on tapes of cellulose nitrate, but we didn't know how to project them onto the big screen. Today we have online commerce, but online luxury commerce does not exist yet, it remains to be invented." Time to abandon the marketing of past times? "We have moved from a world where a small group of people held all the referral power to a much more open world that gives everybody access. I find this very positive because, in an era of infinite choice, it is the quality of the products that makes all the difference". Loud and clear.
Written by Hervé Dewintre for FashionUnited.fr
Photo's: LVMH, Viva Technology dr
Danielle Wightman-Stone

|
Luxury conglomerate Kering, parent company to brands including Gucci and Yves Saint Laurent, is partnering with Chinese e-commerce giant Alibaba to combat the sale of fake goods on the platform.
As part of the deal, Kering has agreed to withdraw its lawsuit against Alibaba and affiliate Alipay, which was filed in the US district court in New York in 2015, and instead agreed to work with the Chinese e-commerce platform to safeguard intellectual property rights and fight counterfeiting.
"The new partnership represents a milestone in both parties' investment and efforts to protect brands' intellectual property rights," said the two companies in a joint statement. "The companies have established a joint task force with the purpose of collaborating fully, exchanging useful information, and working closely with law enforcement bodies to take appropriate action against infringers of Kering's brands identified with Alibaba's advanced technology capabilities.
Alibaba has long faced accusations that its platform doesn't do enough to combat the sale of fake goods and it has been working hard to change those perceptions, including forming an anti-counterfeiting alliance with Louis Vuitton earlier this year. The partnership also with brands including Samsung and Swarovski was to use 'big data' and the latest technologies in anti-counterfeiting in its global fight against copies and fakes.
Vivian Hendriksz

|
INTERACTIVE MAP
Retailers and shoppers alike can breathe easy, as fears of a hard Brexit have done little to scare away shoppers. London's New Bond Street has been hailed as one of the world's prime fashion retail destinations, according to CBRE Research's semi-annual Global Prime Retail Rents. West End's New Bond Street prime rental rates grew 39.1 percent during Q1 2017 compared to the same period in 2017, making it the fastest growing prime retail location in the world. And the second most expensive retail location, with rent averaging 1,753 US dollars per square foot per year.
The news map can be found after the next two paragraphs.
New York City remains home to the world's most expensive shopping street, namely Manhattan's Upper 5th Avenue, but London showed the strongest annual rent growth, climbing up the ranking to the second most expensive shopping street, with rent averaging 1,753 US dollars per square foot per year in Q1 2017. London's overall strong retail performance is said to be emblematic of the wider retail strength spotted across Europe, which was the only global region to register rent growth. Retail rents declined in the Americas, driven by weakness along the US Eastern Seaboard. Overseas in Asia Pacific, rents fell, but key cities, notably Hong Kong, rents started to stabilize, according to the report.
FashionUnited has mapped the Fastest-Growing Retail Locations, named by CBRE.
Instructions:Open the menu by clicking the button in the top left of the menu or click on the icons in the map to learn more about the locations and their retail rents.
Tip: For an optimal experience we recommend you view this map in full screen. Hit the button on the top right 'view larger map'.
Don-Alvin Adegeest

|
It was only a matter of time before an app was designed to see if online purchases of luxury goods are authentic or could indeed be counterfeit.
Entrupy, a tech startup, aims to solve any doubts if the Hermes Birkin or Chanel 2.55 you are buying online is the real deal.
The New York-based company recently raised 2.6 million dollars in a Series A funding round as it aims to expand its technology to become an industry standard application.
Founded in 2016, the company's software is used by hundreds of secondhand luxury sellers to authenticate goods where it can charge 10 dollars per authentication.
According to Luxury Daily, Entrupy's technology looks to replace the subjective manual authentication process with one that is less open to human error or uncertainty. Using a device provided by the company, the user scans a product and sends images to Entrupy.
The service will compare the images to a database of millions of microscopic photos and return an answer on the product's authenticity in seconds. The user can also create and share a certificate of authenticity. Entrupy's on-demand solution allows businesses to authenticate anytime, anywhere with our mobile app and portable device.
How does it work?
The software has complex detection algorithms into that allow to analyze various materials ranging from canvas and leather to metal and wood. The Entrupy device that scans the item takes microscopic photographs of different areas and runs them through a computer that uses proprietary algorithms. Authentication accuracy of over 96.4 percent and is steadily increasing, according to Entrupy.
LVMH invited the company to showcase its solution at the conglomerate's Luxury Lab during Viva Technology in 2016, just finished a Series A funding round.
"We are excited about the opportunity this funding gives us to accelerate the development and expansion of our solutions, increasing our ability to reach across product categories and geographies," said Vidyuth Srinivasan, CEO and co-founder of Entrupy. "We look forward to bringing to bear a future where trust is the norm in secondary-market transactions and no consumer gets duped or worse by a fake product."
Entrupy currently offers monthly plans which authenticate Hermes, Chanel, Louis Vuitton, Godard, Dior, Gucci, Fendi, Burberry, Balenciaga and Prada styles.
Photo credit:Entrupy.com
Vivian Hendriksz

|
London - It's the end of an era in fashion retail, as leading Parisian department store Colette, is set to close down its doors for good this year after twenty years of trading.
"As all good things must come to an end, after twenty wonderful years, Colette should be closing its doors on December 20th of this year," read a statement on Colette's website. Founded in 1997 by Colette Roussaux, the Parisian boutique, located at 213 rue Saint-Honoré, has been under the charge of her daughter Sarah Andelman over the past few years.
Colette to close its doors forever after twenty years this December
Part of the concept store's closure has been linked to the impending retirement of Roussaux, "and Colette cannot exist without Colette," added the statement. French fashion house Saint Laurent is already in negotiations with Colette to take over the three-storey 8,000 square foot building.
"We would be proud to have a brand with such a history, with whom we have frequently collaborated, taking over our address," continued the statement from Colette. "We are happy of the serious interest expressed by Saint Laurent in this project, and it could also represent a very good opportunity for our employees."
At the moment it remains unclear as to whether or not the store will continue to operate its e-commerce platform, which accounts for 20 percent of the store's revenue. But the company is adamant that it will continue business as usual until it's last day. "Colette will continue to renew itself each week with exclusive collaborations and offerings, also available on our website colette.fr."
The announcement came as a blow to the industry early Wednesday morning, following news that the iconic concept store had teamed up with H&M Studio to create an exclusive collection for H&M Studio AW17. Employees were informed of the decision early Wednesday morning. The iconic concept store, famous for its blue dot logo, celebrated its 20th anniversary in March at Les Arts Décoratifs. At the time the boutique did not appear to be facing any hardships outside of a drop in tourists numbers, reporting revenues of 28 million euros in 2016.
Colette is best known for its unique collection of curated fashion and lifestyle products. Featuring an eclectic blend of high-end fashion brands and fierce street labels, Colette is celebrated for its beautiful window display, in-store installations, and regular events. Andelman has been praised her willingness to feature up and coming designers, as Colette was one of the first stores to stock collections from Rodarte, Mary Katrantzou and Proenza Schouler.
Colette announces impending store closure
The store will continue to host its series of month-long takeover, starting with Balenciaga from June 16 to August 5 and ending with Saint Laurent from November 27 to December 20. The irony that the French brand is in the lead to take over the store premises has not been lost on some.
In 2013, Colette featured a line of parody t-shirts which read "Ain't Laurent Without Yves", following the passing of the maison's late founder. Saint Laurent reportedly threatened to sue Colette over the t-shirts, with Saint Laurent chief executive Francesca Bellettini accusing Andelman of "selling counterfeit products that 'seriously damaged' the YSL brand and confirming the end of their business relationship."
Andelman responded by pulling the t-shirts from Colette's online store and selling the remainder of them in store, a move which underlines the store's carefree spirit.
Photos: Colette, website
Vivian Hendriksz

|
London - JD Sports has its sights set on expanding in Australia, as the retailer gears up to open its debut store in Sydney. The store opening follows along from JD Sports first Australian store opening in Melbourne and on the Gold Coast, Queensland earlier this year.
Located at Westfield Parramatta shopping centre, the new store is set to span 400 square meters and will offer the British high street retailer's international array of sportswear and lifestyle brands, including Nike, Adidas, Reebok and Lacoste. The store, which is set to open its doors on July 13, will be the first JD Sports store to open in New South Wales, the most populated state in Australia.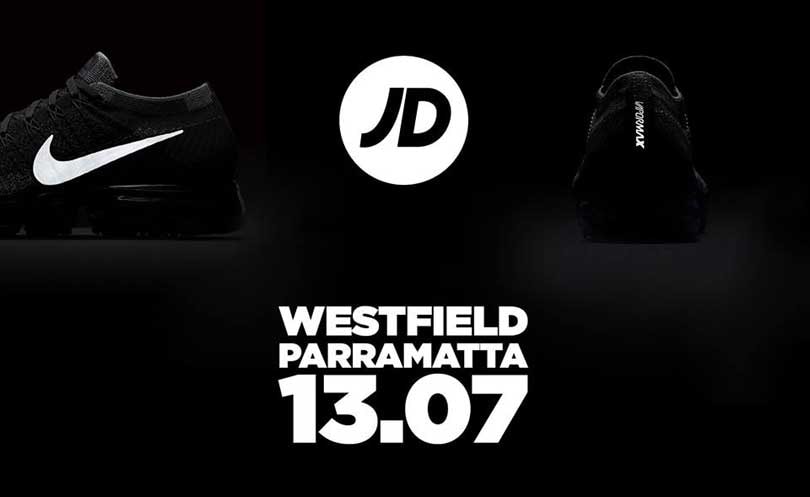 The new store opening follows on from the success of JD Sports previous success in Melbourne, which is said to have been one of the biggest launches international sportswear and lifestyle launches in Australia. "The highly anticipated JD Sports Parramatta launch is expected to attract sneakerheads on mass, following the success of Melbourne Central's flagship store," said JD Sports Australia head Hilton Seskin to Ragtrader.
In honour of JD Sports debut store opening in Sydney, the retailer is set to give one lucky consumer a year's worth of footwear. JD Sports aims to open a total of five stores in Australia this year, as the British retailer seeks to dominate the local sports lifestyle market. JD Sports previously expanded its store number across the UK and opened two new stores in Malaysia.
Photos: JD Sports, Australia
FashionUnited

|
SuperGroup, the parent company of Superdry, have announced plans to expand Superdry Sport by introducing 'shop-in-shops' in some of their larger stores later this year.
The company noted in their impressive final year results, that Superdry Sport 'remains a natural evolution for the brand', adding that the 'ath-leisure element of [their] range provides the natural entry point for customers before widening their buying to more technical products'.
The brand aims to enhance their sport range by improving 'moisture wicking, weather tolerance and higher visibility', as well as further developing their footwear offering, 'to participate in this key part of the market'. THe move sees Superdry going up against market leaders such as Nike and Adidas.
SuperGroup's CEO, Euan Sutherland said the expansion of Superdry Sport is part of a plan to "further embed Superdry's position as a global lifestyle brand."
The Superdry brand is currently sold in 62 countries, counting 863 stores and concessions globally. Aiming to expand in 2018, SuperGroup will launch 60 Superdry franchise stores throughout the year, signifying a 20 percent year-on-year growth.
Photo courtesy of Superdry
AFP

|
The textile and footwear group Vivarte, who have been engaged in a disposal and reconstruction plan for several months, announced on Tuesday that they have sold the clothing brand Kookai to the Australian brand, Magi.
Magi, launched in 1992 has been the licensee of Kookai in Australia and New Zealand for 26 years, specialists in the apparel industry, they have their own creative studio in Melbourne, and generated a turnover of 70 million euros in 2016.
Vivarte described in a statement that they are allowing 'for the brand to fully exploit its great potential', bringing Kookaï's 195 stores in France, Spain and Switzerland along with 500 employees into Magi's portfolio.
This sale "is actively participating in the recovery plan presented in January 2017 " by Vivarte, who have already sold several brands, such as Pataugas in May. Also initiating the sale of two of its iconic brands: André, with 786 employees and Naf Naf, 860 employees.
Aiming to refocus the group to three activities: La Halle and Besson in residential areas, shoe brands Minelli, San Marina, CosmoParis and apparel brand, Caroll. The company is currently present in 70 countries and registered revenues of 2.2 billion in 2016. (AFP)
Don-Alvin Adegeest

|
OPINION
Paris Men's Fashion Week is over, with Kenzo officially closing a month of catwalks and trade shows, presentations and collection previews, that started in London in June then moved to Florence and Milan and ended in the French capital.
The buying season will continue for another fortnight until designers and brands close their books for production, order fabrics and begin their manufacturing processes. But despite the glamour of catwalk collections, mainline fashion is becoming less and less important as retailers shift to early deliveries.
Pre collections were once reserved for womenswear, along with resort and cruise collections. They offered retailers the opportunity to keep their shop floors refreshed with new product before the mainlines dropped. But as retailers began relying more and more on early deliveries and better price points, menswear soon took notice.
Pre collections are nearly 80 percent of what you'll see in store
Pre collections are now the bulk of men's collections too, often being 80 percent of a store's total buy. Mainline collections allow designers to cement a brand's image, tell their story to the press and keep the fashion world intrigued. But catwalk collections are not what sells in store, especially in menswear. They are often uncommercial and expensive and most importantly available too late.
For designers to have successful relationships with stores it is about having their clothes displayed for the longest possible time on the shop floor. In summer, pre collections are delivered as early in the season as November, allowing brands a good seven months to have a full price sell thru before they go on sale. Mainline collections tend to be delivered in February and March, meaning stores have just a few weeks to sell these at full price until the discounting season begins.
A high sell through is the holy grail of retailing. Brands that can sell up to 70 percent of their collections at full price before sale are the most successful. Anything below and retailers may ask for contributions to their mark downs, or return their left over stock altogether. Late deliveries are risky to stores, precisely because there is less time for them to sell them. That is why they prefer to place the majority of their orders during the pre collection season.
Fashion, lest we forget, is a business. And however carefully curated a store, or directional a fashion offer, in the end everything is merchandised to sell. A shop floor full of last season's clothes is not a viable business, unless of course you're Yoox.
Photo credit: Richard James showroom @ Pitti Uomo '92
Vivian Hendriksz

|
London - Curiosity concerning H&M newest retail concept, Arket, continues to mount as the retailer prepares to open its debut flagship store at 224 Regent Street, London and launch online this fall.
Additional stores in Covent Garden and Copenhagen, Brussels and Munich are set to follow the opening of Arket's first store shortly as parent company H&M is said to be working with a new team of designers, buyers, pattern makers, architects, writers, and chefs to bring Arket to life. Designed to be a modern-day market which offers essential products for men, women, children and the home, Arket is set to offer high-quality, durable products at an accessible price point.
H&M shares more information on its latest brand: Arket
The stores will offer both Arket's in-house collections, as well as curated third-party products, "because there is no need to reinvent products that have already been perfected," said the label in a statement. "Arket's collection is complemented by the best from other brands - mainly of shoes, accessories, and homeware." Brands set to launch in Arket include Adidas, Clarks, Converse, Penguin, and Reebok.
Arket's in house fashion collections will are be designed by a dedicated team working out of a design studio in Stockholm, Sweden and development to last a long time. "To attempt to make products with a longer life, we invest time in their development," added Arket. The archive, a common thread found throughout the new concept, acts as the foundation of the collections and sees the products blending seamlessly with each other, season in and season out.
Each new product, which is said to be "a perfect version of itself" will also feature a unique 9 digit code, to make make it easier for customers to find and re-locate products they wish to purchase online or in-store while acting as a useful tool to track all of Arket products. Sustainability is also another focal point for Arket, and is said to be a primary consideration for the brand.
Read more on bridalwear here:
Photo: Courtesy Arket