People
Don-Alvin Adegeest

|
Paris Fashion Week has barely ended but the rumour mill surrounding one of its best-loved designers is gaining headlines across the world.
The rumour this time concerns Céline and its star designer Phoebe Philo, who according to the Business of Fashion is making plans for a successor should the English creative call it a day.
"The interviews have been going on for a few months now," the Business of Fashion published on Monday, alluding to preparation for Philo to be replaced. Yet when Céline was asked for comment, the opposite was confirmed: "We categorically deny any imminent departure of Phoebe Philo from Céline," a spokesman for LVMH said.
Why the speculation?
Unnamed sources are saying Philo is leaving at the end of 2017, nearly 10 years after joining the brand in 2008. Céline is one of LVMH's most successful companies, largely attributed to the turnaround actdioned by Philo, who's aesthetic made it a must-have, season after season, and boosting its earnings for 200m euros per year to 700m euros.
Céline, of course, is not adverse to change. After years of eschewing the internet and e-commerce, the brand is finally thought to be embracing the digital realm and launching e-com later this year. This is in part due to the new chief executive Severine Merle, who replaced Marco Gobbetti, who left the brand to join Burberry in April.
According to the Business of Fashion, Philo has stayed in her role much longer than the average creative director, with nearly ten years under her belt. While Céline remains one of the stalwart brands of Paris, it's growth rate has slowed, a prompt perhaps for Philo to consider new opportunities.
Photo credit: Phoebe Philo, courtesy of Celine
Danielle Wightman-Stone

|
Fashion flash sale website ShowroomPrivé has named Thomas Kienzi as chief financial officer, to succeed Nicolas Woosen, who is departing the company in the next few weeks.
Kienzi joined ShowroomPrivé in 2015 to assist with its listing on the stock exchange and its merger and acquisition operations, and last year was appointed the deputy chief financial officer.
In a statement, ShowroomPrivé said that Kienzi was "instrumental" in structuring the group's financial division, as well as during the acquisition and integration of Saldi Privati and Beauté Privée and more recently, during the merger with the Steinhoff group and its subsidiary Conforama.
"We are very pleased with the appointment of Thomas. It acknowledges the success of his journey within Showroomprivé," said Thierry Petit and David Dayan, co-founders and co-chief executive officer's of Showroomprivé. "As chief financial officer, he will bring us his extensive knowledge of the financial challenges that our society, our investors and our strategy are facing."
Prior to joining Showroomprivé, Kienzi was an executive director at American bank Morgan Stanley, he has also worked at the Crédit Agricole CIB and the Deutsche Bank in Paris and London.
Danielle Wightman-Stone

|
Fashion brand Diesel has launched a tongue-in-cheek campaign fronted by its founder Renzo Rosso, seeking a candidate to fill the position of 'chair executive officer', following the resignation of chief executive officer Alessandro Bogliolo over the summer.
The Italian brand launched the campaign via its Facebook and states it is looking for someone who has "amazing sitting skills".
"Our chief executive officer has left, leaving an empty space in our hearts, but most importantly, an empty chair," Rosso tells viewers in the video while a violin plays. "So I'm looking for a new CEO – chair executive officer."
Rosso then goes on to ask: "What do you think you need to become one, an MBA degree, yeah, maybe.
"But as many of you want to sit in an important chair, first of all, you have to be good at sitting."
The social-media driven campaign is calling on applicants to showcase their sitting skills with a gif or video uploaded to the Diesel Facebook page to be in with the chance of spending a week in the retailer's head office in Italy and sitting "like a boss".
Image: via Diesel Facebook
Danielle Wightman-Stone

|
Derek Lovelock has confirmed that he is to stand down as chairman of British fashion retailer Jack Wills by the end of 2017, after joining the board a year ago to "pursue other interests".
The fashion and lifestyle brand said that Richard Wyatt, vice-chairman of Rothschilds, will take over as non-executive chairman.
Lovelock, who is also the chairman of Joe Brown and once chaired Oasis and Warehouse parent company Aurora Fashions, was brought on as chairman at Jack Wills a year go to assist the brand following the transaction in September 2016 where Union Lifestyle Limited acquired 100 percent of the share capital of the Jack Wills Group. The joint shareholders of this new entity became BlueGem Capital Partners LLP and Peter Williams, founder and chief executive of Jack Wills.
Williams, said: "Derek joined us as chairman a year ago to help the business through the first 12 months after the deal with BlueGem.
"During that first year the business has undergone a significant revitalisation and we have hired some very exciting new talent. The business is in increasingly great shape and so, just over a year on, Derek will be stepping down at the end of this year."
The brand's incoming chairman Wyatt was lead adviser to Williams during the transaction with BlueGem Capital Partners.
Williams added: "I have worked very closely with Richard for some time, including through the transaction with BlueGem, and am very excited that he will be formally joining us as chairman."
Danielle Wightman-Stone

|
Footwear and accessories retailer Dune London has named James Radford as its new international and wholesale director to drive forward the brand's international growth.
Former general manager at FitFlop, Radford also served as head of merchandising international business at Rockport.
Dune London chief executive James Cox said: "James' appointment comes at a very exciting time for Dune London as international expansion is a focal part of our overall growth strategy.
"James will be instrumental in the delivery of this plan by focusing efforts on specific markets with best in class support strategies and tactical initiatives which are regionally appropriate and perfectly aligned with our product and marketing investments."
Dune executive chairman Daniel Rubin added: "This is a significant step in our strategy to become the leading global affordable luxury footwear and accessories brand.
"We are delighted to have James join our Board and fortunate to have extremely strong international networks and partners to ensure we continue to expand our global reach."
In September, Dune London opened 10 new locations in South America, a 33rd store in the Middle East and two new European stand-alone stores in Switzerland and Serbia.
Vivian Hendriksz

|
London - The French couturier behind the iconic bandage dress and founder of Hervé Léger, Hervé L. Leroux, has passed away at the age of 60. Leroux's death was announced by the Federation of Fashion and Ready-to-Wear Couturiers and Fashion Designers (Fédération de la haute couture et de la mode) on Friday morning, although details concerning his death have yet to be released.
The couturier, who was born with the name Hervé Peugnet, first started out his career after being discovered by Karl Lagerfeld. Leroux worked as Lagerfeld's design assistant at Fendi and Chanel before setting out on his own in 1985. Leroux set up his own design label under the name Hervé Léger and quickly rose to fame in the 1990s thanks to his unique bandage dresses, which accentuated the female body and curves.
Towards the end of the decade, sales began to lag and Leroux lost control of the company and the commercial use of the brand name. It was purchased by the BCBG Max Azria group, who proceeded to work with Leroux for one more collection before pushing him out of the company. However, Leroux went on to found his own independently-financed couture house under the name Hervé L. Leroux in early 2000, a name that was given to him by his close friend and mentor, Karl Lagerfeld.
"He told me, 'Call yourself Leroux because your hair is red - not as red as it was, because you are older - but anyway it works, and everyone will know who you are,'" said the couturier in an interview with Style.com in 2006. He went on to refine his art of draping fabrics while working for his second label. Over the years his designs have been worn by the likes of Celine Dion, Halle Berry, Cate Blanchett and Taylor Swift.
Credit: Pierre Verdy / AFP
Danielle Wightman-Stone

|
Outdoor apparel and footwear brand The North Face has named Tim Hamilton as head of global creative, effective immediately.
Hamilton, a veteran designer of more than 20-years experience in design and large-scale collaborations including his own eponymous label, will be responsible for the creative direction of the brand and its products for all global markets.
"For us, exploration is a mindset, and we look at the vibrancy and culture of our cities and our mountains to embrace the ways people push limits, create, and pursue their passion," said global president of The North Face Arne Arens. "Tim has pushed the boundaries of design and innovation by drawing inspiration from the unexpected. We see a lot potential in fusing our brand's heritage with Tim's fresh perspective."
In addition, the press statement added that Hamilton will work across all of The North Face consumer territories, bringing his "design inspiration, innovative partnerships, and perspective to the brand".
Commenting on his appointment, Hamilton said: "I've always been fascinated by outdoor culture and how its product sits at the forefront of design and innovation. I've drawn inspiration from it and have referenced it throughout my career.
"I'm thrilled to be joining The North Face, the originators of technical outdoor products and an iconic brand for exploration and want to continue to push the boundaries."
Danielle Wightman-Stone

|
American fashion designer Alexander Wang has stepped down as chief executive of his namesake label, effective immediately, and will be replaced by former Goop and Martha Stewart Omnimedia executive Lisa Gerth.
At Goop, Gersh served as chief executive and oversaw its Goop-branded products and advertising revenue. Prior to Goop, she was chief executive of Martha Stewart Living Omnimedia and served in executive roles at NBCUniversal and was co-founder and president of Oxygen Media.
Wang will remain at his eponymous brand, as chairman and creative director.
In addition, the US label also confirmed the appointment of former Farfetch chief marketing officer Stephanie Horton as its new chief strategy officer, a newly created position at the company. Prior to Farfetch, Horton held senior positions at Shopbop, Vogue and The New York Times.
Commenting on the move, Wang said: "The appointment of chief executive, and the addition of a chief strategy officer position, highlight our ongoing strategy of productivity and diversification. In a rapidly changing retail environment, it's necessary for us to continually challenge the status quo.
"In my year as chief executive I've been able to reflect and assess the strengths and opportunities of the company and set the stage for future growth. Lisa and Stephanie's diverse backgrounds in the media, lifestyle, and digital landscape will help us continue to position the business to expand into new categories and territories."
Vivian Hendriksz

|
INTERVIEW Most industry insiders argue that it was only a matter of time before Alexa Chung - tv presenter, model and allround British celebrity darling - launched her own fashion label. But for Alexa Chung, the journey from model to tv presenter to designer muse and now creative director was not as smooth as you may think.
"It was a bit of a shock getting into the business, starting a company from scratch, building a team and seeing all the hard work that goes into making something into a garment," she admits to FashionUnited, while casually perched on a white sofa in the personal shopping lounge at premium department store de Bijenkorf, in Amsterdam. The model-turned-designer is visiting the city to attend the in-store launch of her second collection 'Prom Gone Wrong' and connect with press, shoppers and fans. Dubbed "Lonely Hearts Club", the store events, which took place at key retail partners from the brand such as Bergdorf Goodman in New York and Smets in Brussels, all lead up to the Alexachung second major presentation taking place this Paris Fashion Week.
"It was a bit of a shock getting into the business, starting a company from scratch"
Although the style-icon has worked on a number of collaborative collections with brands ranging from Madwell to AG jeans and Marks & Spencer, the reality of launching her own brand and taking charge was different than she had previously anticipated. "Shit got real pretty quickly," she says with a laugh on what it was like taking on the role of creative director. "I had this fantasy that I would just flit around the planet, going back and forth from New York to London. I would look at the collection and say 'yes, this is fabulous' and head off to Paris. But it became apparent within 14 days or so that I actually needed to be in London if pretty quickly," she says with a laugh on what it was like taking on the role of Creative Director. "I had this fantasy that I would just flit around the planet, going back and forth from New York to London. I would look at the collection and say 'yes, this is fabulous' and head off to Paris. But it became apparent within 14 days or so that I actually needed to be in London if Alexachung was going to be a success."
She moved back to London and set about creating her own business, in her own way, securing investment from Pembroke VCT, managing partner and co-founder of equity firm Oakley Capital, Peter Dubens as well as an unnamed group of high-net-worth individuals. Chung also hired Edwin Bodson, former head of Haider Ackermann and Ann Demeulemeester, as the brand's managing director, who was sold on her vision for her brand within an hour of meeting her. "It was so refreshing to meet someone as dedicated as she was to launching her own brand," he reveals to FashionUnited over the phone. "It was really inspiring to me."
Alexa Chung on the reality of launching her own brand Alexachung
The two have become so close that Chung refers to him as 'Dad', even though he is two years younger than she is. "I will admit that I did feel a little overprotective of her at the beginning, but with time she has really flourished in her role as the brand's creative director," says Bodson. Chung agrees, even though she does struggle with certain areas of the role. "It took a while for me to be comfortable with responsibility, which still is weird - I am not necessarily really comfortable with it yet, to be honest - I am always trying to palm it off onto someone else. Which is why I call Edwin my boss even though I am technically his boss," she reveals with a chuckle.
In his role at Alexachung, Bodson manages the business side of the brand, overseeing the logistical and operational aspects while at the same time pushing Chung to try new things, or saying no. "For the second collection we really pushed Alexa to do more, to try out new styles that she may have been more afraid to try out before," he adds. "We want her to bring her customers into her world, she has such a broad imagination and we wanted to share that in the second collection through storytelling." For example, while working on 'Prom Gone Wrong' Bodson made sure that he spent more time with Chung bringing her ideas for the collection come to life, which certainly has paid off.
"We want her to bring her customers into her world, she has such a broad imagination"
A number of the pieces have already sold out on Alexachung own webshop following the collection launch, such as the oversized Face Jumper, one of Chung's favourite pieces. The mohair jumper sold out within a day after a certain celebrity friend of the designer shared a photo of it on Instagram. "The tri-coloured face jumper sell-out really shows how strong of a connection Alexa has with her fans and how much they look up to her and aspire to be like her," muses Bodson. "E-commerce remains the strongest channel for us as well, as it offers us the largest margin business-wise, as well as the fastest way of getting Alexachung products to customers who do not live near our wholesale partners."
Alexachung.com is also the brand's main point of access outside of in-store events and presentations for customers to start building a relationship with a brand, as well as Chung's social media accounts, which the British model is well versed in. With an Instagram following of 2.8 million, she is used to sharing her take on fashion with the world. However, some try to use her fame to cast a negative light over her brand. After her debut collection launch in May, Chung was labelled a celebrity designer, a loaded term which can imply privilege and lack of hard work to some.
"I like to see the label 'celebrity designer' as a positive thing"
"Well I am a celebrity, and I am a designer, so I suppose I am one," she replies when asked her thoughts on the term. "But I like to see the label 'celebrity designer' as a positive thing. Also, loads of designers have become celebrities in their own rights after becoming high-profile designers." Chung stresses that she doesn't really care how people label her, or what they think of her at the end of the day because none of it really matters when it comes to the brand. "Ultimately, if you are on the shop floor and you like my leopard print coat, you're not going to not buy it because you heard from someone that I've said something bad about a celebrity," she points out.
"It's just silly. I think that I'll just try to concentrate on making nice clothes and the rest of it will fall into place." Instead, she'd rather focus her energy on creating clothes that evoke certain feelings in her customers, as she does care whether they like her designs or not she explains. At the end of the day, she hopes that her eponymous brand will be able to exist separate from the idea that she is the designer behind it all. "You know Victoria Beckham has people that may not be a fan of her personally, but still swear by her pencil skirts - that's what I mean about an item taking on its own life, it's not necessarily anchored to its maker anymore."
Finding the balance between Alexa Chung's vision for Alexachung and her clients wants and needs
At the moment the sky may be the limit when it comes to what Chung has in store for her brand, but it hasn't been all easy sailing for Chung as there were a few hurdles concerning her vision she had to overcome. "I did find it difficult in those first collections to match my personal taste in the fabrics we were using with the price-points we are presenting," she says, before quickly adding: "I think we have done a really good job of getting that balance right now, but it was a bit of a learning curve for me because there was a bit of fight between what I wanted and what was available at the time." She praises Paula, the team's fabric specialist for being the one to help source the right fabrics she wanted, once that felt 'luxe' but sat within the price range she set for Alexachung. Chung is keen to make sure her brand's positioning remains accessible, which offers slogan t-shirts from 75 pounds to suede jackets for 1,350 pounds.
"I suppose we still have limitations when it comes to designing the collection because we want to make something that is the best quality possible, but at a price point that I want for my customers," she says. Following Alexachung's initial success, the brand has numerous plans in store for the future, setting its sights on growing its presence overseas in countries like the US and Japan, hints Bodson. Although it is a little too soon to be thinking about opening a stand-alone store, there are some retail partners who have been pushing for this behind the scenes. But either way, the first Alexachung store to open will be in London.
"You have to remember you are designing something that makes people happy when they put it on their bodies - which is my main priority"
"We have a nice head office now, with a good decor and clothing on the rails," states Chung, while looking over at her collection on the racks in de Bijenkorf. "I don't want to be overly ambitious with the brand. I'd be very happy if it was still doing steady business, if we were just selling clothes and people loved it. I think that you can lose sight of that more immediate customer connection when it comes to putting stuff out too quickly. Then you have to remember you are designing something that makes people happy when they put it on their bodies - which for me is my main priority." Judging by the way Chung reacts with the crowds at her event, it is clear that making people happy with her designs also makes her happy.
Photos: by Chloe Leenheer
Danielle Wightman-Stone

|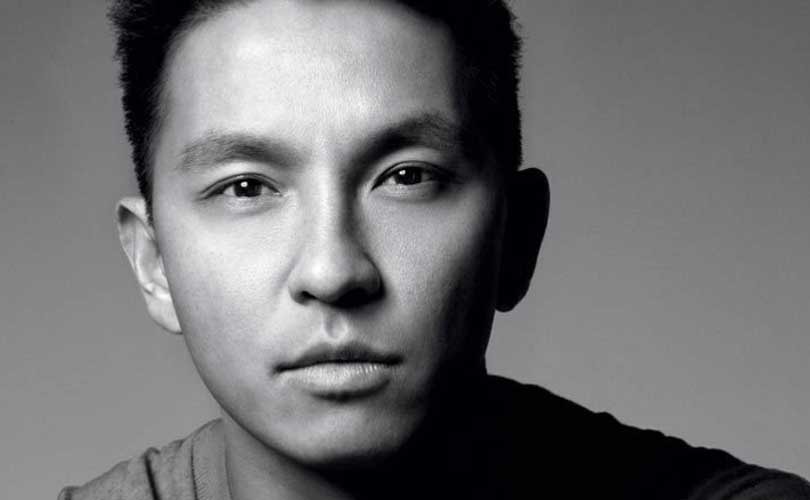 Japanese jeweller Tasaki has named New York-based fashion designer Prabal Gurung as the brand's new creative director.
The luxury jeweller tapped Gurung to "play a leading role" in the development of a new line called Tasaki Atelier, which was unveiled during the designer's spring/summer 2018 show over the weekend at New York Fashion Week and featured elaborate earrings.
"To see this partnership come to life has been incredible," said Gurung. "Tasaki sources, develops and designs with couture ideals - utilising sustainable, fair and ethical practices and offers the highest quality pearls, diamonds and gemstones."
Gurung added: "We are thrilled to continue telling our brand story by celebrating women of beauty and substance, and luxury with soul, through this partnership."
The Tasaki Atelier line by Prabal Gurung will be available at the Tasaki Ginza Flagship Store in Tokyo from February 2018, along with other international locations.
The brand, which in the past has collaborated with other designers including Thakoon Panichgul, stated that it delivers "innovative and sophisticated designs through partnerships" and that it would continue to collaborate with artists from across the globe.
Toshikazu Tajima, Tasaki's chief executive officer and board director, said: "Prabal Gurung continues to produce elegant and sophisticated designs that embody the glamorous world of luxury.
"I believe that he is the best partner to create new value that symbolises the future of Tasaki. I expect that Prabal will further expand Tasaki's unique world of modern beauty."
Images: Tasaki Atelier line by Prabal Gurung via Tasaki Facebook