Kristopher Fraser

|
G-Star Raw is out to redefine the meaning of Raw by deconstructing denim to its purest form. The third collection of Raw Research was presented this season at Paris Fashion Week, featuring undyed, unwashed and untreated raw denim.
For the Paris presentation on June 23, G-Star also celebrated the debut of Raw Research women's collection, and Throup's first ever collective work of womenswear. Women's styles reflect the overall design philosophy of Raw Research III, and the resulting pieces seamlessly blend minimalism and functionality, without compromising femininity. For both the men's and women's collections the brand's in-house innovation laboratory follows the same design approach – pushing the boundaries of product design through a process of exploration, curiosity and experimentation.
The women's Raw research was launched alongside menswear, with each collection featuing 10 pieces presented in undyed calico denim. In addition, the same collection goes through of a process of hand dyeing where the indigo is added to the raw garments, resulting in an organically irregular visual effect. In an effort to challenge the convention of what defines denim, the G-Star innovation lab separated, analyzed, and utilized the core elements of denim – the raw fabric and indigo dye – in new and experimental ways.
"We are coming out of an age when technical and functional design is considered inherently masculine," said executive creative director Aitor Throup. "We believe that our obsession with product design principles such as ergonomics and concinnity is as relevant for women as it is for men. By clashing tradition with innovation, the resulting prototypes serve as blueprints for the main collections in the future."
The collection was presented at Garage Lübeck in Paris, shown as an artistic and interactive installation featuring models that reflect the collection's inspiration and unique designs. All new styles were also presented in 44 different hand-dyed color options as a metaphor for how the brand is pushing the conventions and constraints of denim, and challenging the recipients' perceptions of what denim can be. An exclusive musical arrangement by Woodgrain, under the creative direction of Throup, was composed to go along with the visitor's journey through the presentation, having a conceptual connection to the product and installation.
Raw Research III will be available in select high-end concept stores around the world, from early December 2017.
photos: courtesy of KCD Worldwide
AFP

|
As Paris men's fashion week comes to a close Sunday, one trend for spring summer 2018 and could not be clearer -- bare legs. Fashion clearly feels that the time is right for men to get their legs out for the girls -- or for other men who admire a well sculpted calf.
In a week in which a heatwave across Europe saw British schoolchildren and French bus drivers don skirts in protest at not being allowed to wear shorts, the momentum behind taking the trouser above the knee -- or further still -- seems unstoppable.
While many women and some in the fashion police have long looked down their noses at men in shorts, bare legs may soon be the least of their worries. For as well as shorts, socks and sandals, which many thought had been safely confined to the style wilderness, are also back.
Here are the three top trends for the Paris men's catwalks:
Shorts suit you, sir
Legs -- including hairy ones -- dominated the men's catwalks from Thom Browne's business suits with shorts to Dior where Kris Van Assche matched micro shorts with tailored black or white suit jackets to show the maximum of thigh.
Browne, clearly enjoying himself, cheekily slipped a few of his businessmen into skirts for good measure. "Why can't this be for men?" he told AFP on Sunday. "They almost look more masculine (in skirts) than if they were wearing just normal clothes.
"Why not put men in what is traditionally considered women's attire?" he added. "We're all dressed alike as infants. The rest is an elaboration." Rick Owens lead out his collection with a model wearing only short shorts and boots, a leather saddlebag strapped to one thigh for extra he-man effect.
So high was Paris on thigh that it is almost easier to list the labels who didn't include shorts, as such style references as Louis Vuitton (leather scuba shorts and jersey surf pants), Dries Van Noten (formal and boxy) and even Yohji Yamamoto (three-quarter length) all succumbed to the trend.
Lengths varied widely with Loewe going daringly high with micro shorts and Speedo-like pouches while the Taiwanese Angus Chiang and the Japanese label Facetasm swung between kilts, tube shorts and culottes. But for glamour, nothing compared to the glittering red, yellow and purple and golden pink evening shorts offered by Comme des Garcons. Lame maketh the man, as Shakespeare might have said.
Sandals with socks
Style crime no more, socks with sandals are no longer the abomination they once were, if this week's shows are anything to go by. Louis Vuitton -- which with Paul Smith and Vetements also tried to smuggle Hawaiian shirts back from the wardrobe that taste forgot -- sent out nearly 20 models in sandals and socks, while 22/4 went still further matching every one of its 30 looks with socks and slipper sandals.
Uber-cool Vetements had socks and sauna sandals and Haider Ackermann (who also designs for Berluti) dared socks and flip flops, which looked classier than its sounds. In a worrying development for those who have held the line against that most dorky of looks, Ami, Wooyoungmi and Etudes went into total taboo territory with white socks and sandals.
Sports hosiery
The shotgun marriage with sandals was only half the story of the irresistible rise of the sock this week. Tennis, baseball and all kinds of sporty socks worn mostly halfway up the shin was the other big takeaway.
The rise in sportswear has been the biggest creeping trend on the men's catwalks for some time, and it really gripped Paris by the ankles this time. Sporty socks were often combined with more traditional tailored jackets, per Facetasm's Hiromichi Ochiai, who cleverly contrasted them with smoking jackets, tailcoats and aristo silk dressing gowns.
But when it came to statement socks, Danish maverick Henrik Vibskov left the others standing. It was hard to take your eyes of his colourful pairs that combined comforting Scandinavian hygge and high concept design with playful Japanese-style silk worm and flower motifs.(AFP)
During the month of June FashionUnited will focus on the menswear catwalk season. For all reads, click
here
.
Homepage photo credits: Dior Homme groupshot by Stef Mitchell for Dior Homme,
Photos Louis Vuitton: : Louis Vuitton Mens Spring Summer 2018, courtesy of Louis Vuitton
Etudes SS18, Dries Van Noten SS18, via Catwalkpictures.com
FashionUnited

|
OPINION Gucci has become a touchy subject in some fashion circles. Despite winning the CFDA international designer of the year award in 2016, and revitalizing the 96-year-old house's image and profits in just two years, providing red carpet gowns for the current crop of starlets, making him Kering's power player in a volatile luxury market, Alessandro Michele elicits joy and derision in equal measure among designers I know working in the industry. As plenty has been written reflecting the joy (Suzy Menkes called him "manna from heaven"), I thought I'd look into the reasons behind the latter: why some fashion professionals are viewing his high-priced higgledy-piggledy cut-and-paste collections with less respect than they do a H&M sale rack.
Easy Riser
The implication seems to be that it's all just too easy. Naysayers consider Michele's design process an unedited vintage grabfest entirely dependent on wacky styling rather than the more intellectually demanding discipline of design. Is this one of those situations, I wonder, where you find yourself viewing a lauded piece in an exhibition, say, a Basquiat, and someone turns to you to remark "I could do that with my eyes closed if I thought someone would pay me"? I imagine these aforementioned fashion professionals now neck rolling, and spitting out their tea, squealing, "Alessandro Michele is NO Michel Basquiat." And indeed they may be right.
It's Gay Pride Sunday here in the city and as I watch the exuberantly tinseled and beribboned parade floats pass, many of the colorful outfits painstakingly assembled in cramped apartments across the five boroughs, I can't help thinking many of them look "Guccified." To say that Gucci's appeal falls somewhere on the spectrum between a Basquiat and a Gay Pride float is about as accurate as I can get. Here's why it's so complicated.
Amid Accusations
Just this week, Gucci was hit with accusations of plagiarism by two different companies, Stuart Smythe and Stay Bold, for what they claim are Gucci's blatant rip-offs of their graphic artwork for the Italian luxury label's Cruise 2018 collection. You may remember the explosion of outrage in early June, especially among the African American community, attached to this same show over Michele's apparent purloining of ideas from the archives of Harlem cult figure, Dapper Dan. It seems that Gucci did not initially credit the highly respected American until after receiving criticism, then released a statement, saying, "Gucci is interested in a collaboration with Daniel Day that would celebrate the influences his creations had on fashion and the hip-hop culture in the 80s." It was a day late and a dollar short for many, and the accusations of copying continue to reverberate.
Insta-greedy
There is a hacker element to Michele's approach that breeds suspicion. He breaks into the established systems and disrupts codes, melding centuries and decades together, logos and street art, art movements and aristocratic longhaired eyebrowless boys into one pan-seasonal mesmerizing collage. Each look is successful as an Instagram post, whereas each collection does not necessarily work as an album. The 'instainspo' no-filter boastfulness of his approach ("I collect everything!" he told Vogue. "My life is a storage!") translates into collections which resemble the cover of Sgt Pepper's Lonely Hearts Club Band complete with heavy mustaches. His sheer quantity of references contribute to baroque runway spectacles that run to 120 exits. Who has time for for paring back when you want all the feels?
But familiarity breeds contempt. The shock of the new has become the aftershock tremors of the old, as, not only have we seen many of the clothes before on the runways of Moschino, Sonia Rykiel, and Dolce Gabbana, among others, as well as the flea markets of Clignancourt and Portobello, but if it turns out that the luxury house is shamelessly exploiting small independent designers who struggle for anything like the prominence Michele has, the tide of public opinion will turn further.
Carpe Diem
Gucci's Fall 2017 show invite was printed with the question "What are we going to do with all this future?" It's almost as if even Michele knows that what he's doing is more smoke and mirrors than the mysterious sorcery the critics have been leading us to believe, and that it will have a shelf life. His legacy might just be that he assembled a series of pretty images which interrupted our scrolling for a time and made us press Like, but which fell prey to the mysterious algorithms of the fashion industry, eventually disappearing from our feed.
But until then, pile it all on like it's going out of fashion.
By contributing guest editor Jackie Mallon, who is on the teaching faculty of several NYC fashion programmes and is the author of Silk for the Feed Dogs, a novel set in the international fashion industry.
Images: Gucci Facebook, DapperDanOfHarlem.com; runway images: CatwalkPictures.com; Gay Pride photo: by Jackie Mallon.
FashionUnited

|
Trendstop's street style team are out and about this summer, hitting up the biggest music events to spot the latest looks and identify the season's style setters. From Barcelona based Sonar and Primavera to the urban cool of UK hangouts Field Day and The Great Escape as well as the spectacle of California's iconic Coachella, this season's festivals are hosting an array of music-loving fashionistas inspiring festival collections for season's to come. Our curated street reports analyse and evaluate the commercial value and longevity of the latest trends, giving you the optimum level of in-depth analysis to inform decision making.
This week, FashionUnited readers get an exclusive insight into three of the hottest trends from festival season so far. Bubble Gum Pink adds a sugar sweet dose of femininity to masculine sporty separates and utility casuals. The Culotte Dungaree sees 90s inspired all-in-ones reworked for summer as ankles are given a breath of fresh air. Sheer Tendencies translate gothic glamour for festival season with a focus on lightweight layers and overtly feminine reveals.
Bubble Gum Pink
This sweet as candy shade works across multiple applications, from athletic sweats to casual denims. Sugar pink tones make a youthful statement while the girlish aesthetic and single colour usage softens utilitarian and sportswear silhouettes. The playful take on masc/femme contrasts compliments the fun festival vibe.
The Culotte Dungaree
All-in-ones look back to the 90s, as dungaree silhouettes feature loose fitting, culotte inspired cuts. 'Awkward' looking cropped lengths tap into the ongoing geek-chic and normcore trends with exposed socks and chunky shoes. Layering is key as lightweight jumpsuits worn over roll-necks and tees or under jean jackets and bombers express their functional festival qualities.
Sheer Tendancies
Gothic looks transcend the summer season as attention grabbing sheers are layered over black intimates to create opaque/translucent contrasts. Heavy duty boots and solid colour sporty underlayers are feminised by ballet-esque tulles and hosiery fishnet as bralets, hotpants and bikinis are topped with floaty dresses and tops.
Exclusive Offer
FashionUnited readers can get free access to Trendstop's 2016 Themes in Street Style Report, an essential guide to the key trends and styling directions from style setters in the leading fashion capitals. Simply click the banner to receive your complimentary report.
Trendstop.com is one of the world's leading trend forecasting agencies for fashion and creative professionals, renowned for its insightful trend analysis and forecasts. Clients include H&M, Primark, Forever 21, Zalando, Geox, Evisu, Hugo Boss, L'Oreal and MTV.
Don-Alvin Adegeest

|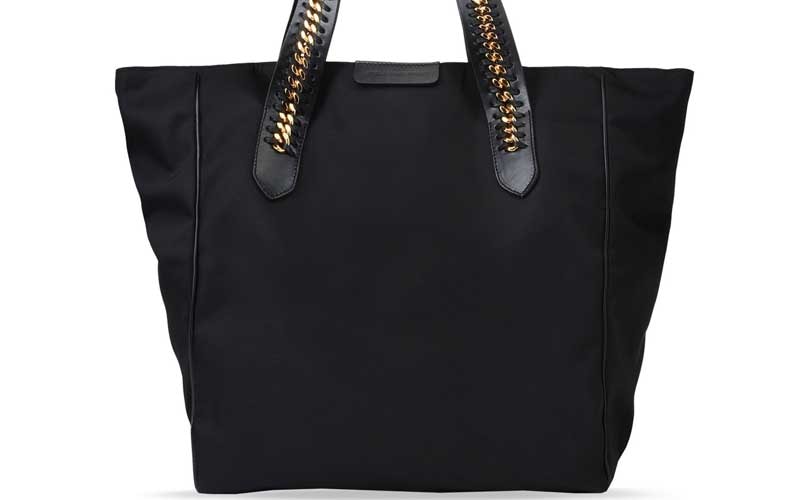 Stella McCartney's sustainability commitments will now see the brand produce one of its icon bags using a regenerated yarn.
The company confirmed its Falabella Go bag will be made using a fabric yarn called Econyl which is synthesized from ocean waste.
McCartney confirmed earlier this year she would use sustainable viscose, regenerated cashmere and other recycled materials in her collections whenever feasible. The yarn is produced by Aquafil, a company that aims to prove luxury brands can use high end alternatives without forsaking quality or style.
Aquafil chief executive officer Giulio Bonazzi said the Econyl partnership with McCartney "represents the future of fashion. It proves that when sustainable ingredients are of the highest quality, they will be adopted by brands from sportswear to luxury. When sustainability is treated with the same reverence as performance and quality, we see beautiful and impactful collections take the stage."
Bonazzi said every 10,000 tons of Econyl produced saves 70 thousand barrels of crude oil by avoiding extraction. Aquafil's Econyl regeneration system diverts waste from landfills and oceans through the recovery of abandoned fishing nets and other discarded nylon waste. The waste is reborn through Aquafil's regeneration system, which is an example of the circular economy. He said it offers the same quality and performance as traditional nylon, but with the ability to be regenerated an infinite number of times.
"Fashion is an industry that makes a significant impact on the planet. It's not just cool clothes and trends," McCartney stated last year.
Photo credit: Stella McCartney Falabella Go bag, source StellaMcCartney.com
Kristopher Fraser

|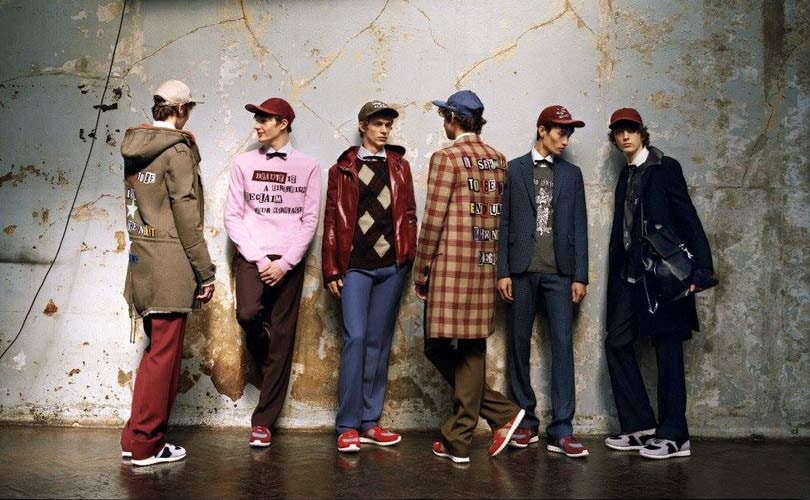 In the era of athleisure even iconic luxury brands are getting on board. Valentino's Pierpaolo Piccioli is going after the sporty guy this season, as he's set to debut his next menswear collection for the brand today at Paris Fashion Week Men's.
The brand will also be debuting the new Valentino logo, VLTN, which Piccioli mulled over for quite some time. Eventually, he created a logo that appealed to both himself and his team of designers. Essentially, it is a shortening of the brand name with the original font.
The goal was to make the overall aesthetic more contemporary. Like all luxury brands, Valentino is attempting to court the millennial customer. This season, they've gone more street.
Valentino goes street for menswear collection
"I wanted to be very precise about this idea of street. I think there's a dignity in the streets and in sports," Picciolo said to WWD. "These pieces are really strong and of the moment. They express the culture of the moment and even the culture of the moment of the brand: couture meets street."
Valentino has become very popular among street style culture thanks to their rockstud shoes, bags and accessories.
Now they are capitalizing on that momentum to take the brand into the next era.
Since the departure of Maria Grazia Chiuri, now creative director of Dior, Piccioli has been tasked with continuing to elevate Valentino's offerings and grow their customer base.
In the millennial market, Valentino faces tough competition from brands like Saint Laurent, who count millennials as 70 percent of their customer base.
As Piccioli prepares to debut his revamped menswear today, the question will be how well can he compete?
photo: via Valentino Facebook page
FashionUnited

|
OPINION London - H&M, Nike and Asos were amongst the 13 fashion and textile brands who signed the sustainable cotton pledge earlier this month. Last month, the industry came together at leading denim trade show Kingpins, part of Amsterdam Denim Days, and stirred up the sustainable denim debate.
Op-ed by: Dio Kurazawa, Director of Denim at WGSN, who has close to 20 years of experience in the world of denim.
While these are small and honorable steps towards, to truly become sustainable, the fashion and textile industry needs to change the way they operate. Given the lack of formal regulation for sustainable textile production, the industry needs to rethink business models rather than acting sporadically and in isolation. Creating one-off sustainable collections, talking about pledges for environmentally sound cotton and denim production will only be effective if they are part of a bigger movement. A movement towards sustainable businesses in a sustainable society that focuses every decision they make on the environment.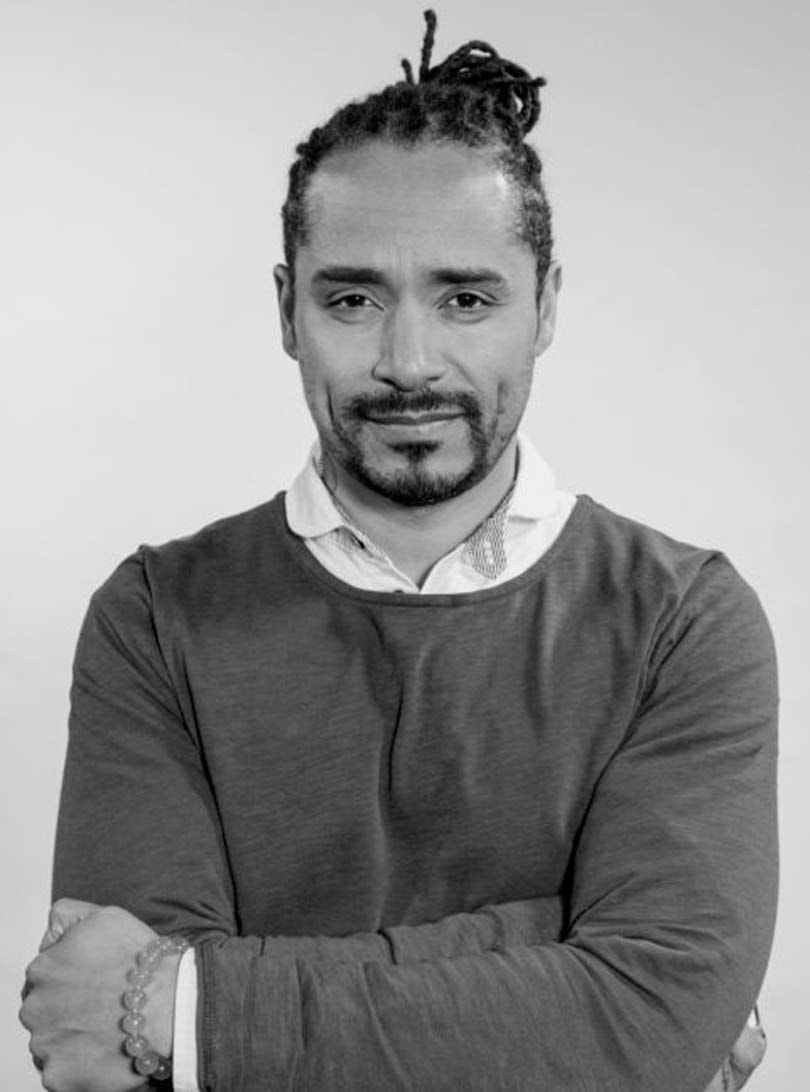 Sustainability as a concept has been buzzing for a while now, but its precise definition remains unclear. And because of this low level of clarity, there is no parameter that it can be measured against. For example, how do we know that reducing water usage by 1 percent during garment production equals sustainability? The process of creating such necessary parameters is underway, but it comes as no surprise that when politics and society deny climate change, the conversation can only go so far.
Many brands struggle to establish social responsibility as a core corporate value. It's hard work, involves lots of persuasion, and patience while running the risk of coming across as pretentious and dishonest.
As trend forecasters, we work hand in hand with the industry: helping them see what's going to happen and what to do about it. But I can't tell you to fasten your seatbelt and not fasten mine. So, we decided to experience first-hand what brands go through when making such a shift and the challenges of producing sustainable fashion. In April, we launched our first ever sustainable denim sample collection in partnership with Avery Dennison, M&J Group, Absolute Denim and Amsterdam Denim Days.
When making the collection, we came to realize that most suppliers, despite having innovative products focused on sustainability, had low stock of our chosen materials, due to lack of demand. The lack of demand is because right now, the industry has no legal responsibility to be sustainable. There are no regulating departments for the textile industry like there are in the food industry, for example. Without the parameters and proper governance, manufacturers aren't asked enough to create sustainable fabrics and materials. We found that it doesn't start with a brand saying they want to make a sustainable collection. It starts with the industry demanding sustainability.
So why do brands make the effort to create sustainable collections and sign pledges when, in reality, they don't necessarily have to? Because not-for-profit organizations such as Greenpeace are urging a movement towards environmentally sound behavior by increasingly creating awareness for social responsibility with the consumer. And the consumer listens. Previously driven by price point and choice, today's fashion consumers progressively expect sustainable products, processes, and behavior. This forces the industry to rethink their business models in order to continue growth. The question remains whether it also ensures that fashion and textile brands truly adopt sustainability across the board, given the lack of formal monitoring.
"To me, sustainability is a departure from tradition"
Sustainability can only happen when society starts changing its habits, addressing climate change head on and demanding sustainability in the fashion industry. Corporate conventions are at stake here too. Change towards truly sustainable behavior must come from within, driven by a redefinition of core corporate values of fashion and textile brands. Take Patagonia as a role model. They consider every stitch, every fabric and each manufacturer before they create, design and produce anything. That is what I believe every fashion and textile company should be doing.
The fashion industry is at a crossroads now. It cannot exist without claiming to be sustainable anymore because NGOs such as Greenpeace are demanding environmental consciousness and consumer's expectations mirror that. However, signing pledges and showing collections won't be effective when actioned in isolation. We need standalone statements and collections to become a thing of the past, and a socially conscious mindset be applied across the board to create a 'sustainable industry'.
This is an op-ed piece written by Dio Kurazawa, Director of Denim at WGSN. With close to 20 years of experience in the world of denim from design, development, washing and finishing, and fabric sourcing, Dio brings a vast amount of industry experience. He has previously worked for many of WGSN's top clients and has consulted for the likes of Levi's, Forever 21, C&A, Bestseller China, and Tommy Hilfiger to name a few. A passionate conservationist, Dio is very eager to promote cutting edge denim innovations that are not only trend driven, but environmentally sound.
Photos: Courtesy of WGSN
FashionUnited

|
Russian menswear designer Gosha Rubchinskiy is known for redefining global cultural ideas. He hails from the outskirts, and over the years has used his background to create a new subculture, carving out a well-deserved place for himself among streetwear-greats like Supreme and Palace. He now works together with big names like Stephen Jones, Adidas and Burberry.
"His show was gorgeous; in an amazing building, at midnight, with a very small audience, amazing people and tons of energy – skate boarders, musicians. But an odd kind of tension," Burberry CEO Christopher Baily said about Gosha Rubchinskiy's show last week. Rubchinskiy presented his latest collaborative collection with the British fashion house through a runway presentation in St. Petersburg, with Bailey in the front row.
Gosha Rubchinskiy creates collection for Burberry
Thirty-three year old Rubchinskiy created a collection of eight menswear pieces aimed at street style, not in line with the luxurious character that Burberry is known for. The line includes a new interpretation of the famous Burberry trench coat, which is oversized and is supplemented with shirts, a pair of shorts and football-inspired hats. The collection will be available in stores from January 2018.
"Gosha got in touch and asked if I wanted to work with him. And because I love what he does, I said yes. It was incredibly non-strategic and unplanned," Bailey reveals about the collaboration. "But it was quite effortless."
Gosha Rubchinskiy: creator of subcultures
Rubchinskiy began his career nine years ago with the very first catwalk show in a sports stadium in Moscow. The show, entitled 'Evil Empire', featured sportswear presented against a backdrop of rave music from the nineties. The models – young boys – wore facemasks with spikes and sweatshirts featuring slogans inspired by hardcore and death metal. Certain details in the show referenced the Cold War, and according to High Snobiety, the political statements made provided a defining moment for Russian youth culture. It is this culture that Rubchinskiy has managed to expand through the years, with youngsters in cities ranging from New York, Tokyo and Paris now wanting to appear Russian.
Even then, Rubchinskiy had a knack for creating complex and artistis political statements, Pavel Milyakov – who at the time created the visuals for Evil Empire – told High Snobiety. All aspects of the collection mattered: from the location to the soundtrack and the images. "For me the entire event was special because it was new, fresh and serious. And after all these years it still is. Not just in the context of Moscow, but globally, and that is his great strength," Milvakov concluded.
It was obvious to everyone who worked with Rubchinskiy at the time that the collection formed part of an ongoing cultural shift among the emerging generation in Russia, High Snobiety writes. "I met Gosha in 2007 or 2008 during a street party," says Kirill Savchenkov, who helped the designer organize his show. "We talked about the crisis of culture and identity. That this was being expressed through clothing was unique, and we worked with young people who themselves were part of this shift."
Adidas collaborates with Gosha Rubchinskiy
Many brands seem to like the fact that Rubchinskiy, who grew up in Soviet society, gets his inspiration from the fall of the Iron Curtain and Russian street culture. This has led to a number of collaborations, from Comme des Garcons, Palace and Supreme, to Burberry at present. Last year he was also a guest designer at the 90th edition of Pitti Uomo, where he presented a collection in an abandoned tobacco factory. Brands like Fila, Superga and Kappa contributed to the collection.
Furthermore, this week it was revealed that Rubchinskiy will once again collaborate with Adidas. The news follows on from the first Adidas collaboration, which was launched earlier this year during Rubchinskiy's runway show in Kaliningrad, Russia. The new collaborative collection, entitled 'Adidas Football x Gosha Rubchinskiy', is inspired by Russian youth culture in the eighties and nineties, met particular focus on the rave scene.
"Working with Adidas allows me to celebrate Russian youth. By combining fashion design that expresses my vision with the best sportswear brand in the world," Rubchinskiy says about the new collaboration.
The collection includes, among others, an oversized tracksuit jacket, woven tracksuit pants and sleeveless tops. A few items feature the text 'football' in Cyrillic. The line also includes shoes and accessories like sports bags and water bottles.
Besides his collaborations, Rubchinskiy also has a eponymous menswear brand. It is sold globally through various retailers. The collections are also available online.
During the month of June FashionUnited will focus on the menswear catwalk season. For all reads, click
here
.
Photo: Burberry, Gosha Rubchinskiy Facebook
Don-Alvin Adegeest

|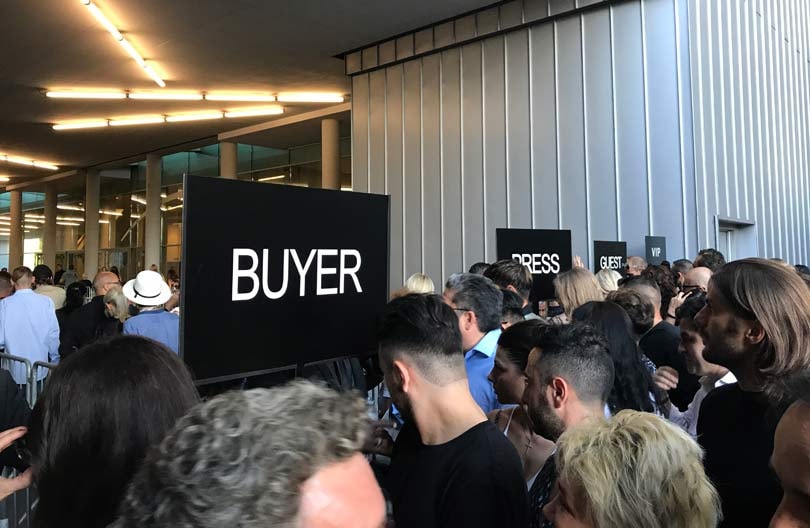 REVIEW The air traffic control strike in Florence threw a spanner in the works for many fashion folks who were leaving to go home on the last day of Pitti, but luckily I was getting a train to Milan for fashion week without any major delays.
After three consecutive days at the Florentine menswear tradeshow it was time to head to Italy's fashion capital where I am on the show circuit as part of the buying team for department store de Bijenkorf in Amsterdam, operated by the Selfridges Group. Milan Fashion Week is one of the rare weeks where we can see the shows without clashing with our buying appointment calendar.
At 9:30 sharp our driver collects us at our hotel near Central Station to take us to the Diesel Black Gold show. The temperature is expected to reach 35 degrees today and many venues are old buildings without air conditioning. In the car we have airconditioning to help us cope with the heat and plenty of snacks to keep us happy between the shows.
The enormous warehouse space at Diesel is thankfully air conditioned and we are seated near the catwalk's model exit. Girls in maxi dresses and butch sandals walk alongside boys in leather jackets and shorts layered with leggings. All very sporty and cool, but I am wondering why the regular Diesel customer would pay 30 percent more for its Gold collection, which looks similar.
Celebrity spotting at Emporio Armani
We get into a scrum as we arrive at Emporio Armani's via Bergognone headquarters as a well-known Korean actor is greeted by a throng of fans and paparazzi. Inside, the concrete entry leads to a dark room with a short catwalk that lights up like a 90s club. So far so good. When a series of looks with belted jackets appear, we are reminded of Armani's penchant for Japanese and Eastern traditions, which often blend seamlessly into his collections, but today felt incohesive. The catwalk presentation was interrupted by a short film announcing Armani's new venture into smart watches, and Canadian singing sensation Shawn Mendes, the face of the campaign, took a short walk on the runway to rapturous applause.
Next up was Marni, where seats are snaked in a vast industrial space that reminded of sitting on the tube. The collection look jumbled at first, with wide leg trousers, clonky footwear and cut and sewn shirting layered and patched offering a new proposition in proportion and texture. If you deconstruct the looks there were plenty of commercial items, but wearing top to toe Marni would be tricky for most.
So far the delays have only accumulated to 30 minutes
It is 4pm and the shows are only about 30 minutes delayed, not bad for Milan fashion week. Neil Barrett's show is on the edge of China town in his new headquarters near the infamous DSquared building. Barrett shows both men's and womenswear offering a sharply cut wardrobe for the spirited urbanite in his signature black, white and beige tones. The only hint of colour was a pop of red, striped on the sleeves of utility jackets.
Thermal water spray helps cope with the heat
Back in our chauffeured car we spritz our faces with thermal water and head across town to Corso Venetia for the 5pm Les Hommes show. The oppressive heat dampened the impressive venue, where even the champagne offered on arrival failed to cool us down. Melting in our chairs we waited 30 minutes for the show to start. Models with mouth piercings came out in laced leather jackets and trousers, jacquard sportswear and plenty of statement items. At the last exit I scrambled for the door, hoping I wouldn't melt on the way.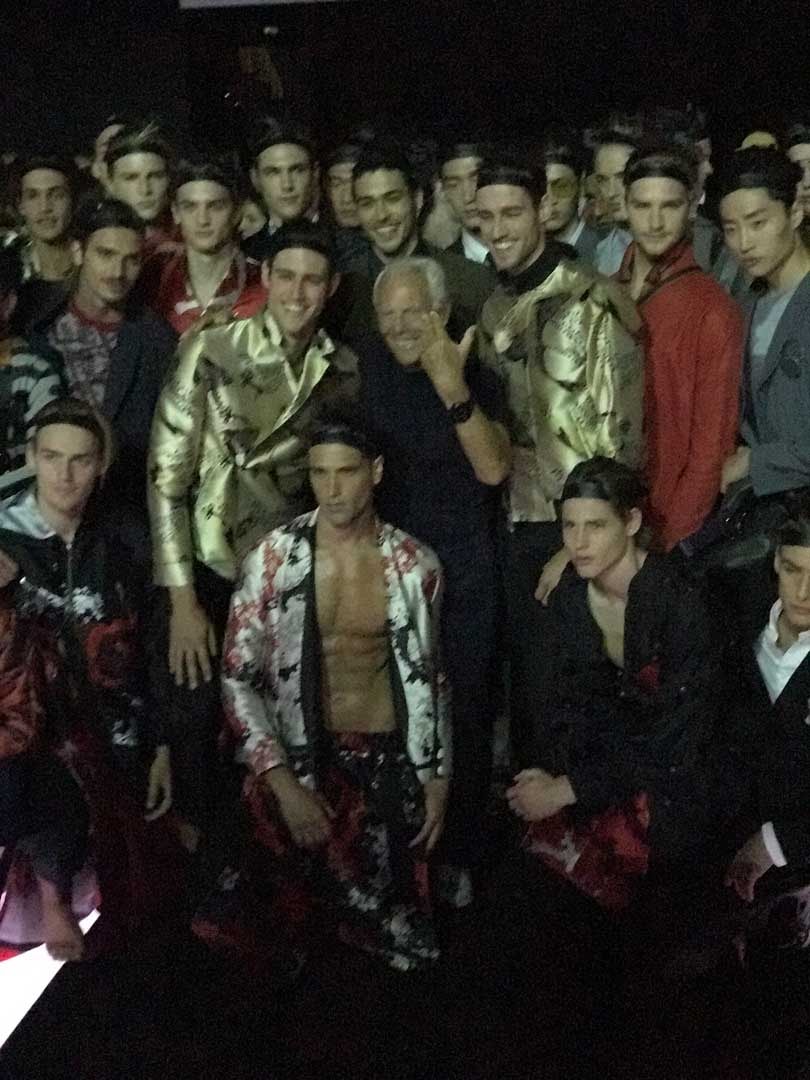 Versace's via Gesu headquarters was next on the list. It's a tricky time for the house of Versace, with many wondering who will take the creative helm if Riccardo Tisci isn't to be appointed. The show was typically Versace, with molto sexy dresses and buffed boys in statement clothes, with plenty of leather and Medusa iconography to satisfy its customers.
Back in the car we head to the Fiera, a tradeshow space on the outskirts of Milan. Here we go to Marcelo Burlon and end with Philipp Plein, who is showing at the same venue. We are tired and hope there will be some water as none of us has had a drink in over four hours. A skate park awaits us outside Burlon's show, while inside a waterfall and a mat fit for a boxing ring makes for a round catwalk. Tattood models, many with their faces inked, wore Burlon's unique sportswear, from MA1 zipped jackets to hoodies to bowling shirts and gothic beachwear, as the press notes stated.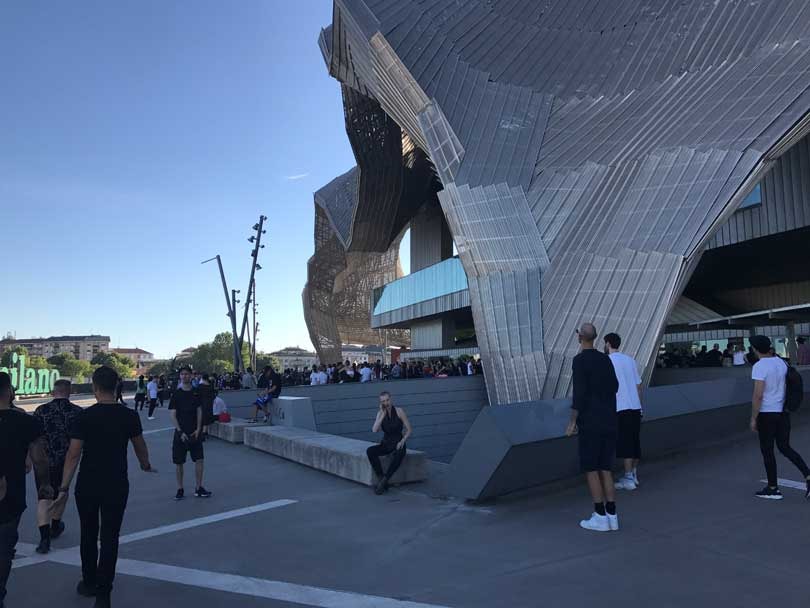 As we exit Burlon's show, we see an entire new breed of showgoers at Philipp Plein. One lady of a certain age with thigh high laced boots and very short shorts is seated next to me. Her husband is wearing a red t-shirt with diamanté sleeves and matching loafers in red crocodile leather. Both appear to be dressed in Plein. After a long hour wait with announcements over the speakers that were so crass they can't be printed here, a musical version of Grease appears on the set. All slicked back hair, leather jackets and high waisted denim. Could this be the new Plein? When the singers exit, we are treated to a car show, with lots of flames, high speed driving and a ramp for stunts. So far so banal. Finally there is a hint of a fashion show to come, when Jeremy Meeks, famous from his prison mug shot, takes a lone walk across the set. One by models come out, wearing Plein's signature high octane clothes that are set to make the brand a billion euro company soon. After the show I bump into Carine Roitfeld, who was sitting front row in the adjacent seat. She consults to Plein, although I struggled to see her influence of good taste.
At 10:30pm we make it back to our car and head to dinner. Day 1 of 3 completed.
During the month of June FashionUnited will focus on the menswear catwalk season. For all reads, click
here
.
Photo credit: Milan Fashion Week, Don-Alvin Adegeest
AFP

|
It is a rare exception to the rule: the gender salary gap in the fashion industry means female models are paid more than their male counterparts for the same job. None of the dozens of buffed and toned men parading at the latest Milan menswear shows since Friday can dream of earning anything like female catwalk stars, or of equivalent fame.
While the likes of Gisele Bundchen, Kate Moss and Naomi Campbell have long since passed beyond the confines to fashion to become A-list celebrities, their male equivalents, like the American Sean O'Pry or Britain's David Gandy, remain largely unknown to the grand public.
Gandy once observed: "Trust me to end up working in the only industry in the world where women get paid more than men, and treated loads better. "In the hierarchy of a shoot, you have the photographer, the female model, the stylists, the assistants, then the male model. You are the lowest of the low."
Frederic Godart, a sociologist who specialises in fashion's place in society, explains: "Even if the markets for designer men's and women's clothes generate roughly the same sales, about $30 billion (26.8 billion euros) each, fashion remains an industry primarily aimed at women."
Gisele's millions
"The brands and the fashion magazines are more interested in a women's aesthetic assets, which help to sell product better and as a result that pushes up the value of female models," he told AFP. Godart says there are around 1,000 young women worldwide who can make a comfortable living from top end modelling.
"In this world, it's 'winner takes all', which means the top female models tend to hit the jackpot and increase the gap with their male counterparts." A 2013 survey by American magazine Forbes estimated that top model Bundchen had earned 42 million USD in the previous year, 28 times the amount the best-earning male model, O'Pry, managed to pull in.
Brazil's Bundchen however is an exception in the fashionsphere. At the top of her game for over 15 years, she can command fees that exceed those paid even to the likes of her compatriot Adriana Lima or Australia's Miranda Kerr by tens of thousands of dollars per show.
"The more you go down the hierarchy, the pay gap tends to narrow," says Godart. "The average salary of a model in the United States, male or female, is only around 30,000 USD a year."
Price of fame
Not everyone manages even to arrive at even this modest level. Many models live precariously and are forced to take on other jobs to make ends meet between assignments where sometimes employers will expect them to accept clothes as part of their payment.
French male model Baptiste Nicol however insists that "you can still earn a good living without being in the top 100 in the world". "Working 15 days a month on average for catalogues, shows and tests, I end up with the same income as a company executive," says the 32-year-old, who describes himself as having had a modest career without ever leaving his home country.
Pay differentials with female colleagues? "They exist but also between different men. And you have to take into account that a male model will have his best earning years between 30 and 50" -- by which time most female models' maximum earning potential is behind them.
Rosa Sarli, director of the Elite modelling agency in Milan, says there is no set rule to determine how much a model gets paid. "It can depend on a lot of things apart from physical attributes, like fame for example. "If the model is married to a star or even the child of a celebrity, all that will push their price up." (AFP)
Photo: Catwalkpictures