AFP

|
The French fur industry and animals rights activists have clashed over a new hotline for people who are insulted or attacked in the street for wearing fur.
The French Fur Federation went on the attack this week against what it called the "misinformation of animal activists. "Every week fur lovers are attacked in the street verbally or physically by radical militants," it said in a statement to AFP. It announced plans for a new information centre in Paris and a hotline, SOS Animal Activist Attacks, offering "support and legal help" for anyone who had been harassed. The federation also lambasted the "hypocrisy" of some fashion houses who have "suddenly started denigrating fur to improve their image but who still use other animal products."
It warned that labels that this strategy was short-sighted. "Tomorrow silk, wool and leather will be the target for animal activist attacks," the federation claimed. But the main anti-fur group, People for the Ethical Treatment of Animals (PETA), hit back late Tuesday saying the "real victims" of violence were the animals. "In this cruel industry minks, foxes, chinchillas, raccoon, cats and lots of other creatures live confined in cages and then are gassed, electrocuted or beaten to death," it said in a statement. It said that there were plenty of alternatives to fur and leather.
Many major fashion labels no longer use animal pelts, including Gucci, the latest to say that it was going fur-free. British designer Stella McCartney, a vegetarian, has never used fur and has banned leather from her collections, developing instead "vegetarian leather" which she claims is as good as the real thing.
But the French Fur Federation warned of the environmental dangers of animal rights groups promoting "synthetic materials to make fake fur from non-biodegradable substances often derived from petrol, which will benefit the petrochemical industry." It said that 90 percent of its members used suppliers "certified by the WelFur label for minks and foxes farmed in Europe" aims by 2020 to have all certified. Rather than being on the decline, the federation said the French fur industry was growing with a turnover of 300 million euros, and employing nearly 2,500 people. (AFP)
Danielle Wightman-Stone

|
Australian luxury brand Ellery, which has shown during Paris Fashion Week for a number of seasons, is to consolidate its label into two collections a year instead of four.
This change in commercial strategy will also see the label founded by Kym Ellery 10 years ago, showing during Paris Haute Couture Fashion Week instead of the Prêt-à-Porter season, starting from January 2018.
These two collections will be released to the press and public in two "chapters", the first in January during Haute Couture Paris Fashion Week, and the second in March during Prêt-à-Porter Paris Fashion Week. However, wholesale buyers will be able to see the collection in its entirety and place orders during the couture shows.
"As we all know, the system needs to change. We need to show sooner to give time back to artisans and designers to do what they do best — create," said Kym Ellery. "I want to rediscover the feeling that I had 10 years ago, when I started Ellery. I want to bring back the dream. As an independent, self-financed growing brand, it is too difficult to chase after a schedule determined by vertical super brands."
Ellery to move catwalk show to coincide with Paris Haute Couture Fashion Week
The brand's catwalk show is scheduled for January 25, however, it is not part of the official couture schedule, the brand just states that the timing makes more strategic sense for the brand to allow them to deliver earlier in stores and remain on sale longer before markdowns, as well as create time for the design process.
In an interview with Vogue, Ellery added: "Ultimately, the benefit of this new business model is to create time; time to design, innovate, and produce designer product.
"Our aim is to give the garments and the artisans the respect that they deserve. The significant time that it takes to create a collection should be reflected in the subsequent weeks and months that the garments spend on the shop floor before being marked down."
Ellery, based in Paris and Sydney, is known for its avant-garde aesthetic, is stocked in some of the world's leading department stores including Selfridges, Browns, Lane Crawford, and Galeries Lafayette, as well as boutiques such as Dover Street Market, and online at Matchesfashion.com and Mytheresa.com.
Image: Ellery Facebook
Danielle Wightman-Stone

|
Italian luxury label Salvatore Ferragamo has opened a cutting-edge artisanal centre featuring a new design and prototyping lab for men's and women's leather goods in Osmannoro (Florence), as it looks to safeguard its design heritage and skillset.
The workshop, which has been designed to save energy and use environmentally sustainable materials, houses an additional twenty artisans to the current team of master leather workers, expanding the design lab, as part of Salvatore Ferragamo's vision to pass "indispensable artisanal expertise down to future generations," while also preserving its "heritage and know-how".
Eraldo Poletto, chief executive officer of Salvatore Ferragamo Group, said: "In keeping with the brand's philosophy, focused on the development of artisanal products that highlight the expert skills behind made-in-Italy production, the new leather goods atelier is a space for our artisans to cultivate their professional skills and passion for innovation and research, while upholding our long-standing values of tradition and craftsmanship.
"Not only does this project celebrate Ferragamo's leather crafting know-how, but it will also provide additional opportunities for the development of new products, as it enables us to test innovative materials and improve the quality and efficiency of various development processes."
Salvatore Ferragamo aims to safeguard heritage and skillset with new design lab
The workshop will also be used as an "open forum" for technical excellence and creativity with the aim of promoting research into materials, the creation of style and the crafting of products that meet market demand, said the brand.
The building was improved as part of a redevelopment project to increase safety and seismic stability, as well as reconfigure it to save on energy consumption and emissions, optimise energy absorption and use energy from renewable sources, including the installation of a new solar power system.
Salvatore Ferragamo is also in the process of construction of a new logistics hub with automated warehousing in Osmannoro that is slated for completion in 2018. The logistics hub will also be designed according to the latest energy and resource consumption standards in order to qualify for LEED Platinum certification.
Images: courtesy of Salvatore Ferragamo
AFP

|
Robert Clergerie, the maker of the luxury French shoes worn by Rihanna, Bella Hadid and Madonna, was never one to sit around kicking his heels.
When the brand that bears his name almost went bust four years after he had sold up and retired, he dumped his golf clubs and repurchased the company, pumping in two million euros ($2.3 million) of his own money to put it back on its feet. "I was 70, but I was bored stiff," Clergerie recalled. He had toured the Greek islands, taken up gardening and golf, but he was "bored to death, particularly by the golf". "It killed me to see the company go like that. I knew almost all the workers."
"The day I returned to the factory the women were in tears," he said, the emotion welling up in his voice. "I found a second youth," he told AFP, and so did his brand, its trademark flat and wedged shoes and boots again becoming a must-have for fashionistas. While other brands have been forced to go abroad for cheaper labour, Clergerie has bucked the trend. Its factory is the last in Romans-sur-Isere, once the capital of French shoemaking. Yet its founder, now 83, came very late to the business. The son of a grocer, "my father brought me up the hard way, working in his shop until I was 24.
Late bloomer
"I went to America but was called up to fight in Algeria (during its war of independence). Then I did lots of jobs, none of which made me happy," Clergerie admitted. It was only at 37 that he discovered his passion after replying to a small ad in a newspaper: "Wanted -- someone strong enough to fill the shoes of manager of a factory in the Rhone valley, close to the mountains and the sea." "It was the revelation of my life," Clergerie recalls in a new book, "Robert Clergerie, the Man Who Shod Women".
In 1978 he struck out on his own, taking over a factory in Romans and launching the first collection in his own name three years later. His first three styles -- Paris, Paco and Palma -- were an instant hit, wowing the women's market with flat slightly boyish shoes which caught the spirit of the times. "The 1980s were a golden age of disco, partying and real excitement," he said, with Bianca Jagger, Hollywood legend Lauren Bacall and Madonna beating a path to his Paris shop, which sold 11,000 pairs a year.
'I cried and vomited'
But the company grew too quickly, and needed more cash to keep up with demand. In 1996 Clergerie sold his controlling stake to investors, though he still held 10 percent of the shares and stayed on until 2001 as artistic director. "Signing it over killed me," he said. "I went home and cried and vomited." In a few short years his two main rivals in Romans went to the wall and by 2005 his own brand was also on its uppers.
That was when Clergerie returned to save the day. The brand prospered and seven years later he finally retired, passing the company and its 17 shops around the world on to French and Hong Kong investors, who had promised to keep making the shoes in Romans. "It is now five years since I really retired," said Clergerie, and "I am starting to detach myself, though not totally," he added with a note of warning. Because the Clergerie is "like a woman I loved madly -- and now there is someone else in her bed." (AFP)
Photo: MARTIN BUREAU/AFP
Vivian Hendriksz

|
London - With the end of 2017 a few weeks away, retailers and brands are already busy planning their future stock. 2017 may have seen its fair share of trends emerge, but what will the year 2018 have in store for the fashion industry? With the start of a fresh new year just around the corner, FashionUnited has joined forces with retail analytics company Edited to share its top trend predictions for 2018.
"2017 was one of the most polarizing and fragmented years on record - whether you look at politics, current affairs or entertainment," says Katie Smith, Retail Analysis & Insights Director at Edited. "This trend will continue in 2018 into the fashion industry. Whether it's extravagant, over-the-top silhouettes of the '80s offering escapism or dressing functionally to reinforce our desire for comfort, what we'll wear will span the extremes of the fashion spectrum."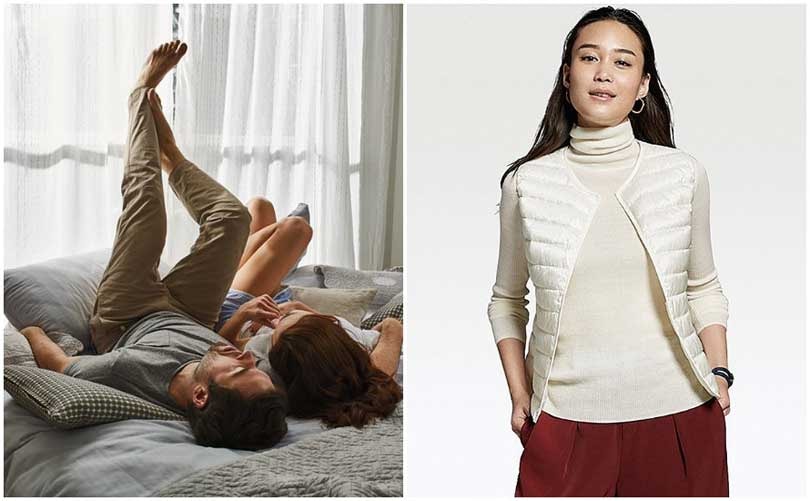 #1 Enhanced functionality - apparel for every day, every situation
Consumers today continue to travel further and further from home more frequently, for work and for leisure, while living in increasingly busy and crowded cities. At the same time, they also have more varied and flexible work lives which makes it easier to balance their social lives. While there is more interest in the growing athleisure category, apparel, in general, will begin to take on more enhanced technical properties, as consumers become more aware of their bodies needs.
"In 2018 we'll see more brands tackle the pressures of modern lives, incorporating fit and performance properties into apparel beyond activewear," says Smith to FashionUnited. "That will result in clothing that responds better to the weather, that travels well and is hyper-versatile. This could also impact convenience services for the post-purchase care of apparel." Brands such as Dockers, Levi's and Uniqlo have all expanded their current collections over the year to include more versatile and functional items, which can be worn from the office to the gym and even to happy hour.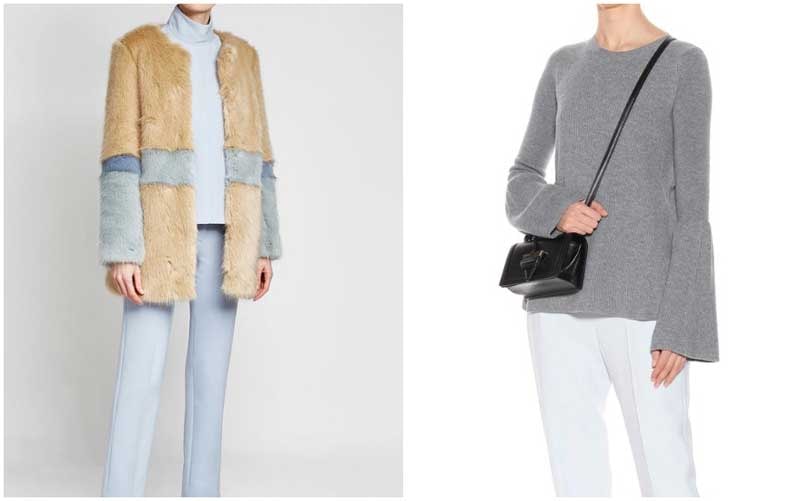 # 2 More sustainable, eco-friendly brands - who say no to fur
An increasing number of consumers are showing interest in how and where their products are made, pressuring retailers and brands to produce more responsibly and take on an ethical outlook. Brands which take on an authentic position concerning social and environmental issues will stand out, and connect easier with millennials and Generation Z consumers than those which do not. In particular, new brands which address hot topics such as fur and leather are likely to become increasingly popular next year.
For example, when luxury fashion house Gucci, one of the industry's most influential brands, announced it was going fur-free from Spring 2018 this October, many applauded them and followed in suit. "In a climate where social media campaigns can go viral, brands will be thinking incredibly carefully about the environmental and social impact of the products they create," notes Smith, who expects more luxury brands to follow Gucci's lead next year. "Consumers will also become more clued up about sustainable down, vegan leather and lab silk."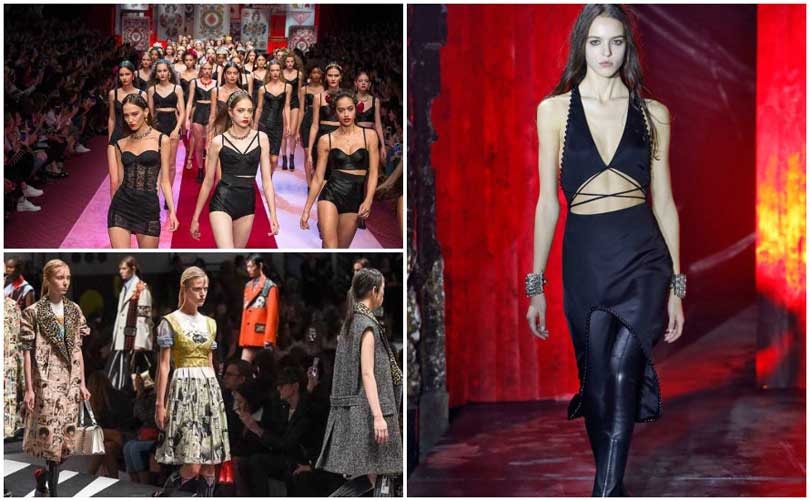 #3 All attention on the bust area
It is no secret that 'dare-to-bare' areas of flesh have become a trend in their own right in women' wear. Over the past year, we have seen new, cropped styles emerging which place more emphasis on abs as well as the shift from cold-shoulder styles to exposed, Bardot-inspired shoulders. The bust area is set to take the spotlight next year, as autumn 2017 has already seen the return of the corset as a belt detail, in addition to slogan t-shirts which use motifs such as watermelons or winking faces on the breast area.
This increased focus on this particular area of the female form is set to grow to Spring 2018, as fashion houses including Alexander Wang, Helmut Lang and Fendi all presented designed which incorporated bras as outerwear on tops and dresses. Other leading designer brands, such as Prada, Versace, Louis Vuitton and Dolce & Gabbana paired the popular bralette over t-shirts and dresses or presented it alone with high-waisted skirts.
"External seams, corset details, and sheers will add to the buzz around the breast! This will be done in an inclusive way," adds Smith. "Gone are the years of everyone seeking a plumped-up shape, as declines in the push-up bra showed."
#4 A return of occasionwear, inspired by the Royal-Wedding
The upcoming wedding between Prince Harry and Meghan Markle in 2018 is set to lead to another trend concerning summer occasionwear on both sides of the pond. "You can expect retailers and the magazine industry to go all-in on content in the lead up to May, with much scrutiny on the bride's and attendees outfits after the event," notes Smith to FashionUnited.
Some of the key trends for Summer 2018 for occasion wear include dresses with asymmetric one-shoulder, higher necklines, as well as strapless dresses and puffballs hems. Ruffles on the other hand, which were big for occasion wear and formal wear this summer, are likely to shift from being chaotic and haphazardly thrown on many dresses to columned tiers on sleeves or skirts. Evening jumpsuits will also be big next summer but are likely to be more formal and tailored.
Key colours for wedding season will be bubblegum pink, lavender, sunshine yellow and metallic. Bold earrings are also set to make a comeback next year and will complete any look.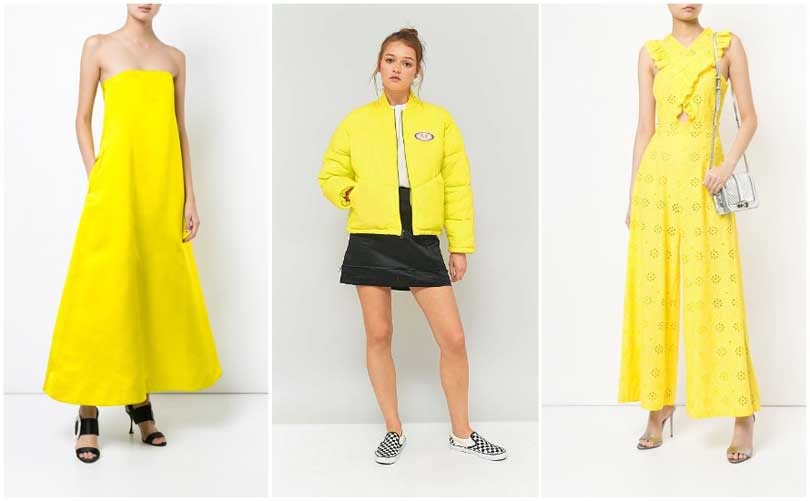 #5 Yellow free-for-all
Millennial pink may have been the 'it colour' of 2017, but in 2018 everything will be about the color yellow. The main tone will be a lighter hue of neon yellow, as consumers seek out brighter and vibrant clothes to help combat global concerns in these politically and socially charged times. Retailers would be wise to take on strong color stories for merchandising, as consumers seek out statement colours to make their wardrobes more bright and cheerful.
"This trend is directly influenced by the impact of street and workwear," says Smith. "Hot brands like Off-White and Gosha Rubchinskiy have used iconography of street signage in their prints and apparel and Kanye West's Yeezy line and Nike have picked up on the references. We'll see a wider range of women's and men's apparel picking up the lead on yellow in 2018, as well as the shade being referenced in branding and campaigns, just as we saw with millennial pink."
#6 '80s/'90s-style - the new 'must-have' accessory: fanny packs
The key trends from the '80s have been having a strong comeback in fashion as of late as a throwback to a time when fashion and lifestyles where both fast and frivolous. As the global political climate remains fractious, consumers seek out a certain level of comfort from a more simple era. "With Millennials delaying home purchases and starting families, they have high disposable incomes which revisits some of that 80's hedonism," notes Smith. "The 80's is somewhat akin to pure escapism from the harsh realities of life."
While key trends set to continue next year include oversized checks on power suits, extreme sleeve detailing, asymmetric hems one of the 'must-have' accessories will be the super-functional fanny pack. The fanny pack was spotted all over the Spring/Summer 2018 runways, in both formal and casual variations. Casual styles took inspiration from the classic '80s fanny pack, as seen at Kenzo, Marc Jacobs and Balenciaga, worn across the hips or slung cross-body.
More formal and dressy fanny-pack styles were seen at Gucci, Givenchy and Kate Spade. These designer brands gave the fanny-pack an updated shape, and use higher-end materials such as leather to give it a more polished look. "Chain embellishment, metal fastenings and brand logos ramp up the luxe factor."
Photos credits: Homepage: Alexander Wang, Catwalkpictures / MadeME, Urban Outfitters / Shrimps AW17, Stylebop / Sies Marjan, Spring 18, Browns
Dockers AW17, Facebook - Uniqlo, own website
Shrimps AW17, Stylebop - Stella McCartney AW17, Mytheresa.com
D&G SS18, Catwalkpictures - Prada SS18, Catwalkpcitures - Alexander Wang AW17, Catwalkpictures
No21 Pre-Spring 18, Stylebop - Sies Marjan, Spring 18, Browns
Adam Lippes SS18, Farfetch - MadeME, Urban Outfitters - Alice Mccall SS18, Farfetch
Tommy Hilfiger AW17, Zalando - Prada AW17, own website
Kristopher Fraser

|
While dates and times are still being figured out, the Fédération de la Haute Couture et de la Mode has released the latest additions to the calendar for Paris Men's Fashion Week. Earlier FashionUnited announced : that Vetements would be added to the calendar, but numerous more additions have been made.
France's Nïuku, Germany's GmbH and Britain's Dunhill London will all be joining the calendar for Paris Men's Fashion Week. Dunhill previously showed on their home turf of London under new creative director Mark Weston, but now they are flexing their muscle in other markets.
Palomo Spain, the brand known for their genderless apparel and dressing Beyoncé for the reveal photo of her twins, will also be showing at Paris Men's Fashion Week. Virgil Abloh's Off-White will be returning to the calendar after showing in Florence last June as part of Pitti Uomo. In addition, Acne Studios will be making a return.
Many up-and-coming brands and designers will be opting for a presentation format. Those include Myar, Takahiromiyashita the Soloist, Arthur Avellano, Ambush, Amiri, Editions M.R, Nicolas Andreas Taralis, Sadak, Undercover and Yang Li.
Paris Men's Fashion Week will run from January 17 to 21. The official calendar will be released in the coming weeks.
Photo: via Alfred Dunhill Facebook page
Kristopher Fraser

|
Karl Lagerfeld will be renewing his eyewear license for his eponymous label with Marchon until 2023. The partnership will cover the design, development, production and distribution of both the sunglass and ophthalmic collections. Lagerfeld's original license with the company began in 2007.
In 2013 after he relaunched his eponymous line, the designer inked a deal with Marchon set to expire this year. Lagerfeld is proud to continue his relationship with Marchon.
"Over the past 10 years, Marchon has proved to be a trusted partner that shares our passion for premium quality product and cutting-edge design innovation," said Pier Paolo Righi, chief executive officer of Karl Lagerfeld. "As we continue to grow our overall business, we look forward to further expanding our iconic eyewear across the globe."
Currently, Karl Lagerfeld has over 80 points of sale worldwide. In 2015, Lagerfeld began expanding his namesake label after partnering with G-III Apparel Group. Since then, he's expanded the brand's offerings of women's apparel and handbags. The line has also become available at notable department stores like Lord & Taylor.
photo:via Karl Lagerfeld Facebook page
Don-Alvin Adegeest

|
As Western retailers and luxury brands look to attract the next generation of shoppers, they need only look to China, who's younger consumers and millenials are snapping up luxury products faster than one can say 'Gucci'.
According to a report by Deloitte in association with Chinese companies, Secoo and Tencent, Generation Z and Millenials will be responsible for 50 percent of luxury sales by 2025. This will largely be driven by young Chinese consumers' love of shopping online, something that western brands will have to embrace to target this demographic.
The report attributes China's rising luxury-consuming class to several reasons
"The first reason may economic with the Chinese government introducing policies to stimulate demand for domestic luxury consumption by reducing import duties on categories, such as cosmetics, luggage and apparel," Secoo Luxe's Mr. Chan said. "The second reason is that young consumers, even though their total amount of wealth is much smaller than their parents', have more disposable income and are more willing to spend money.
"The third reason is because the young consumers understands the true meaning of luxury," he said. "Their purchasing of one luxury product is no longer to show off, but to treat themselves."
Western brands must learn to speak the 'Millenial' language
"One major suggestion for western brands is to embrace online shopping," said Eric Chan, CEO of Secoo Luxe, Beijing. "This doesn't mean that the western brands should quickly start to sell their products online, but means that they should know the language the young generation is talking."
According to Luxury Daily, 48 percent of China's luxury buyers are under 30 years old. These young consumers are fully embedded in the digital space and do a large majority of their shopping online.
Data for the "Chinese Luxury Ecommerce Whitebook" was collected between Oct. 1, 2016 and Sept. 30, 2017 and features a combination of Chinese luxury retailer Secoo's real shopping data, mapped against Tencent's digital and social media data from consumers, including videos they have been watching. Tencent is the parent company of China's popular social messaging application WeChat.
But while China is showing the greatest consecutive growth in luxury sales, the U.S. remains the largest luxury market in the world, accounting for 22 percent of sales. China comes in at a close second at 21 percent.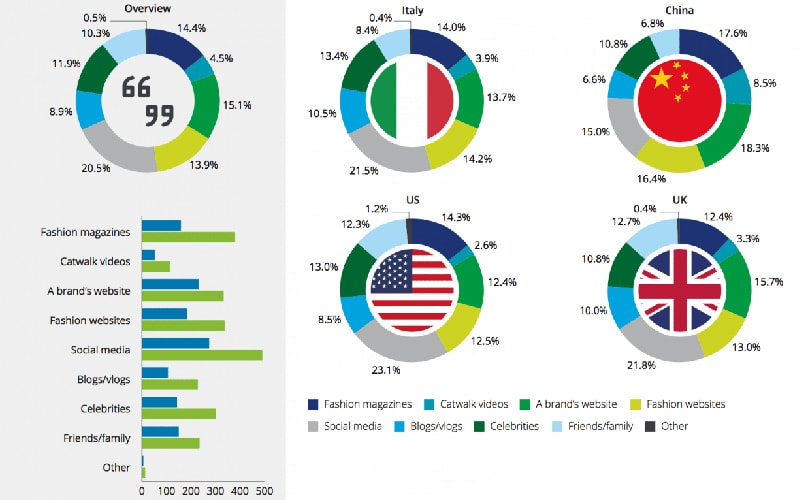 How do young Chinese consumers differ from other countries?
Chinese millennials discover trends from brand websites not social media. Surprisingly, when millennials look for the latest trends, social media is the most cited channel in all countries except China, states Jing Daily. For Chinese millennials, fashion magazines and a brand's own website are the most important. It shows that even though Chinese millennials live and breathe social media, when it comes to the authority of fashion, brands and publications still hold sway.
Quality over quantity
Quality is the No.1 listed factor that draws millennials to luxury brands across the board. According to Deloitte, quality is the "one attribute likely to push a consumer to buy luxury when they could buy utility," and "extensive data" from social media empowers them to judge a product's quality.
Surprisingly, Chinese millennials ranked higher for favoring "uniqueness" when buying an item, compared to millennials in the West. They also like intangible factors such as "the stories it tells."
Industry observation
According to the conclusion of the report, the luxury spending level of young Chinese consumers may not be as diverse as expected. Since their choices and influence are still very authoritative, brands have plenty of room to research how they'd like to be recognized, rewarded and engaged with. More than 50 percent of those surveyed said they use loyalty program apps, an area that merits further research.
Photo credit: Tiffany, Resonance China, Deloitte "Bling it on" Report; Article source: Jing Daily, "5 Surprising Facts About the Luxury Shopping Habits of Chinese Millennials;" Luxury Daily, "Almost half of all Chinese luxury buyers are under 30: report"
Kristopher Fraser

|
The latest update to all the Fashion Month schedule changes comes from Vetements. The luxury label designed by Demna Gvasalia, also artistic director of Balenciaga, has announced it will be joining the Paris Men's Fashion Week calendar next year.
Gvasalia has become notorious for shaking up the Fashion Month calendar, having shown Vetements at Paris ready-to-wear and couture in the past. Balenciaga also recently announced they will be combining their men's and women's shows.
Their unisex show will take place on January 19, during Paris Men's Fashion Week fall/winter 2018. The time slot and venue have yet to be revealed.
Last season, Vetements opted to skip the runway entirely and have showroom appointments.
Gvasalia is known for being a disruptor of the fashion industry. The designer has taken a very digital and authentically raw approach to debuting his collection, and has worked to find ways to streamline production of his collections. The brand is known for having a high full-price sell through rate due to Gvasalia's strict approach to supply and demand.
His popularity among street style stars certainly doesn't hurt either. Not a single Fashion Week has gone by in several years where someone wasn't caught wearing a statement making Vetements piece. He's certainly managed to turn the industry on its head.
Vivian Hendriksz

|
London - Gucci has secured yet another historical venue to serve as the backdrop for its Cruise 2019 fashion show, namely the ancient site of Les Alyscamps, in France.
Gucci's Cruise 2019 collection presentation, set to take place on May 30, 2018, will take place at the Unesco World Heritage site, which is home to one of the world's Mose renowned Roman necropolis. Alessandro Michele, Gucci's creative director, is known for seeking out remarkable locations to serve as the backdrop for his collections.
Gucci to show Cruise 2019 collection at Alyscamps in Arles
The show location follows on from previous cruise collections shows at historical venues, such as the cloisters in London's Westminster Abbey, the Palatina Gallery at Florence's Palazzi Pitti and the DIA-Art Foundation in New York City.
Although the Italian fashion house has received commentary in the past concerning its choice of show location, Gucci stresses that it is set to work alongside the city of Arles for its upcoming Cruise 2019 show, to ensure the site is protected and respected.
"The city of Arles, also consistently involved in cultural initiatives, is happy to collaborate with a luxury brand such as Gucci," said the luxury fashion house in a statement. "This will be the first time that the ancient site of Alyscamps will host an event of this caliber."
Homepage photo: Courtesy of Getty Images via Gucci