Vivian Hendriksz

|
London - It is no easy feat for any designer or brand to create a truly unique experience at London Fashion Week. While traditional catwalk shows and presentation formats do offer viewers a glimpse into the story behind the collection, effectively conveying the deeper idea behind the designs shown remains challenging. Over the years more and more designers have been turning to new technologies to effectively engage with their audience and take them on an experience-driven journey. Burberry was the first to live-stream its fashion shows to viewers all over the world, while Topshop offered visitors the chance to have a front row seat to its previous shows using VR. Now Steven Tai has taken this one step further with his immersive fashion showcase for AW18.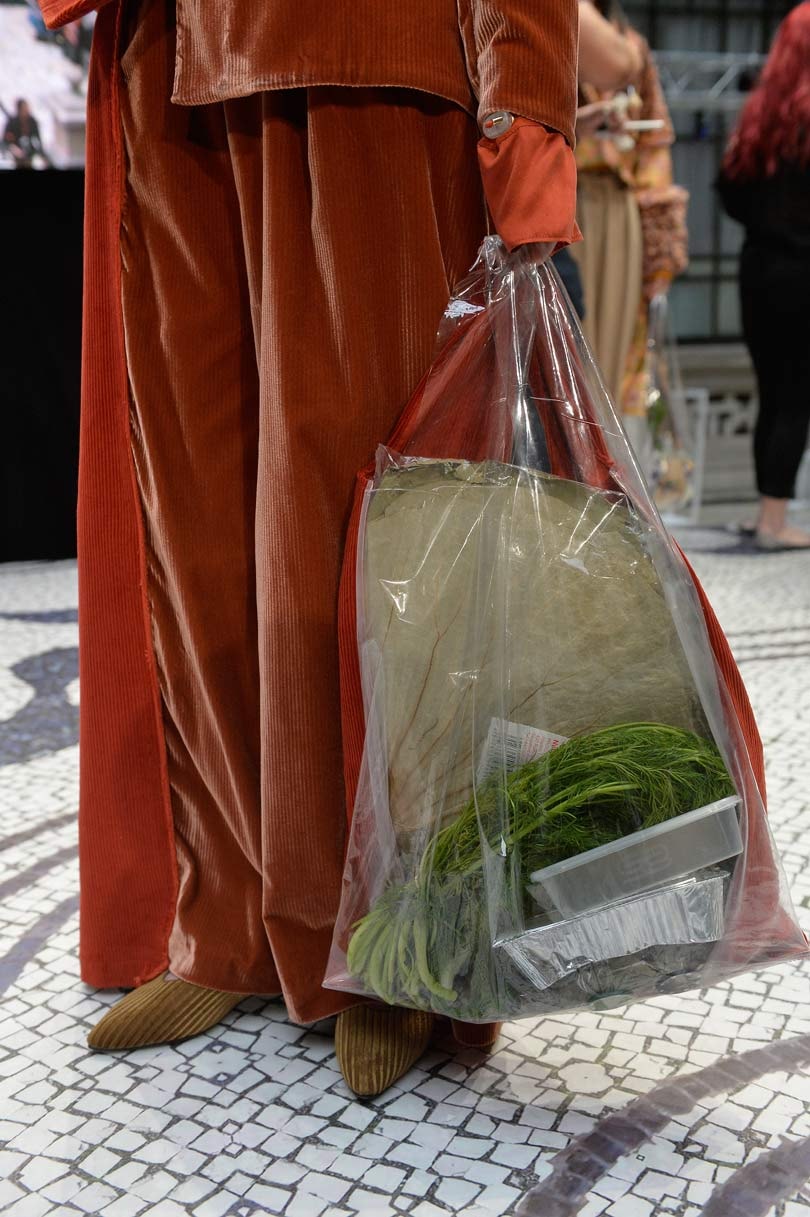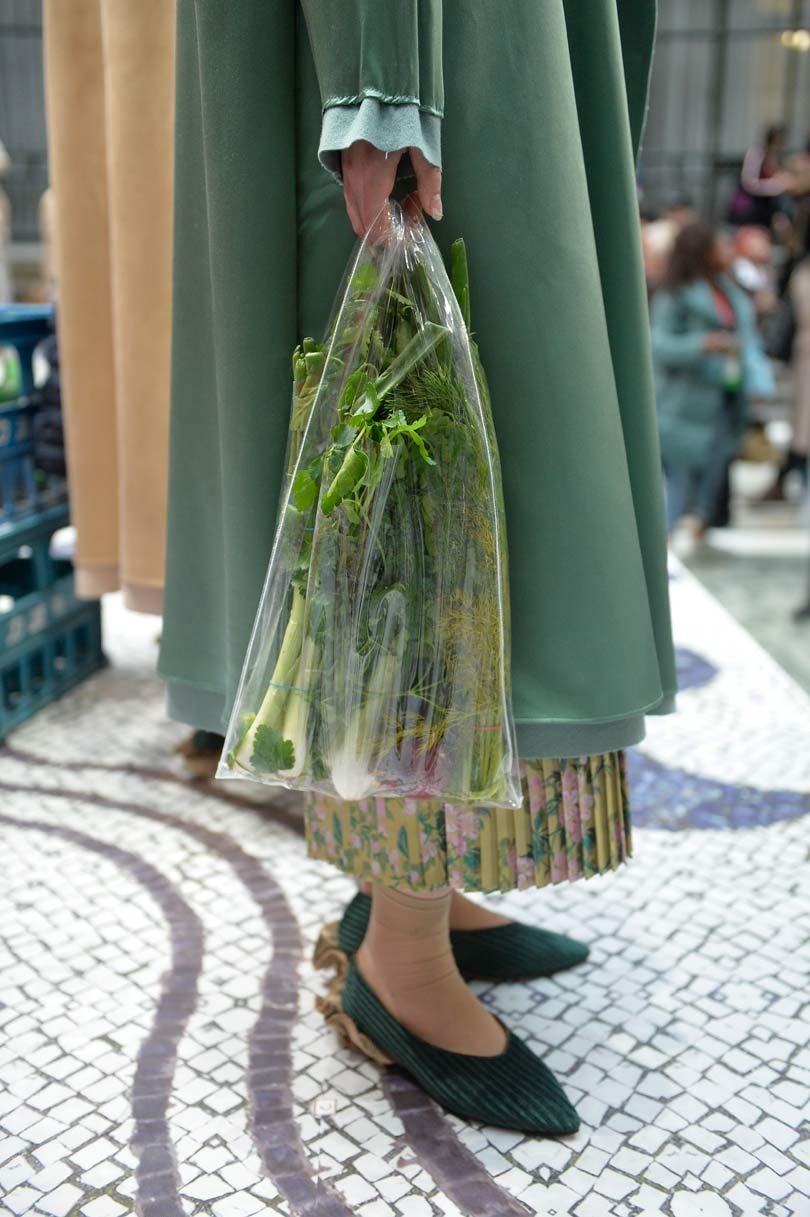 For his London Fashion Week AW18 presentation, Steven Tai teamed up with London College of Fashion, ILMxLAB and Innovation Agency (FIA) to launch an immersive, digital presentation like no other before. Guests at Steven Tai's AW18 presentation were witnessed the global debut of LiveCGX, ILMxLAB'S performance-driven digital augmentation technology which not only digitally transformed the venue itself, but also pieces from the collection itself. Taking place at the Foreign and Commonwealth Office in London, the presentation included a physical showcase of the AW18 collection on live models, who modeled alongside an augmented digital avatar which was generated in real time using CGI.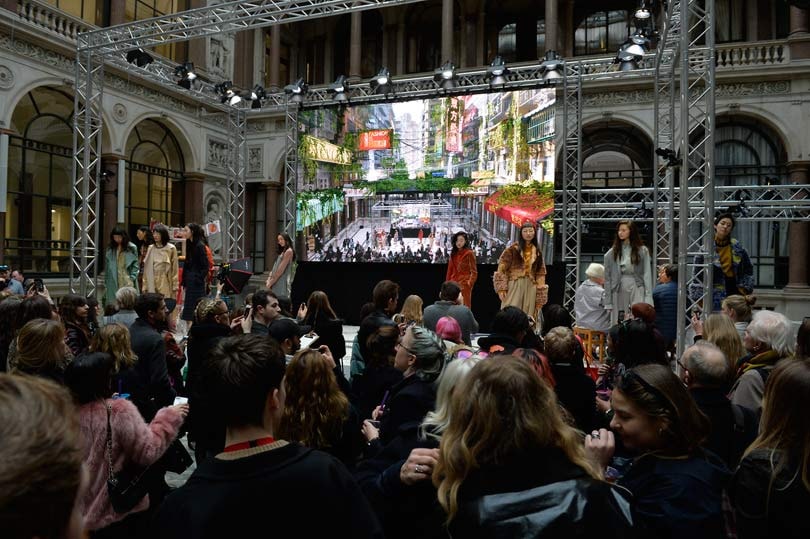 How Steven Tai uses LiveCGX to elevate his London Fashion Week AW 18 presentation
"Fashion is about storytelling," said Steven Tai in a statement. "It's about representing a concept, to sell a dream, or just selling an idea that is close to the designer's heart. Having a digitally augmented presentation this season allows us, and our guests, to achieve and experience things beyond our physical possibilities." Displayed on a giant screen inside Durbar Court, the presentation space was transformed in real time, layering inspiration from Macau onto the physical surroundings. While live models showcased Steven Tai's AW18 collection live on stage, on the screen they were digitally transported to a marketplace in Macau, complete with trees and food stands. At the same time, another model in a motion capture suit off-stage was digitally visible on the Macau-inspired world screen modeled two Steven Tai designed digital garments which transition from one to another in real time.
Instead of seeing the digital presentation control the live performance, the performer drives the presentation, engaging with the audience. Through this evolution of the traditional presentation format, viewers are offered a glimpse into a future where clothing is both physical and digital and can be worn in perfect coordination. "Immersive technologies are leading us to a new narrative for the fashion industry. Imagine a world where you can augment everything from the clothes that you're wearing to the environment that surrounds you, in real-time. That is the glimpse into the future that this technology offers us. LiveCGX will force us to redefine what we experience in fashion today, allowing for creative possibilities where we are limited only by our imagination. We are thrilled to bring this experience to life at this incredible venue with the support of the GREAT Britain Campaign," added Matthew Drinkwater, Head of Fashion Innovation Agency.
The digital presentation hails the industry's first steps towards a new type of live performance, one which seamlessly connects real-time visual effects and human-driven expression. "What is exciting about this collaboration with Steven Tai and London College of Fashion's Innovation Agency is the opportunity to bring the stories and worlds that have inspired Steven's designs to life by exploring augmented live performance as a means of sparking intimate and compelling relationships with the people and characters who inhabit those worlds," concluded Vicki Dobbs Beck, ILMxLAB's executive in charge.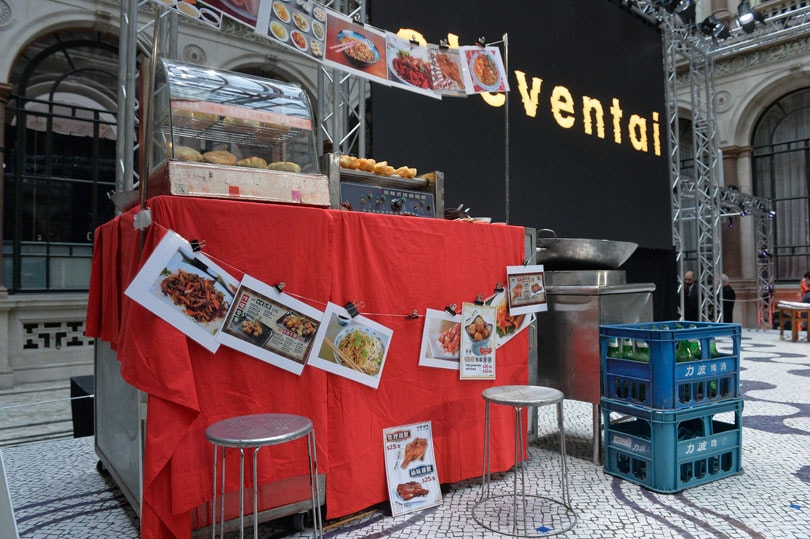 Photos: Courtesy of Steven Tai
AFP

|
Silvia Venturini Fendi and Karl Lagerfeld caught the feminist wave at Milan Fashion Week on Thursday with their emphasis on strong women in Fendi's collection for next fall and winter. The idea is to dress a woman "who has more and more sway in society, who can defy men's rules and take over," said Venturini Fendi, the label's co-artistic director with Lagerfeld.
In a decor evoking a boudoir crossed with a private men's club, the silhouettes were assertive, with square shoulders shaping the leather coats as well as the short and long capes in fur or Prince of Wales wool. The look bestows "super powers on the Fendi Woman," Venturini Fendi told AFP.
The kerchiefs worn around the neck in many of the creations recall a bygone era when women embroidered handkerchiefs to give to their men as they went off to war, she said. As a motif, it is romantic while also saying women are assuming power, she said. "This woman does not stay at home and embroider, she is out in the street with her head high." The motif reappears as the patchwork pattern of a flowing white dress that's both girlish and business-like.
Feminism comes naturally to Fendi, which was founded by five sisters in 1946 building on their parents' fur and leather shop. "I've never made a difference between men and women, so it's natural for me to support these struggles when they re-emerge," she said, referring to the #MeToo movement against sexual abuse and harassment. After the show, Serge Brunschwig, who was named Fendi's new chairman and CEO on Monday, appeared backstage to greet Venturini Fendi and Lagerfeld. (AFP)
Photos:Fendi AW18/ Catwalkpictures
Danielle Wightman-Stone

|
While catwalk shows make take the glory, a fashion week presentation really does allow the designer to showcase the inspiration around the collection, allow press and buyers to see the pieces up close, as well as give them the chance to really appreciate the craftsmanship of the designs. The autumn/winter 2018 season at London Fashion Week saw 28 presentations on-schedule, and FashionUnited shares its favourite five presentations.
Sophia Webster 'I Don't Need A Mango to Tango'
You can always count on Sophia Webster to create a theatrical display, in previous season we've had a winter wonderland, delicate fairies, and even mermaids, and for autumn/winter 2018 we entered the opulent, vibrant and intensely competitive world of ballroom and Latin dance, complete with dancing models.
Taking inspiration from Baz Luhrmann's 'Strictly Ballroom', you could see the film's central character, Tina Sparkle, throughout the presentation, from the crystal encrusted heels to the beaded clutch bags and the studded, feathery lattice sandals that had a Latin flavour to them.
"The collection and show theme this season is very close to my heart as I grew up with competitive dancing," explains Sophia Webster. "Dance costumes have to be made in striking colour combinations, sequins and crystals to attract the attention of judges, and I loved bringing all this to life in AW18. There is endless inspiration to create a bold and spirited collection, which is at the same time sexy, feminine and wearable.''
The presentation really was a spectacle, with the Hotel Café Royal's Pompadour Ballroom being the perfect backdrop to the hundreds of dance trophies, glittery shoes and dancing models who shined on podiums to a soundtrack that included the Spice Girls.
There were so many highlights from the strappy peep toe sandals inspired by Blackpool Tower Ballroom's famous gilt, Rococo ceiling to her signature speech bubble bags featuring phrases including 'Groove is in the Heart', 'Shall We Dance' and 'Twinkle Toes', which featured gold disco-ball kiss locks and ornate rococo handles. This was all complemented perfectly by feather and embellished garments created by Christian Cowan.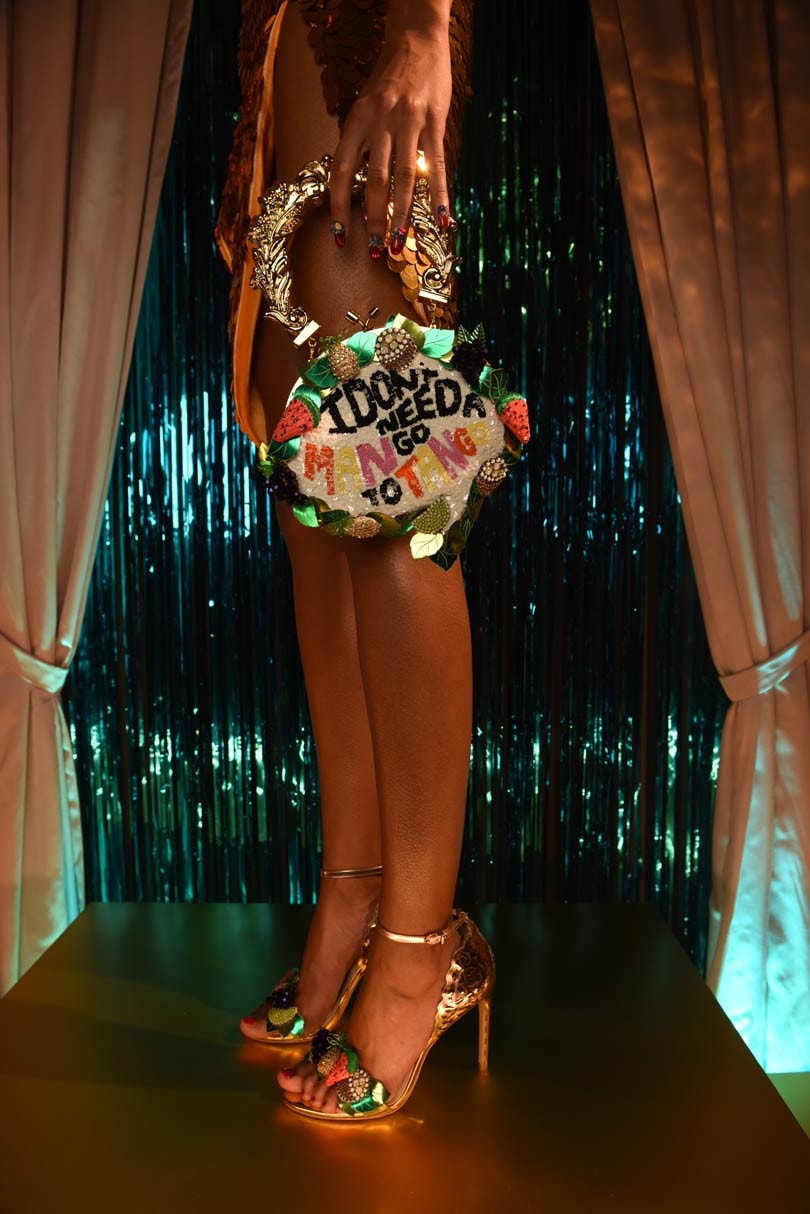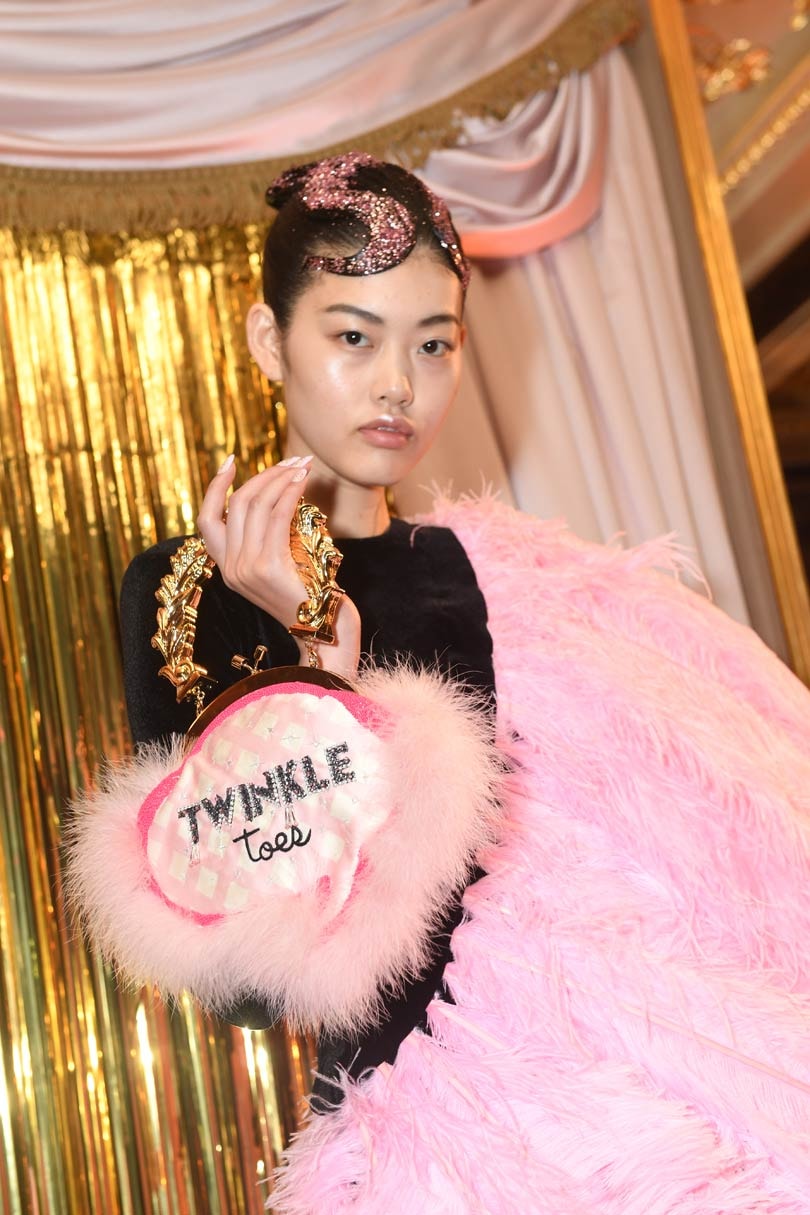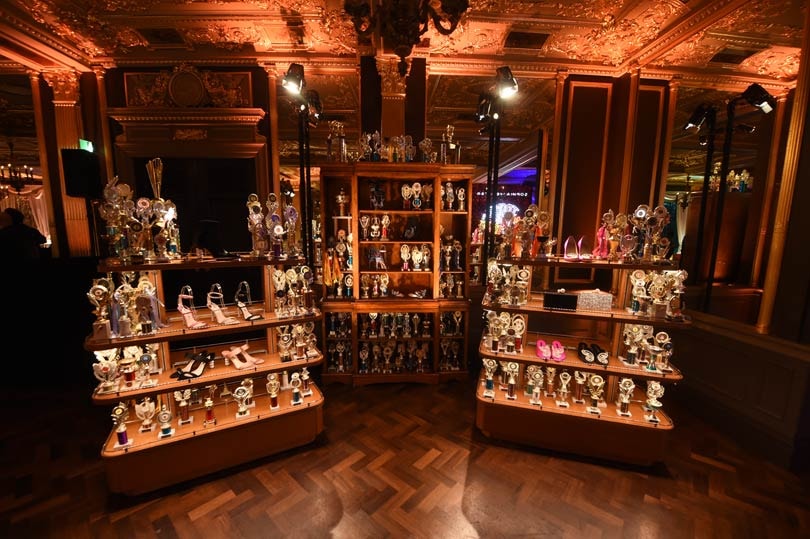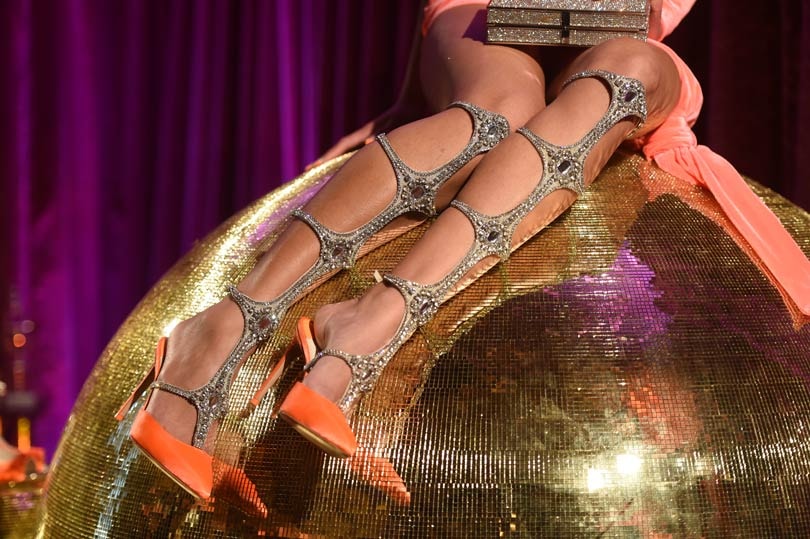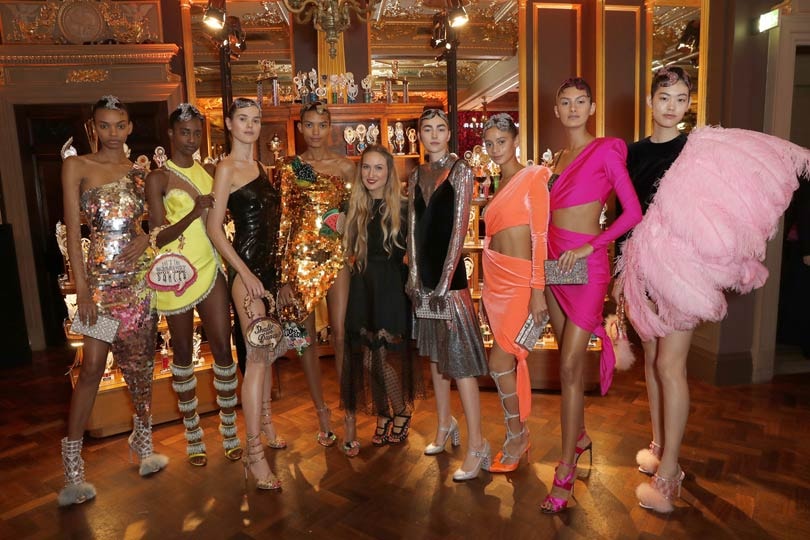 Images: courtesy of Sophia Webster
Ryan Lo 'I Love Me!'
Returning to presentation format, Ryan Lo showed off a special collection of his greatest hits against the powder puff pink gallery of restaurant Sketch, "It is simply about what I love to do!", explains Lo.
Celebrating his signature styles, the presentation showed off the designer's creative use of various fabrications, from tactile knitted tulle worked into A-line princess frocks and lace made up into chevron striped candy floss nightgowns. Also spotted was jacquard woven with silver butterflies on trench coats and puff-sleeved Victorian-inspired dressed.
Dominated by black and white, there were also pops of pastel shades, as well as bright pink, with the designer's ongoing collaboration with milliner Stephen Jones, showcasing Yayoi Kusama-inspired pumpkin berets in a glitter candy palette.
Highlights had to be the rainbow tulle maxi dress, the handmade flower embellishments and beading detailing on the pussy bow blouses, and Lo's little black dresses of ruffled tulle and polka dots.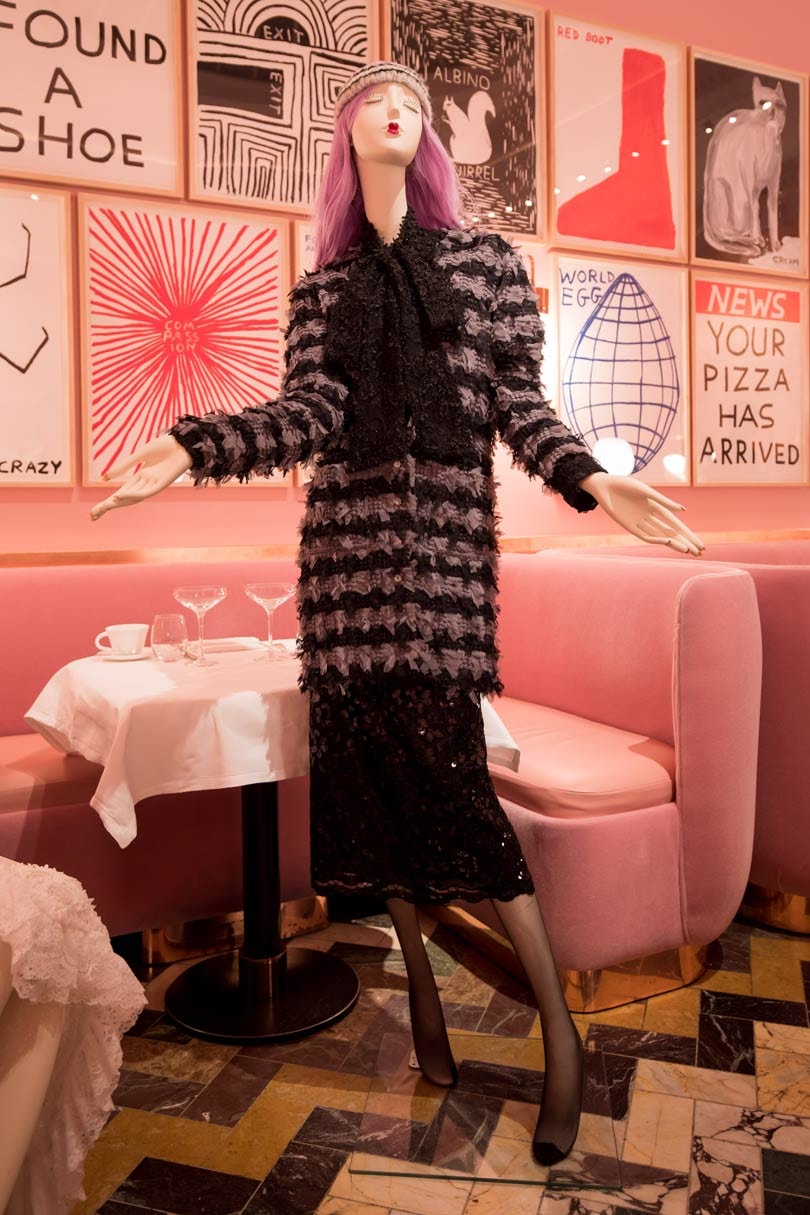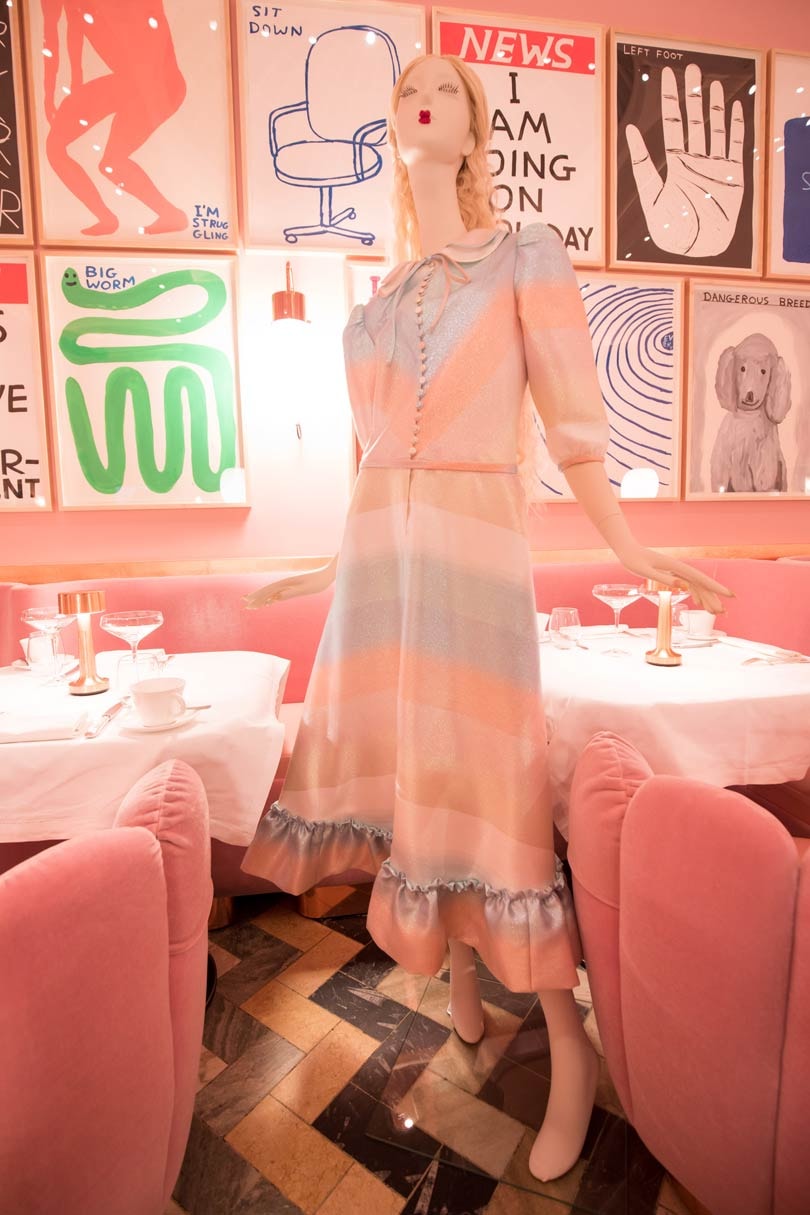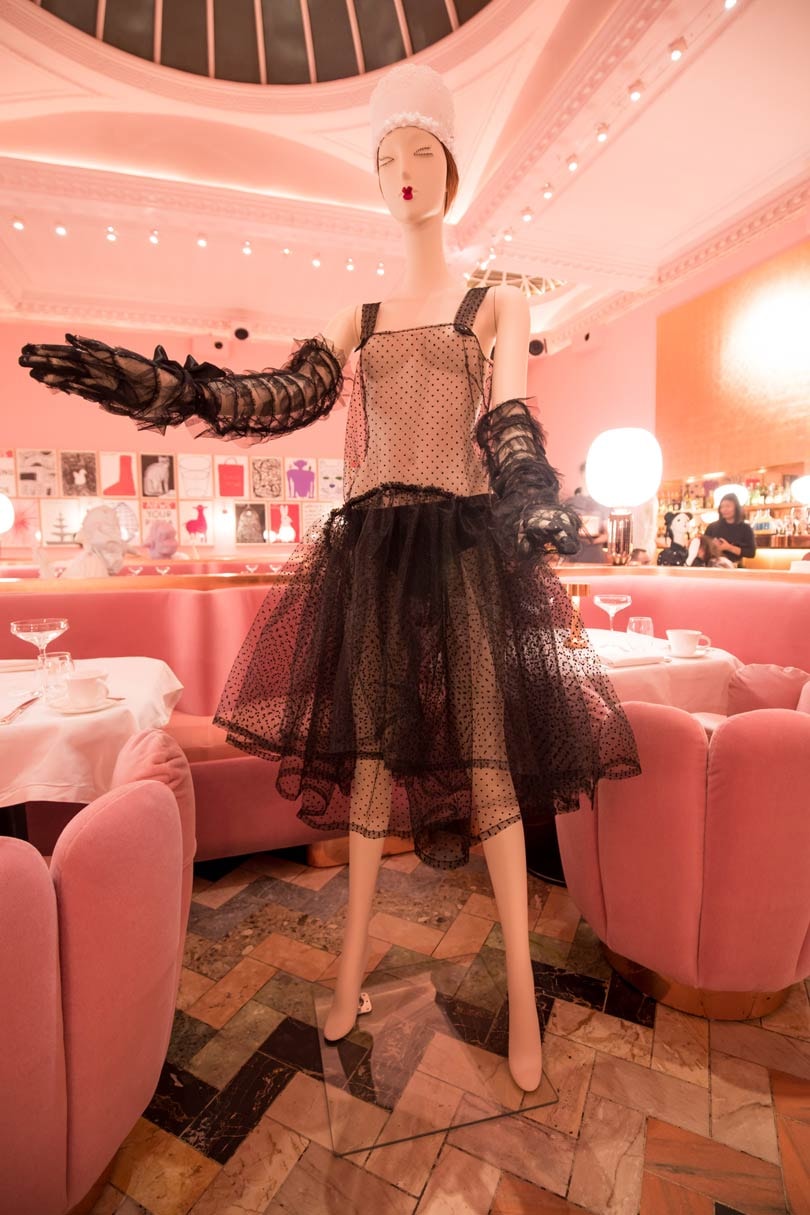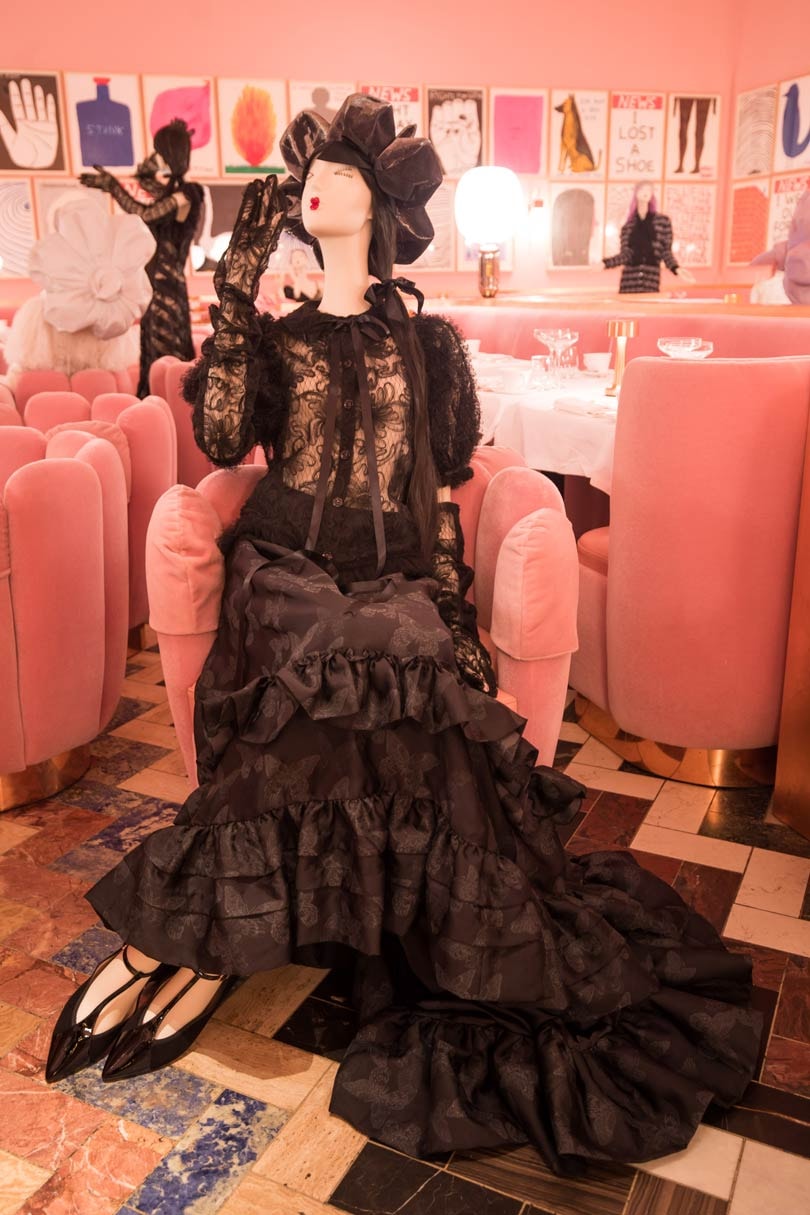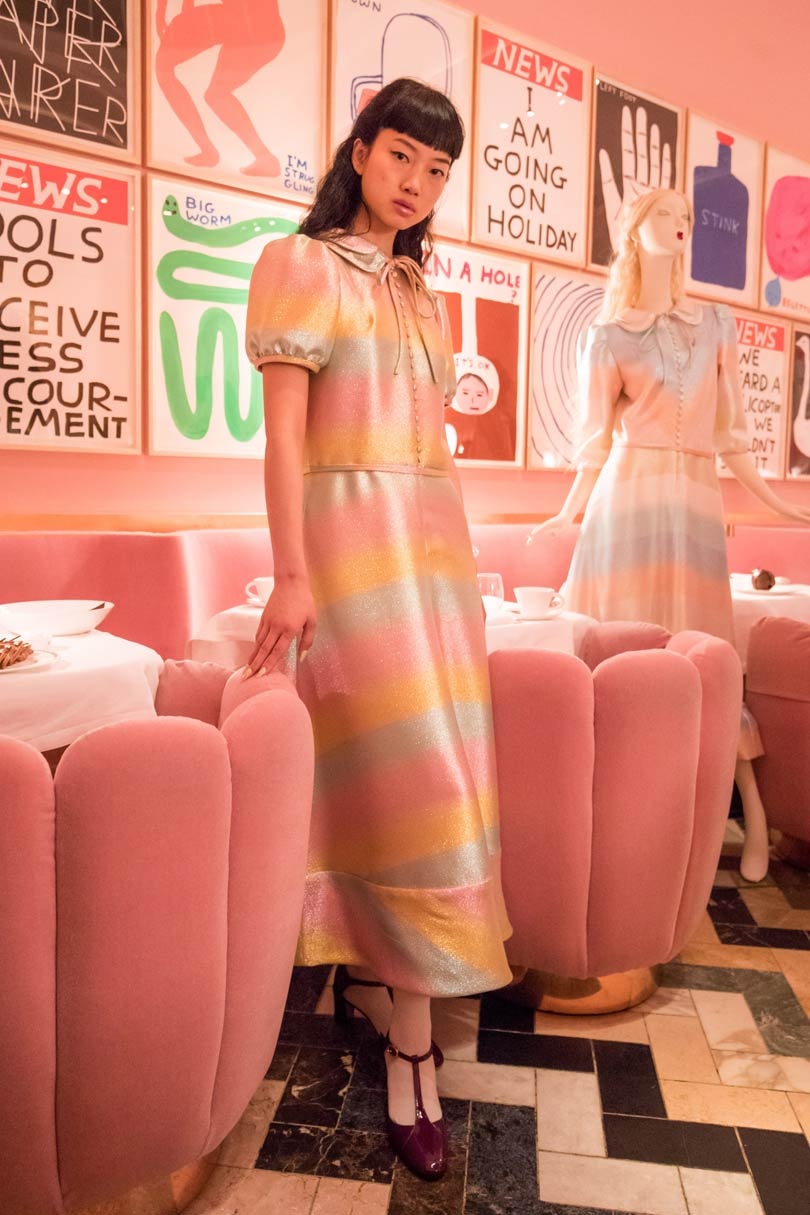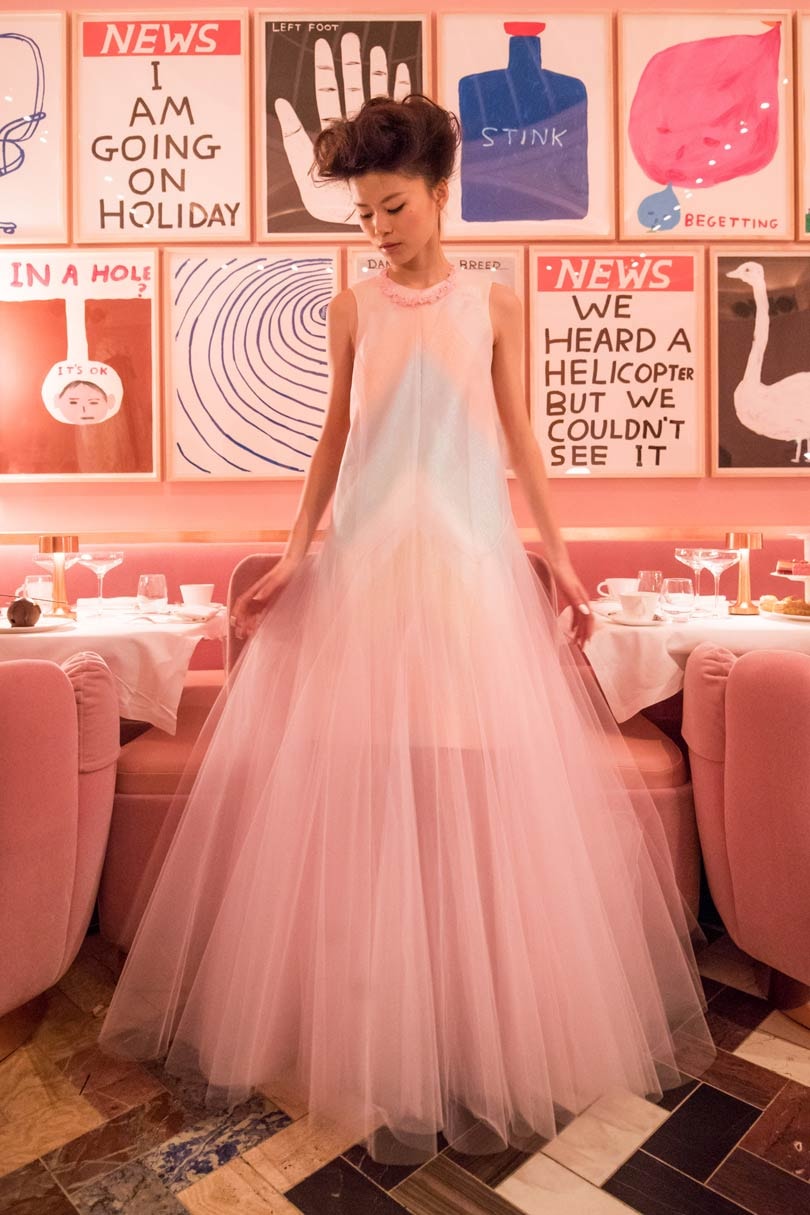 Images: courtesy of Ryan Lo
Markus Lupfer
Taking inspiration from the magic behind Grimm's fairy tales, the Markus Lupfer girl continues to break the rules for autumn/winter 2018, with texture and colour built up, piled on, as she "wraps herself in luxury and fantasy" the show notes reveal, paying homage to a girl "who adores the eclectic, but wears it with elegance".
Featuring deconstructed dresses and sharp tailoring, Marcus Lupfer is looking to provide his customers with an effortless fashion formula that's part luxurious fantasy, part pared-back reality, with that added sparkle that the designer is known for. The ready-to-wear continues to develop, with ruffled-edge lace blouses paired with faux fur, while his signature jumpers have been reimagined with fawns, foxes and owls brought to life in sequins hand threaded on.
Other highlights included heavier knits in Scottish lambswool that have been patched with faux fur in toffee brown on chestnut, sage on army green down the front or across the cuffs adding a utilitarian feel, which looked great clashing as well as matching.
Prints continued strongly this season as well, with his hand painted prints adding depth, especially the woodland print worn against lumberjack checks, and of course, it wouldn't be a Marcus Lupfer collection without floral embroidery that was seen over lace dresses and across devore skirts.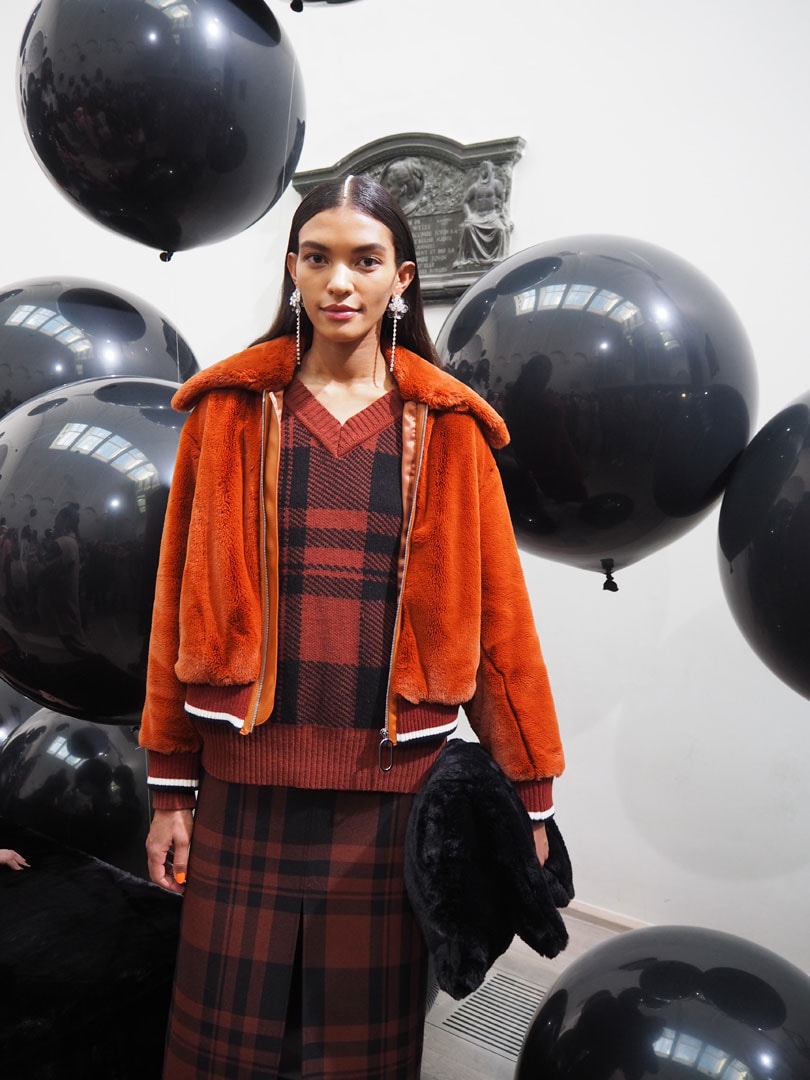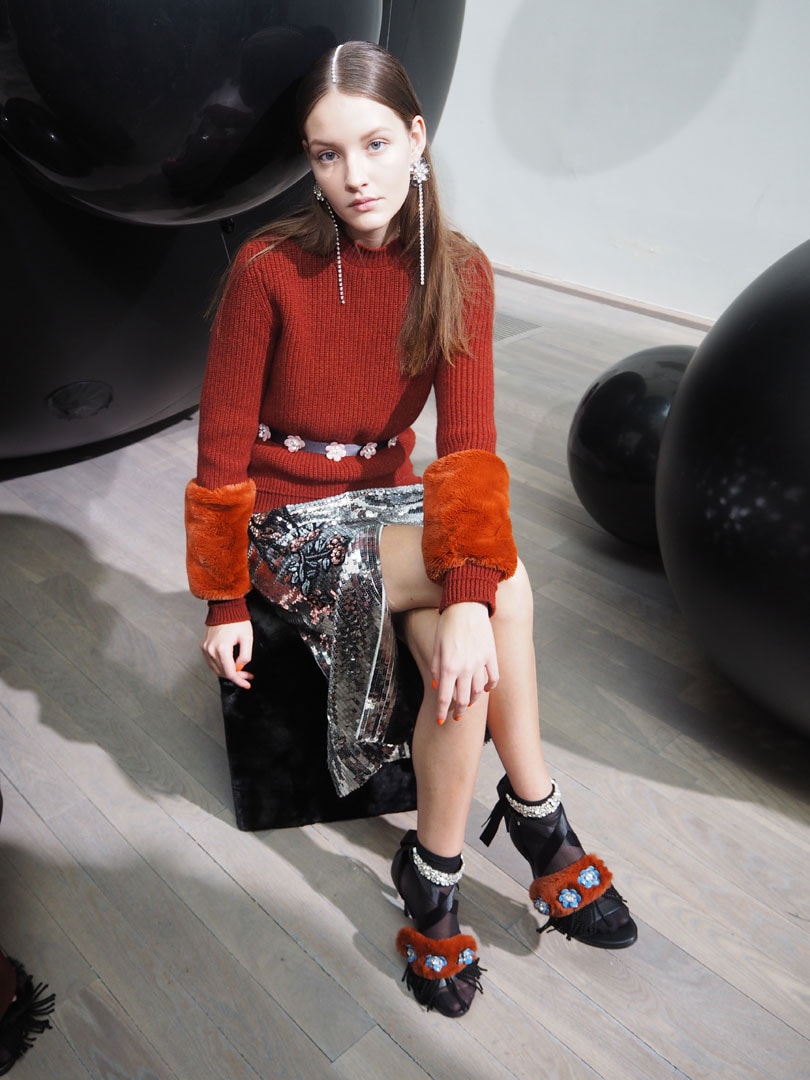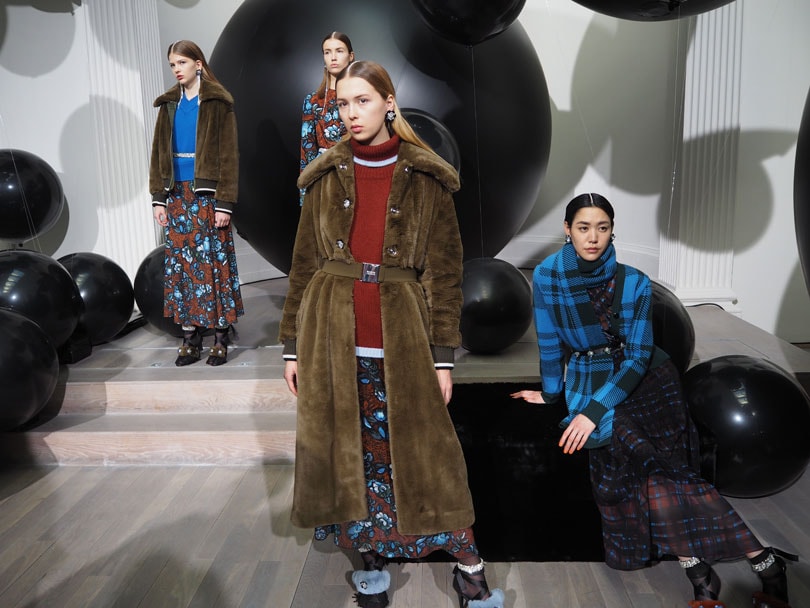 Images: by Danielle Wightman-Stone
Shrimps 'The Romance Collection'
A rising star from the NewGen initiative has to be designer Hannah Weiland's label Shrimps. For autumn/winter 2018, Weiland has been inspired by Parisian art patron, Gertrude Stein, looking at her muses, art collection and language. As Stein famously said: "A rose is a rose is a rose is a rose", for AW18, Weiland states: "A Shrimp is a Shrimp is a Shrimp is a Shrimp".
The colour palette is romantic and exotic with ruby reds and jewel shades like turquoise and brilliant yellows, and she even created her very own rose, which of course was made from coloured faux fur, like some of the statement coats.
Looking to artists, like Jean Cocteau and Otto Dix, Weiland has also developed her own abstract flora and fauna prints, while roses, hearts and bows have been stamped onto the brand's signature faux fur in bright colours.
Shrimps also showcased an expansion of its accessory line with a collaboration with accessories designer Lotte Selwood, a former accessories designer for Saint Laurent, on an exclusive capsule collection of shoes that includes furry slides with pearls and low-heeled mules.
This builds upon the success of Shimps' beaded Antonia bag, which has also increased in size from a small beaded box to a market-sized tote. Other bags included a faux fur lady-like style and a beaded Nineties-Inspired shoulder bag.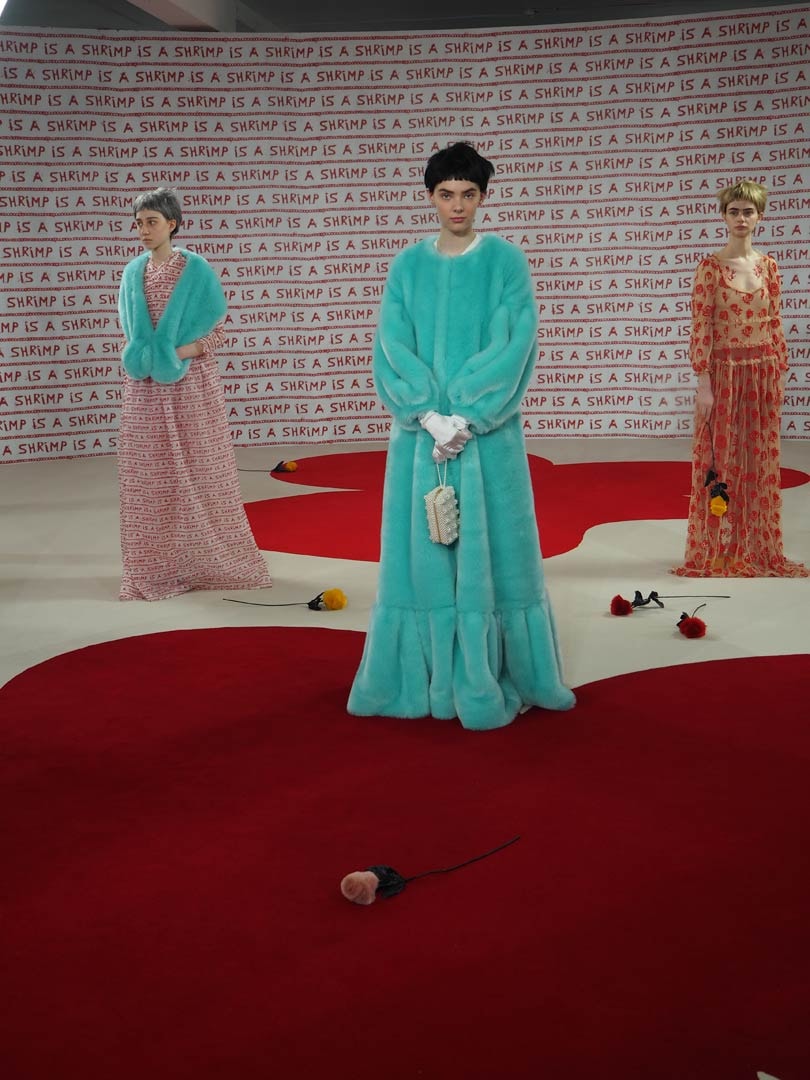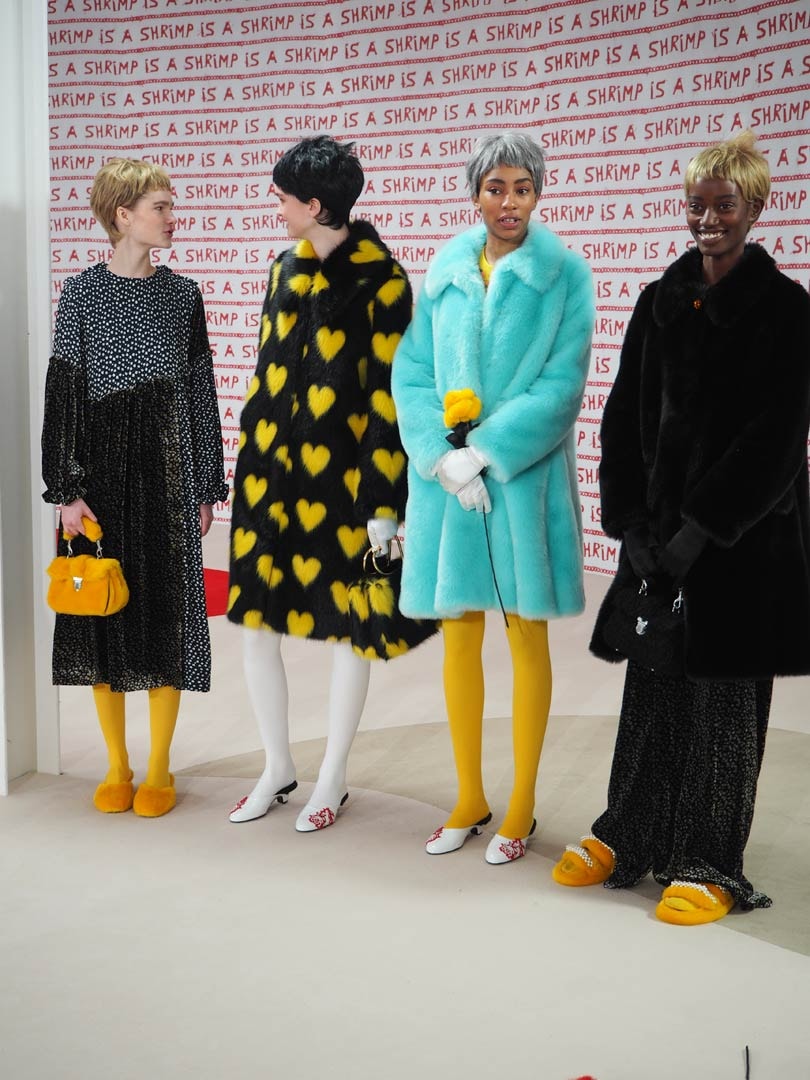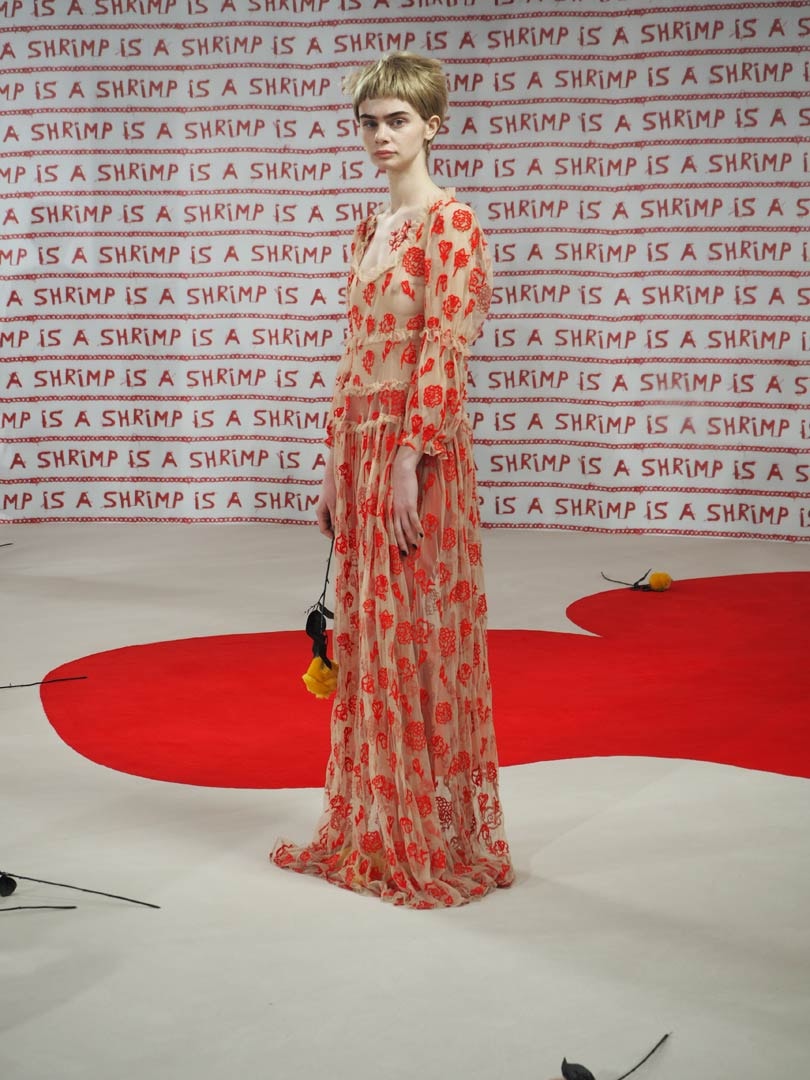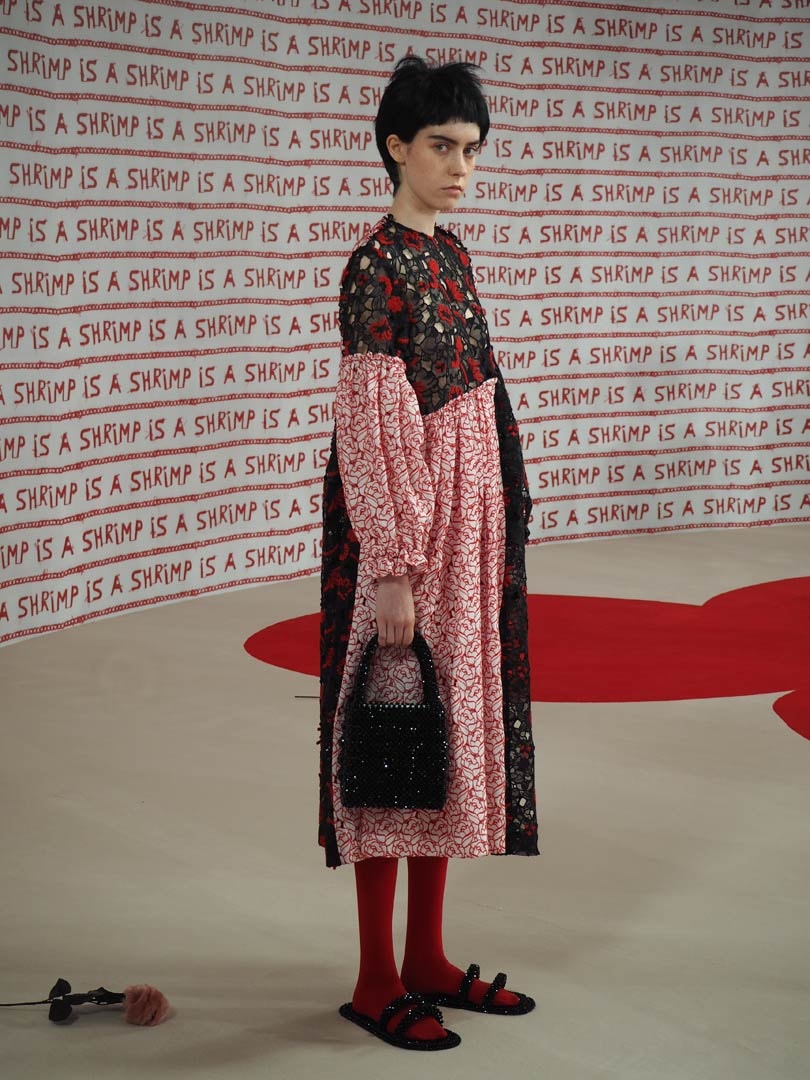 Images: by Danielle Wightman-Stone
Johnstons of Elgin
The Scottish heritage brand Johnstons of Elgin hosted its first presentation at London Fashion Week this season, under the creative direction of Alan Scott, who referenced the archives of the 220-year-old cashmere brand for its debut fashion week collection. He added that the collection "marks a new chapter for the brand as it brings its wealth of textile expertise into the luxury arena".
Featuring 15 womenswear and 5 menswear looks, Johnstons of Elgin was inspired by the brand's archive and its pioneering history in textiles, by placing cashmere as the focus of the ready-to-wear and accessories, as well as showcasing the brand's unique and innovative vertical weaving process from fibre, sourced from Afghanistan, Australia, Mongolia and Peru to garment.
The women's collection offered sculptural and ethereal themes, with linear silhouettes in matte double-face cashmere in black, natural and camel, alongside elegant tailoring, and super soft cashmere statement pieces with exaggerated textures, in neutral tones with flashes of bold colour. Highlights included a double-faced wool and cashmere peacoat paired with a yellow rollneck, grey cashmere joggers and a red tartan scarf, and an electric blue collarless coat.
The menswear, however, was more functional with a tougher vision that was more of a luxury sportswear vibe, including soft cashmere coats, waxed jackets, and a grey suit paired with a bright yellow rollneck.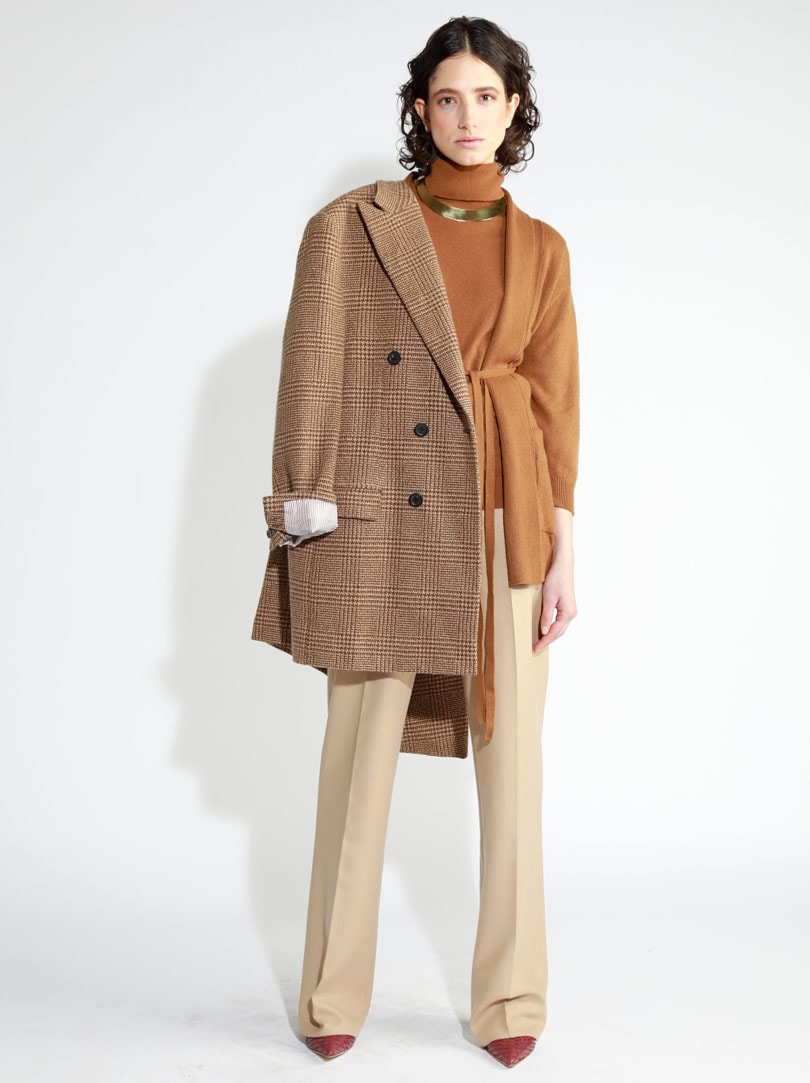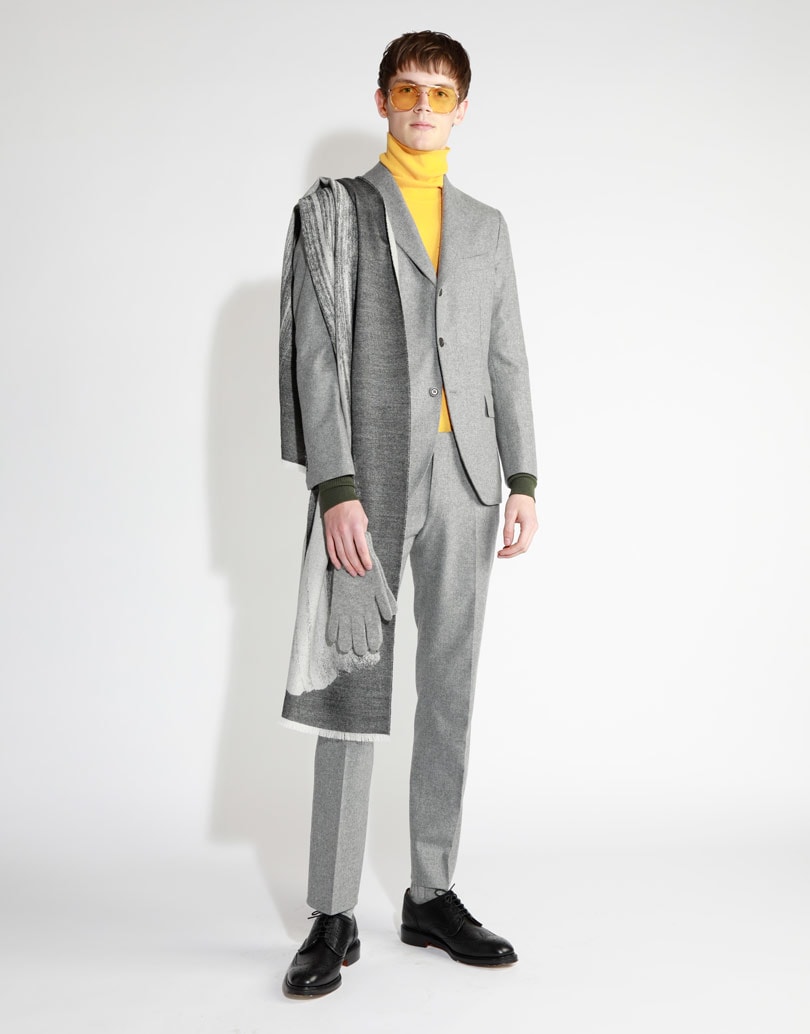 Images: courtesy of Johnstons of Elgin
Vivian Hendriksz

|
INTERVIEW
One of the most mystical, dark and romantic collection presentations from London Fashion Week Autumn/Winter 2018 had to be that from Alistair James London. Upon entering the space at The Mall, visitors were transported to a magical forest, where they were met with a full moon rising over a group of witches. Modern witches that is, donned in rich flowing gowns, immaculately tailor suits and Victorian-inspired dresses, who posed gracefully by ponds with flowers or stood their ground. "It's about British witchcraft heritage. We were visiting my mum and talking to my nana and she was telling us how I am related to the witches on my side from the Pendle witchcraft trial," explains David James Wise, half of the design duo behind Alistair James, at the label's Designer Showroom at 180 Strand following the presentation. "She always had a sort of witchy-vibe, like my mum and my sisters, which influenced the idea in our designs."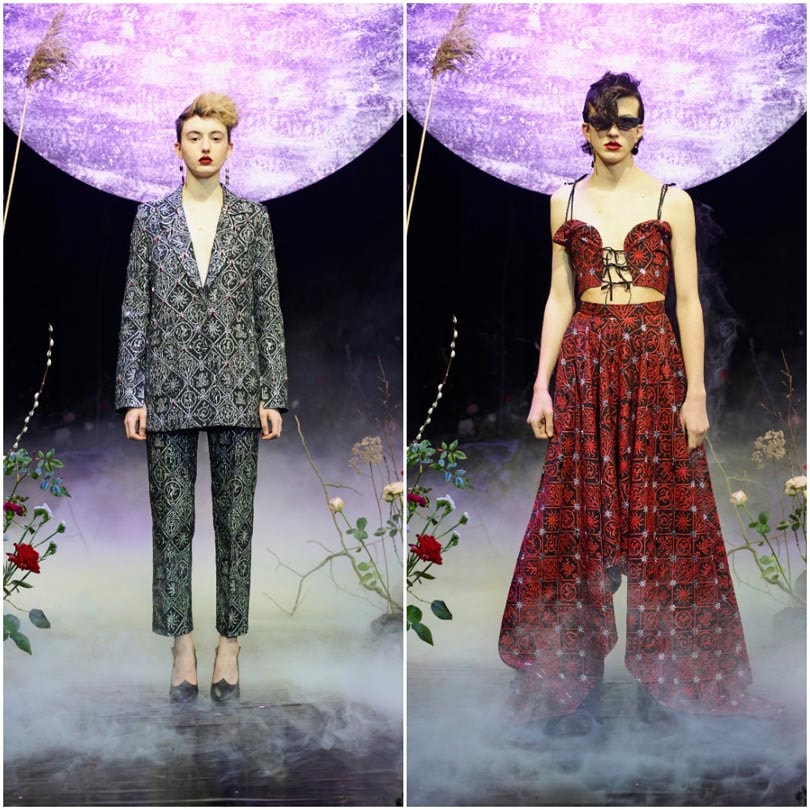 Together with his business (and life) partner Nicholas Alistair Walsh, who he met while working at Alexander McQueen, they set up Alistair James, launching their first collection for Autumn/Winter 2016. Since then the duo has been busy, refining their designs and brand aesthetic. The AW18 collection, which pays homage to all the women in the designers lives - past, present, and future is a re-imagining of classic Victoriana and a continuation of the brand's dedication to honing their craftsmanship and their love affair with British heritage. "It's also about that close sisterly type of world, where everyone is family, which led to us calling it 'Sisters Of The Moon,'" adds Nicholas. "It's about womanhood and women being unified together which is why we also cast a diverse number of models, including men, to strengthen that idea of unity and bringing people together."
"Crystal and jewel tones have played a big role in the archival mysticism of this collection"
The duo, who previously sought inspiration for their collections from the likes of Wendy from Peter Pan and Briar Rose from Sleeping Beauty, referenced a number of sources for the collection, including their favorite muses. "The muse is always Stevie Nicks and Kate Bush kind of vibe," says David. This is evident in the collection shown, which incorporates a sultry, feminine and almost pagan-like touch in its choice of silhouettes that is paired with a sense of refinement and luxury. "In terms of the use of fabrics, we have many with silvers, deep reds, and amethyst which tied into the collection, all these rich colours. Since the collection was built around this idea of family, we also included crests, some taken from medieval Churches and floor tiles, and some contain mystical motifs with unicorns and frogs," points out David. "They are woven with a silver thread so they really sparkle under the light as well."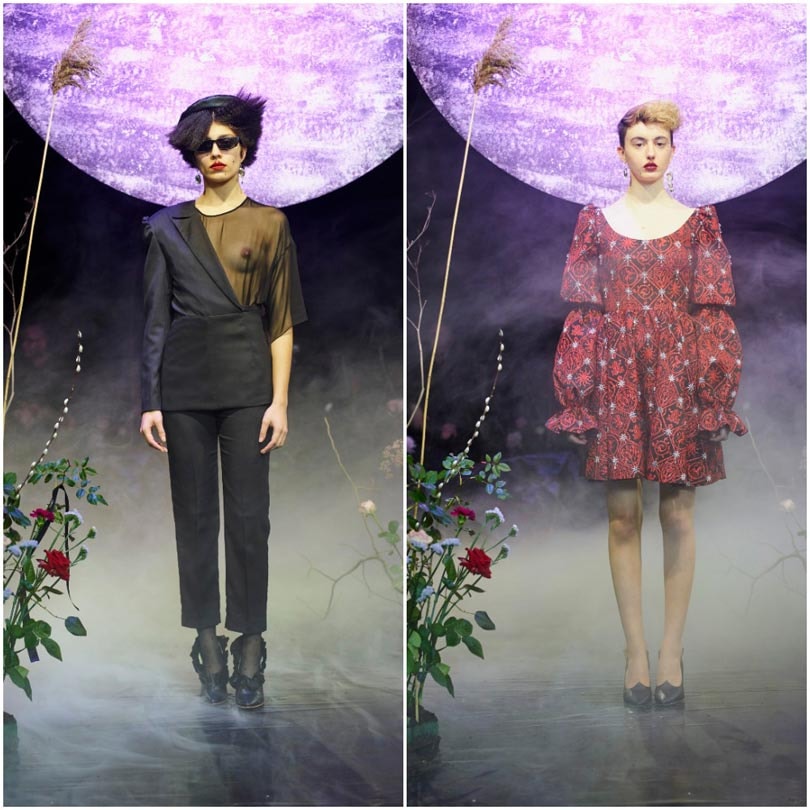 Seams and textiles were also encrusted with set crystals from Swarovski, marking the designers second constructive season working with the company, while embroideries were influenced by ancestral roots and rich finery which amplified the coven heritage feeling in the collection. "We also have our play on cotton, that is just Alistair James for us now, we will always be rooted in shirting," continues David, while highlighting shirts and blouses with high necklines. The AW 18 collection also marks a return to the duos dressmaking roots, which stems back from when they first met at Alexander McQueen. A number of the dresses in the collection feature elegant ruffles, mutton sleeves, and handkerchief hemlines - both a first for Alistair James, which brings new diversity to the brand's silhouette, while the duo's continued use of dramatic, floor-sweeping gowns remains a signature of the brand. "The silhouettes almost always come from Victoriana. We were looking at Victorian pattern making and so this giant flared, mutton sleeve dress is inspired by that," says Nicholas, while highlighting a sweeping black gown with crystal encrusted shoulders.
All the fabrics used in the AW 18 collection look and feel luxurious, like their quilted jacquards and silk georgette and even their classic cotton. Most of the fabrics Alistair James used are made in England, as the brand champion local craftsmanship while supply chain as local as possible. Why? "Well there is a family connection when it comes to championing British craft as Nick's dad has fabric mill in Yorkshire, so that was always a key part of Alistair James. Also being able to buy something that you can touch and feel straight away is important for us, as we are a new brand and can't afford to fly everywhere all the time to check on the production of fabrics and samples." Neither David nor Nicholas are fans of producing collections in far away countries, as it makes it more difficult to communicate and connect with suppliers. In addition, it also makes it harder for them to guarantee they end up with the end result they want. "It's terrifying thinking of something being sent to you after all the sampling is done and it's still not right," says Nicholas.
The Alistair James woman: Mystical, romantic and esoteric
The AW18 collection underlines the ongoing development of the designers overall aesthetic, which has taken a dramatic, dark yet feminine turn. Who is the Alistair James woman, I wonder. "She's always very mystical, very esoteric," explains David on the Alistair James women. "But functionality wise we want her to be able to wear something to multiple events, something which can go from day to evening, so we try to make sure our designs offer that - well apart from the evening dresses." "But with some sunglasses and flat shoes who knows, adds Nicholas with a laugh. "We wanted to capture that aspect in middle range but with full-on glamour, something that you can just throw on and look amazing and be done." The brand's silhouettes have also evolved over the seasons, as the pair feel more and more comfortable experimenting with new looks in their collection. "We feel more comfortable to do things like half blazers and giant gowns with trains and ruffles. I feel like we have found more of our aesthetics now, which is romance, so now we can explore and revel in that," says Nicholas.
Discovering and playing with the brand's look and feel has been the fun part for them, but now David and Nicholas are setting their sights on strengthening the brand from a business perspective to ensure their future growth. "We are keen to grow slowly, to learn to walk before we run," says David, adding "I have to be honest, this was the season of the business plan for us." Both David and Nicholas are keen to take Alistair James to a place of growth but want to make sure they do not grow too fast and harm the future and longevity of their business. "We don't want to stifle ourselves by being a 'yes man' and saying yes to so many things and completely swamp ourselves until there's nothing left and we can't do it anymore - you see that happen so many times with new brands," says Nicholas. "It's a business at the end of the day, it's about managing your cash flow - you have production, sampling and developing fabrics all at the same time, so you have to manage it all."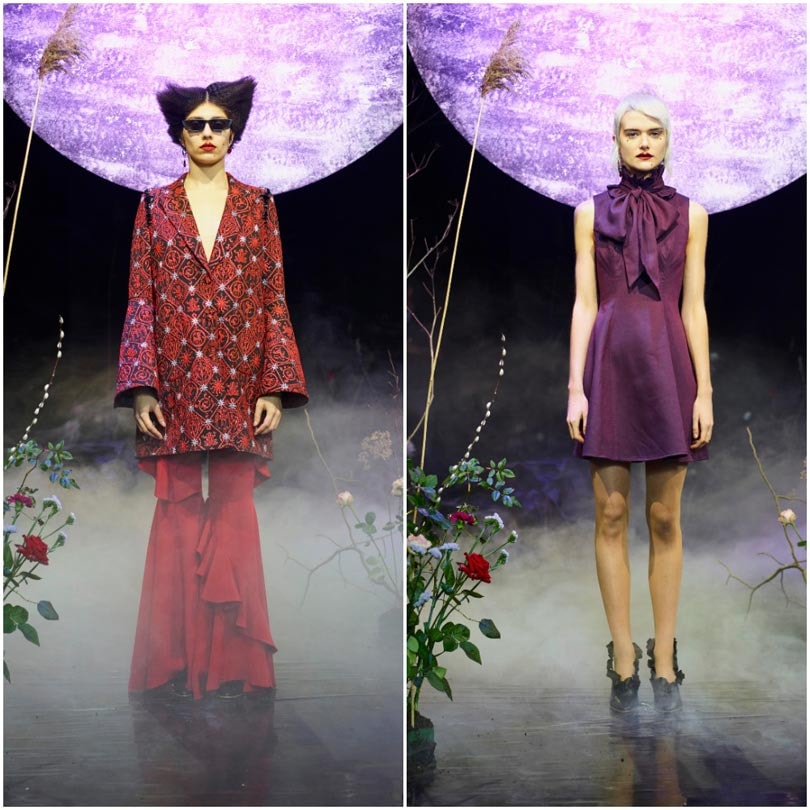 Being named as one of the winners of the 2018 Boden Future British award, in partnership with the British Fashion Council, has also provided them with a bit of a learning curve. Not only will Alistair James receive financial support to grow their business, they also will receive mentoring as well as support to grow their e-commerce. "It just feels fantastic because we have the support now, it's like they are cheering you on," says David. Alistair James was showing their AW18 collection at the designer showrooms, under Boden Future British section, which has also strengthened their feeling of being part of a wider industry. "It feels very unifying this season as well showing at the designer showrooms. You don't feel like all these tiny little brands all competing against each other, you feel like you are all in it together which is really nice. With Anya Hindmarch doing her love hearts all over the city, things like that make you feel connected. The giant wall when you come into the Strand, with all the names of the designers showing is also great."
Alistair James - one of London Fashion Week designer brands to watch
For Nicholas, seeing the name Alistair James next established designers such as Gareth Pugh has an even deeper meaning, as he used to work for the brand. "Coming from working with Gareth Pugh, to setting up your own label and then seeing Alistair James next to Gareth Pugh - it just makes you feel like you are doing something right that we are moving in the right direction." So what is next for the young label? "We are trying to ensure we remain on schedule for next season until the presentation and fully develop that concept while growing sales - getting more stockists as well is key for us," concludes Nicholas. At the moment Alistair James is stocked at Shop at the Bluebird, Farfetch, and Liberty, but following their stellar presentation, the label has peaked some more interest. "We have had a few eyes on us during London Fashion Week and a few meetings lined up, one with a major online retailer." While both decline to share more, it is clear that Alistair James is indeed a brand to watch.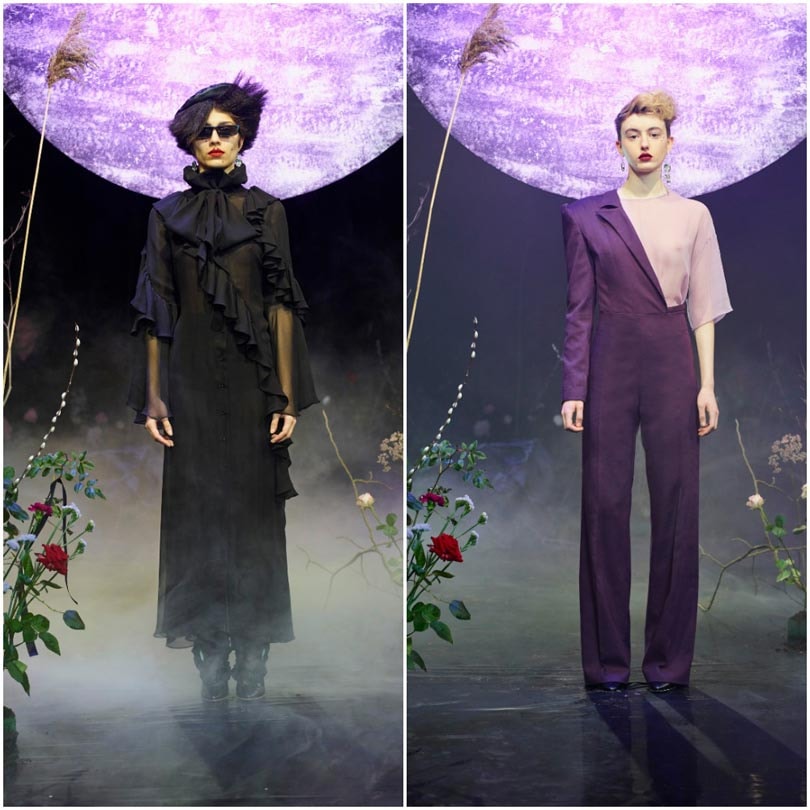 Photos: Courtesy of Alistair James
Kristopher Fraser

|
For this year's Cruise show, Louis Vuitton is going to be staying closer to home. While the brand has gone everywhere from Kyoto to Monaco for Cruise, this year they have selected the French Riviera as the sight of their Cruise 2019 runway show. The show is scheduled for May 28.
Louis Vuitton's creative director Nicholas Ghesquiere is known for turning to iconic modernist architecture for his venues. The brand's Cruise 2018 show last year took place at the Miho Museum, and was designed by renowned architect I.M. Pei. On trend with his love for modernist architecture, the choice of the French Riviera pays both a tribute to the location's architectural history and Louis Vuitton's own French history.
Although Louis Vuitton's exact location for their show has not been revealed, given the lengthy list of architectural options such as the Villa Ephrussi de Rothschild and the Musée Picasso, this May's show is expected to be one artistic treat.
photos: via Louisvuitton.com
Anne-Sophie Castro

|
INTERVIEW Changing methods of consumption and educating people to recycle used goods is the main preoccupation of the H&M Foundation. Faced with a growing middle class, how can we continue to produce mass fashion whilst at the same protecting the planet? Limited resources, fragile ecosystems and climate change, makes it clear that a time will come when everyone will have to re-think production methods and incorporate new technologies to create a new industry that uses recycle materials and respects the environment. Erik Bang, chief strategist for innovation at H&M Foundation tells us about advances in the sector and in particular through the Global Change Award which celebrates its third anniversary this year.
Where do you come from?
I was born and grew up in Stockholm, Sweden. I am the youngest of six brothers. I studied political science and worked in promoting Swedish industry in very complex markets before joining H&M Foundation in 2014. What motivates me is the opportunity to transform one of the greatest world industries, make it a circular industry and operate within global limits.
What is your role at the H&M Foundation?
I work as Head of Innovation. I am responsible for what the Foundation does globally.
What is the aim of H&M Foundation?
It is a non-profit worldwide foundation. It is based in Sweden and we work to improve living conditions for people throughout the world by investing in innovative ideas, people and communities. We are separate from the H&M company and are financed by the family of Stefan Persson, the founding family and principal owner of H&M Group. H&M Foundation has the opportunity to support relevant projects from the initial stages in generating ideas. It is not concerned with the loss of investments as a company or public organisation could be. We make changes from which the whole of the fashion industry can benefit.
In your view, what is the greatest challenge for H&M Foundation?
The industry is facing its greatest ever challenge, which is how to produce fashion for a growing world population whilst at the same time protecting the planet? The world population is increasing and the middle class is expanding. Therefore, it is to be expected that general consumption will increase, not only of clothing but food, air travel, electronics, etc. The current economic model is based on the idea of producing something and then throwing it away as waste. It is what is known as "Take–Make–Waste". The resources we have on our planet are limited and its ecosystems and climate are fragile. Therefore, we have to re-invent the industry to make it circular and recycle resources instead of wasting them.
Why is it so important to accelerate change in fashion?
Fashion is one of the most inventive industries in the world. It consumes large amounts of water, land and other resources in order to produce clothing. There are simply not enough resources to continue in this way. The consequences are terrible for our ecosystems and our climate. Conversely, clothes are an essential product for our populations. We therefore have to find the most intelligent and surest way of making them, using them and recycling them.
What does the "One-Year Acceleration Programme" offer? Who can participate?
The Global Change Award is open to everyone worldwide. Last year, we received 2,600 applications from 151 countries. Every year, there are five winners who share an award of one million euros (we do not take any share in their innovations) and have access to the accelerator.
The objective of the accelerator is to give the teams the best possible toolbox for ideas, skills and networks in order to derive profit from their brilliant idea and the award. We bring the teams to Stockholm, New York and Shanghai to learn more about the industry and to meet a maximum number of leaders in the sector.
Tell us about the fabric with orange-peel base… what is it?
This is the story of two Sicilian women who wondered whether they could make something useful with the mountains of orange peel generated by the fruit juice industry. They had the ingenious idea of creating an orange fabric! It is a fabric that is very fine and resembles silk, extracted from the cellulose contained in the peel. Twelve months after their participation in the first Global Change Award, they launched a basic collection with Salvatore Ferragamo, in April 2017.
This year you are celebrating the third Global Change Award. With the first two events, what changes have there been in the fashion industry?
We are seeing much greater awareness and a willingness to act. It is very encouraging but we still need lots of new technologies if we are to transform the industry. We also need consumers who are prepared to recycle fabrics in the same way as they recycle cans and bottles at present…or to give a new lease of life to their clothes by selling them or simply giving them away to anyone who may need them.
We are optimists, but we have to continue our efforts and need support from everyone. There is still a lot of work to do and we believe that there are a great number of intelligent innovations waiting to be discovered.
Photos: H&M. BIONIC® dress in polyester recycled with plastics found on the coasts; Denimite earrings in compressed denim fabric; The winners of the 2017 Global Change Award.
AFP

|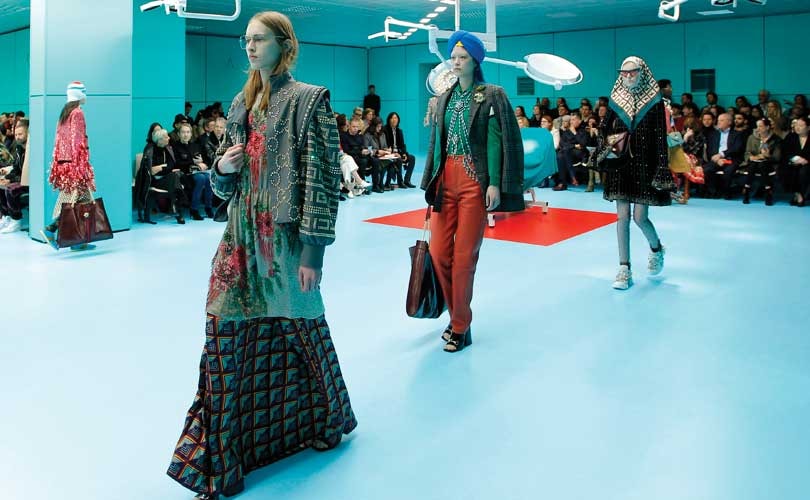 Gucci kicked off Milan Fashion Week in typical eccentric style Wednesday as models carried replicas of their own heads on a runway transformed into a creepy operating room. Suspense had already been building for the show by Gucci's star creative director Alessandro Michele due to the invitations -- orange timers which counted down to the event in glowing red numbers.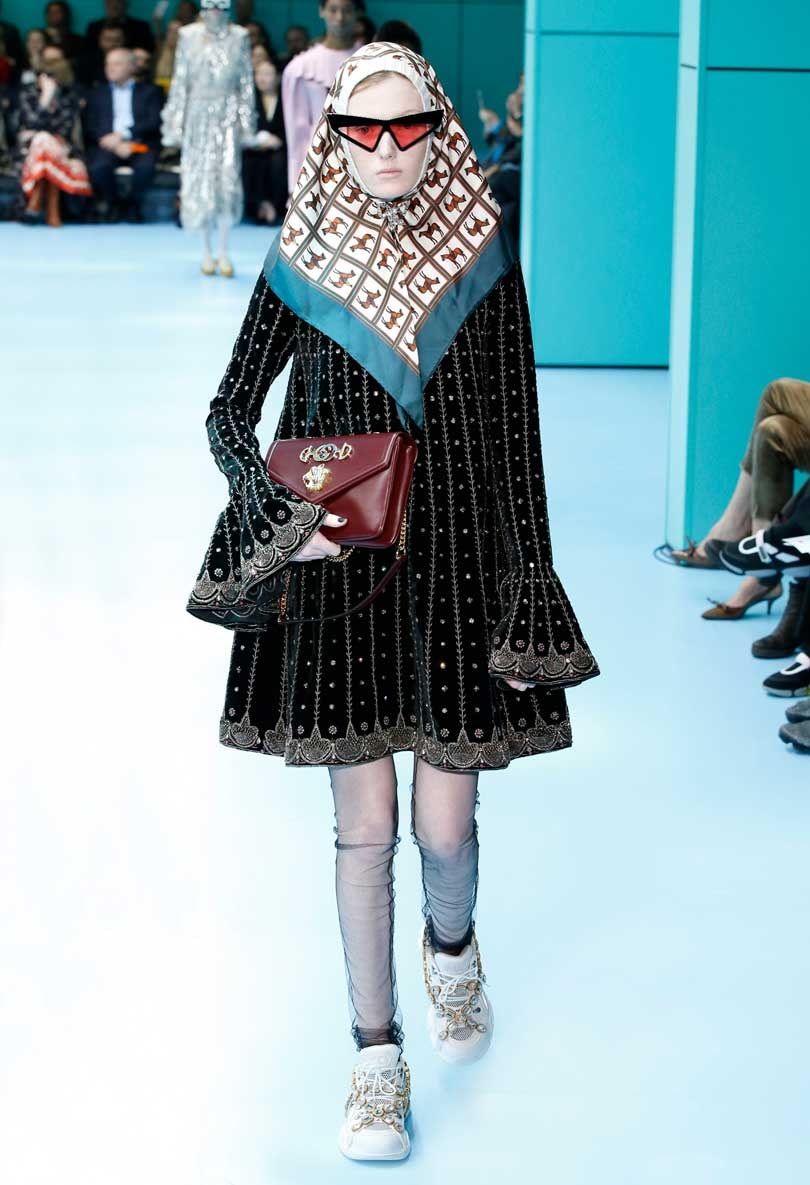 The first shock came when it started on time - almost unprecedented in fashion history. Then male and female models walked onto a runway amid operating tables under bright neon lights in the Gucci Hub, the brand's Milan headquarters, over the steady beeping of a heart monitoring machine.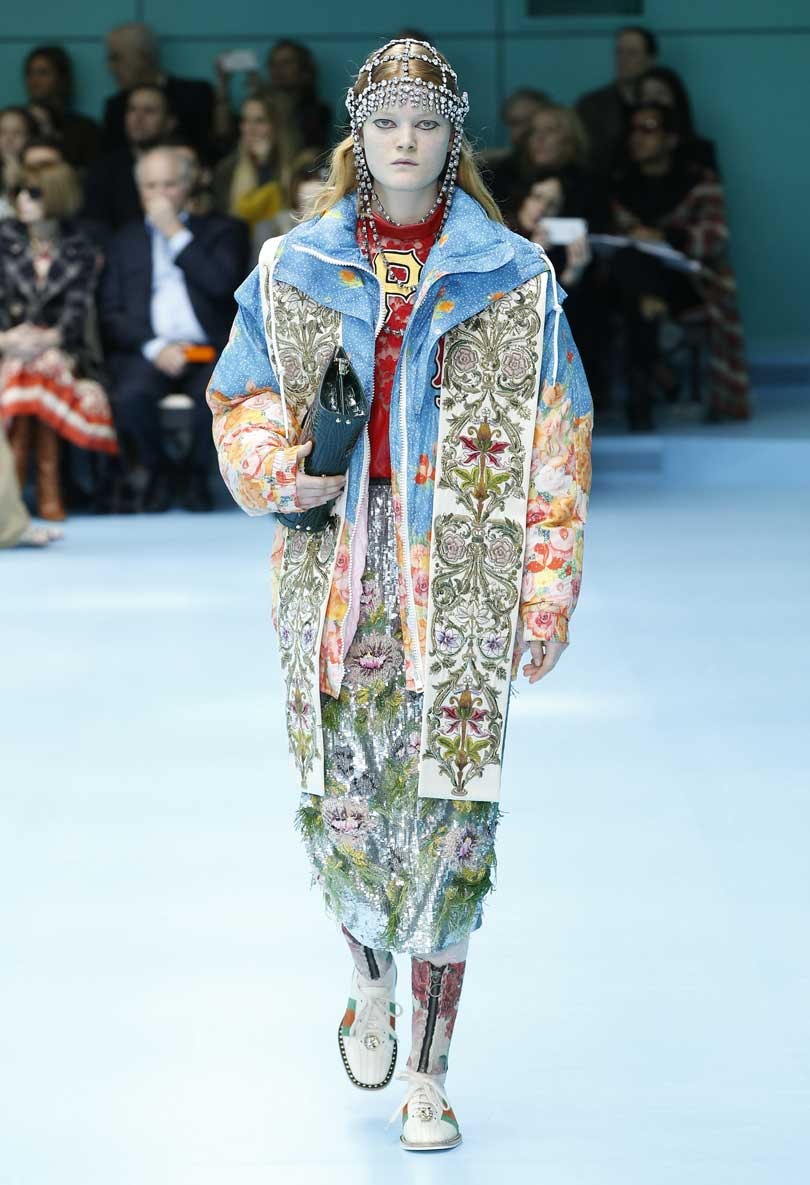 Gucci opens Milan Fashion Week AW18
Michele introduced the "Cyborg Gucci" in the Fall/Winter 2018-2019 collection, which included a wild mix of cultures and symbols, from a pagoda hat to a balaclava, a classic burgundy velvet dress to a gold lurex jacket, fine lace to the logo of the New York Yankees.
The models added to the transgressive vibe -- not only did some carry replicas of their own severed head, but others were adorned with a third eye, or even a baby dragon. "What touches me is not just the talent but also the dose of humour and self-deprecation on the part of Alessandro Michele," said actress Chiara Mastroianni.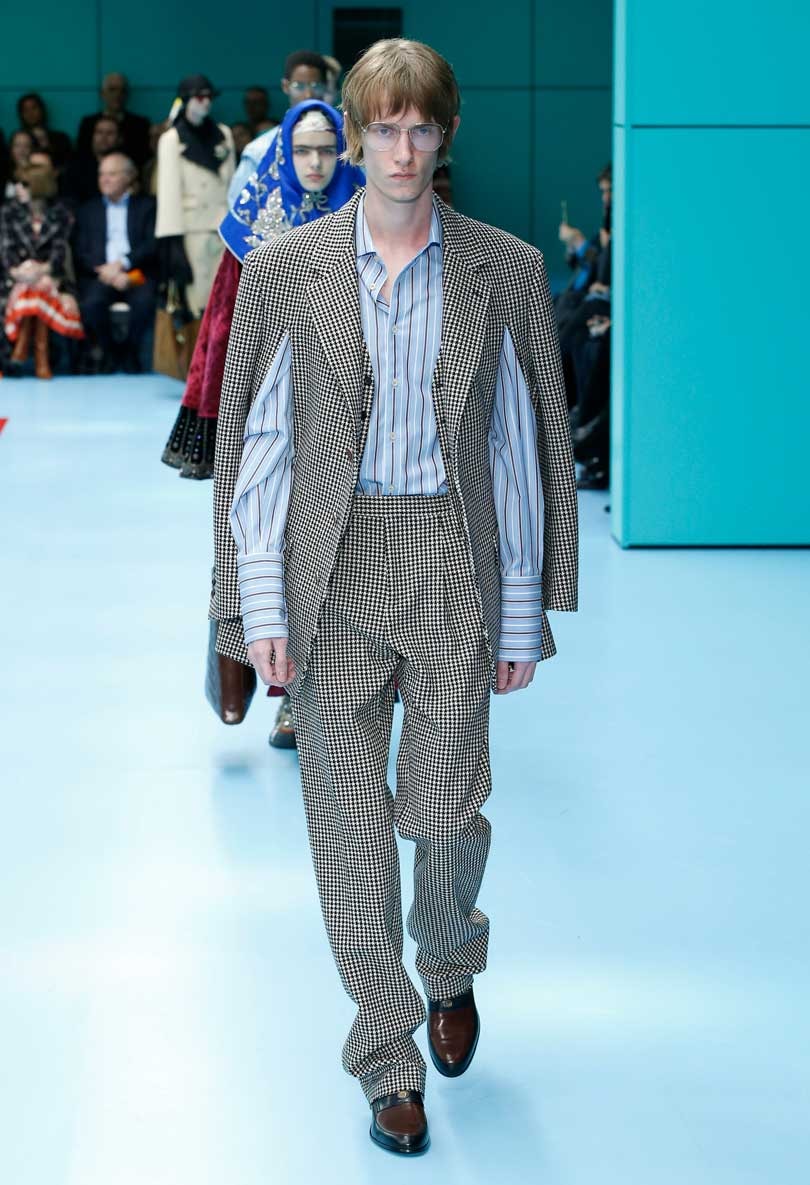 "His collection is so rich it will take time to understand everything," she said. Another first day highlight was the launch of the exhibition "Italiana: Italy Through the Lens of Fashion 1971-2001" by the National Chamber for Italian Fashion.
Donatella Versace, Giorgio Armani, Pierpaolo Piccioli, Silvia Venturini Fendi and Jean-Paul Gaultier were some of the stars attending at the Palazzo Reale. The exhibition was organised by theme -- Identity, Democracy, Logomania, Diorama, Project Room, Bazaar, Post-Production, Glocal and The Italy of Objects -- and included the clothes by fashion houses such as Missoni, Armani, Versace, Krizia, Romeo Gigli and Gianfranco Ferre.
"There is no nostalgic intention but rather pride and willingness to celebrate fashion and reproduce its complexity," said curator Maria-Luisa Frisa. "Italian fashion is a creative laboratory that has generated worlds, defined strong individual characteristics... and continues to do so today," she added. (AFP)
Photos: Courtesy of Gucci by Dan Lecca
Vivian Hendriksz

|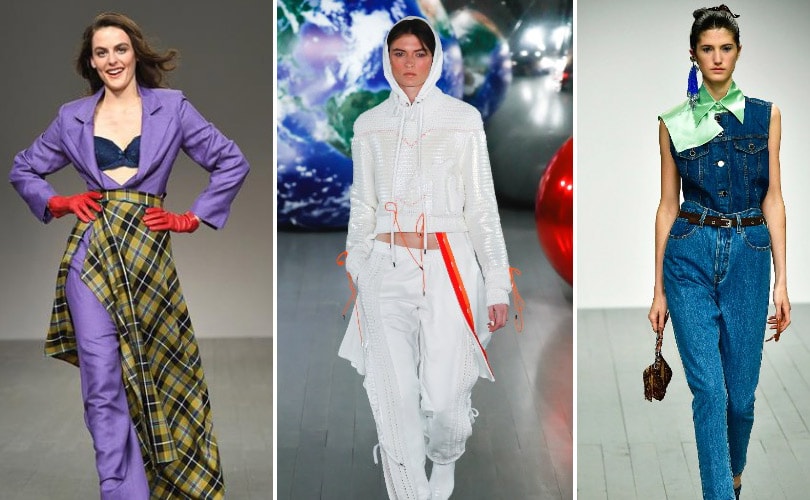 London Fashion Week Autumn/Winter 2018 was an event in its own right, with beautiful shows, several examples of experimental fashion, a final goodbye to one of the UK's most celebrated designers as well an appearance from her Majesty, who attended emerging designer Richard's Quinn show. While some emerging designer labels strived to continue to develop their own unique aesthetic, other more established talents took the time to strengthen their brand's DNA and some even shifted their brand in an entirely new direction. As the industry continues to evolve, FashionUnited shares its selection of 5 upcoming designers who took their collections to the next level for Autumn/Winter 2018.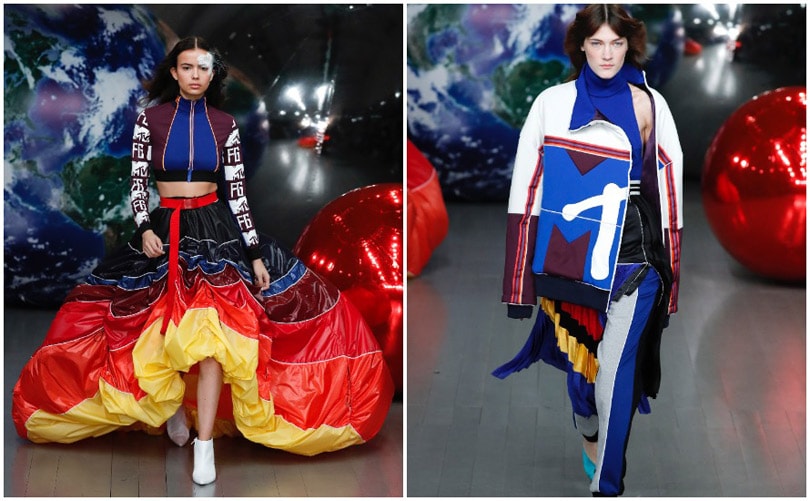 Fyodor Golan explores the power of aerodynamics
For Autumn/Winter 2018 the design duo behind Fyodor Golan, Fyodor Podgorny, and Golan Frydman, sought to explore the idea of aerodynamics. Best known for their vibrant use of color and edgy sportswear-inspired silhouettes, the duo looked to billowing hot air balloons, thick woven ropes and the motion of flight for inspiration. This resulted in a collection which was full of juxtapositions - such as cropped crochet capes combined with tech fabrications which mimic a billowing balloon and the sleeves and legs of bright tracksuits which opened to reveal soft silk layers. The work from American conceptual artist Jean Baldessari influenced the designers' placement of color in the collection, which is seen in bold blocks on neutral pieces and blended on different materials. Rainbow stripes, always a key identifier from Fyodor Golan, can see been throughout the collection but they have been re-ordered and restructured. Rather than just placing them on the garments themselves, the rainbows have also hidden in the lining of a coat or in the slit of a leg so they can only be seen during movement, offering a surprise splash of color.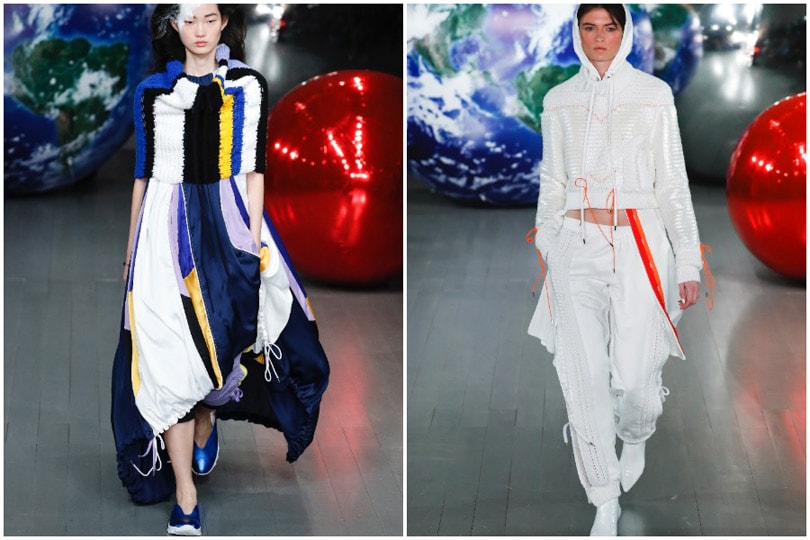 The design duo referenced vintage sportswear once more, but reworked it and modernized it by mixing reflective tech fabrics with faux suede, faux fur and crochet to add a hint of luxury. A first for the designers, Fyodor Golan also collaborated with MTV, placing the iconic 90s music channel logo on patches placed on puffer jackets or crocheting it onto oversized sweaters. The collaboration was designed to reflect the brand's associative nostalgia and contemporary pop-image into ready-to-wear, which it certainly did. Some of the most wearable items from the collection included Fyodor Golan's oversized MTV jumpers and a cropped bomber-style jacket featuring MTV logo sleeves. "MTV has been the voice of youth cultures for decades, we wanted to embrace this and the memories of our teenage years," said Podgorny and Frydman in a statement. "This collaboration combines the iconic pop culture symbol with the vibrancy and bright colours of today's MTV." With inflatable planets and golden orbs decorating the runway, it is clear that the designers aim to lift their brand to new heights this season with this collection - and judging by the positive reactions surrounding the emergence of the floating, billowing skirts they seemed to have done just that.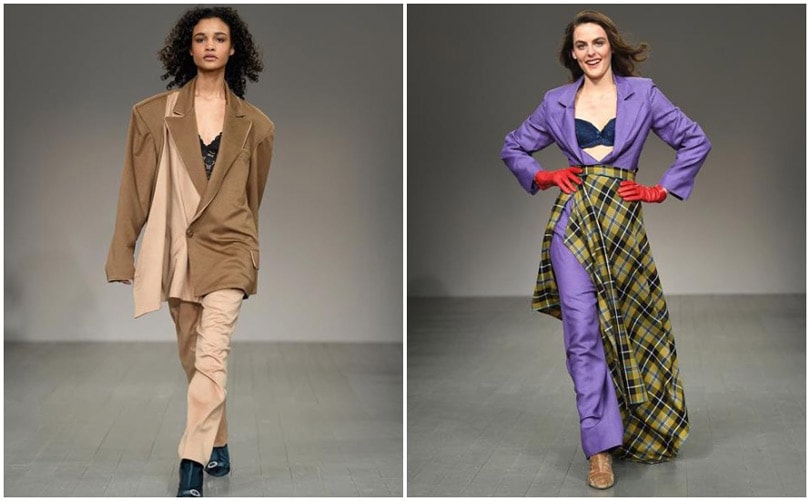 Marta Jakubowski celebrates the power of women
Polish designer Marta Jakubowski chose to reflect her own personal journey towards womanhood in her AW18 collection while paying homage to her late mother. This resulted in a strong, yet very wearable collection full of 90s throwbacks, including the sharply-tailored power suit - complete with shoulder pads and nipped in waists, the professional dresses with ruffles to the maxi and longline cashmere coats. "It's all about my woman. She exists somewhere in my head and is growing every season," said Marta Jakubowski in a statement. However, the colors and the silhouettes of her designs were modernized to suit the demands of working women today. She incorporated adaptable mix and match separates, party dresses as well as reconstructed trousers suits which featured different styled jackets that were both business and sensual at the same time. Some jacket lapels and dresses were low cut, showing off the vibrant and lacey undergarments worn underneath to celebrate the female body as Jakubowski believes her woman does not see ambition and sexuality as mutually exclusive.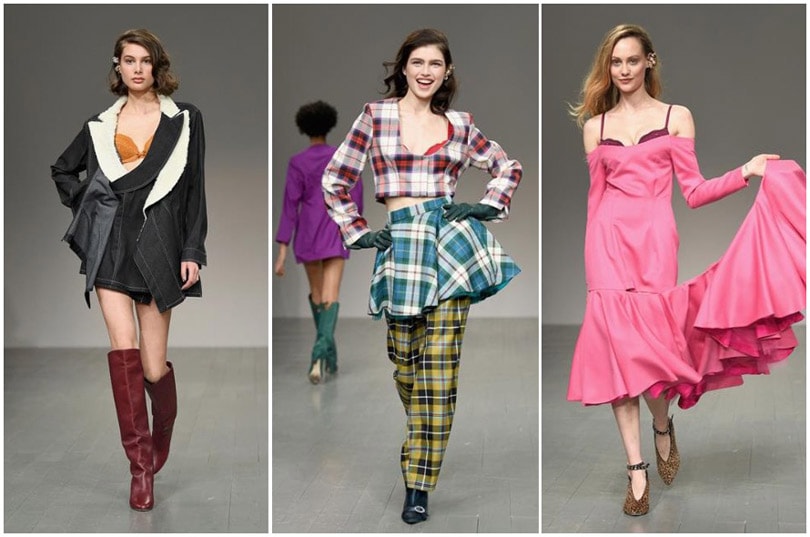 The collection's colour palette featured neutral colors like taupe and incorporated soft tones like mint, lilac and evergreen together with contrasting red, tartan and pink. She also revisited signature pieces, such as the trouser-skirt with tulle underlay and the seam split jean. The show itself seemed to capture the essence of the 90s power women, as models smiled to the audience, posed with their hands on their hips and flounced down the runway in a very old-school modeling type of way to Whitney Houston's 'I'm Every Woman.' A versatility and incredibly wearable collection, it also taps into the sentiments of our times. In the age of #MeToo and ongoing pay discrimination against women, it is pleasing to see a collection which references a time when women strived to be seen as equal to men and donned their executive-uniforms in a sign of equality. Although we may still be facing same battles that our aunts, mothers, and sisters did in the past, it is hopeful to see these issues being reflected in fashion 30 laters later.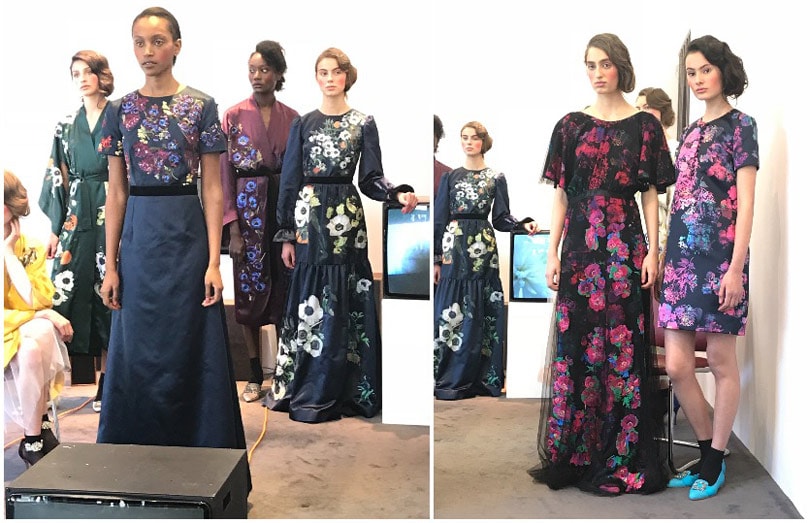 Alice Archer takes a romantic, floral flight of fancy
It is evident that Alice Archer looked to winter florals and fruits for inspiration for her Autumn/Winter 2018 collection, as her designs were covered in snowdrops, white and purple anemones, winter jasmine and myrtle as well as a cocktail of cranberries, elderberries, and oranges. Other art influences which can be seen in her work include painter Gustav Klimt, the Whistler and Botticelli's 'Primavera.' Renowned for her embroidery skills, which she honed while working at Dries van Noten, the collection sees Archer elevate her talents through her precise sequin work, silk shading embroidery and printing on top of embroidery with life-sized oil paintings of white anemones and citrus fruit painted by the designer herself. Although the collection mainly focuses on evening wear and includes long, flowing evening cocktail dresses with frilled hems or fine tulle layered over prints, there also also two-piece sets, A-line coats as well as kimono styled-wrap coat.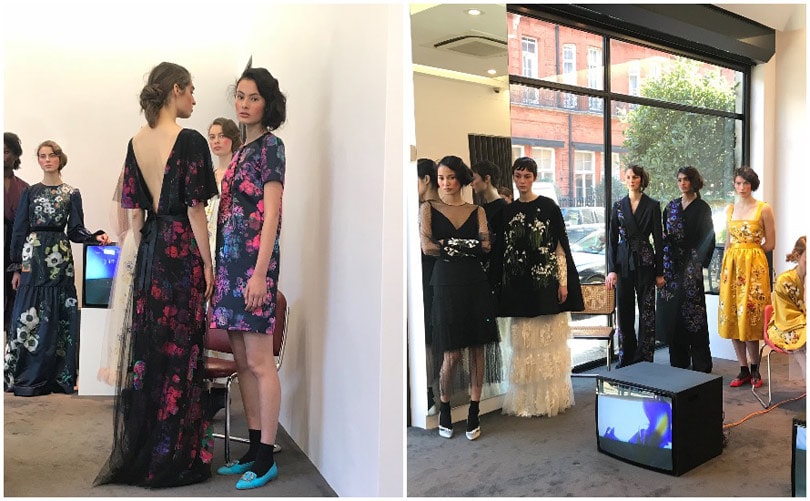 Stand out pieces from the collection include an a voluminous cape covered in embroidered snowdrops and a dark floral gown, featuring purple and fuchsia anemones with fine-tulle embroidered layer and deep v-back. Waists and backs are emphasized throughout the collection, as Archer made sure no little detail is missing. Exposed buttons are covered to match the silk and duchess satin used and girly ribbons draw attention to high waistlines. The static presentation gave the audience plenty of time to fully admire all the little touches that went into creating the romantic, wintry collection, and if the AW18 is a true reflection of the designer's current stage in life, then she must be in very secure and content place in her life.
Faustine Steinmetz moves beyond denim to archetypes
Parisian born designer Faustine Steinmetz moved beyond denim for her collection 011, choosing to work around a series of archetypes instead of her usual experimentation with denim fabrics and weaving. The collection saw Steinmetz deconstruction and reinterpret 10 iconic pieces from the typical Parisian wardrobe, such the classic Burberry trench coat, the silk shirt, Levi's 501, the cable knit jumper and Hermès silk scarf. The show opened with a number of sleeveless denim jackets, tucked into high-waisted jeans which at a quick glance could be a denim jumpsuit. The collar of the denim jackets were replaced with oversize mint-colored silk panels, for a 80s touch. Mint-colour silk was used throughout the collection in dress, shorts and blouses.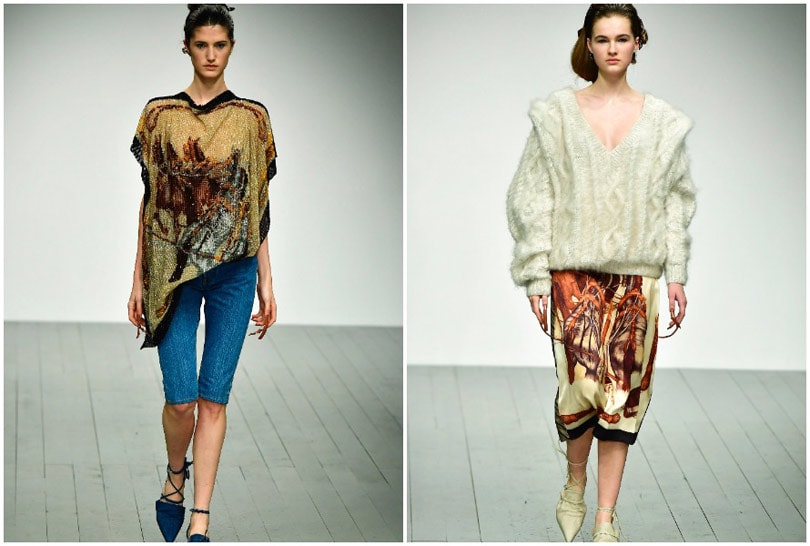 Steinmetz reworks the current trend surrounding biking-lycra shorts, presenting denim shorts, as well as textured, felted shorts. Highlights from the collection include her reinterpretation of the trenchcoat, which is reflected in a simple mac, a crushed textured trench coat as well as a monogrammed, knitted mohair blanket coat. The silk scarf is also progressive reimagines and seen in the form of a scarf before transforming into wrap silk skirt, a scarf top and finally a silk top featuring Swarovski beading. While the show successfully managed to showcase the designers evolution of each item, it did not give viewers chance to see Steinmetz textile experimentations up close.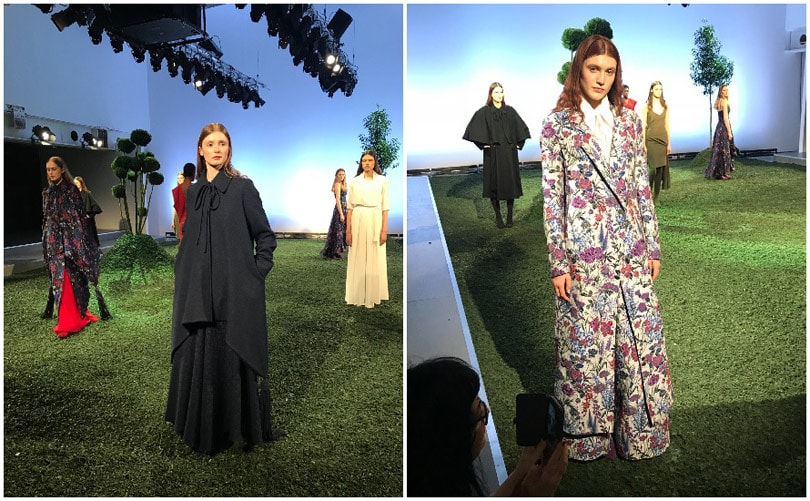 Edeline Lee reflects on her secret garden
Edeline Lee momentarily transported viewers to her own secret garden for her Autumn/Winter 2018 collection presentation. Staged at the BFC show space, the immersive presentation saw the designer transform the space into her version of Eve's garden, complete with a grass carpet, trees and sculpted greenery which served as the perfect backdrop for the collection monastics silhouettes. Inspired by the dark and secret gardens within herself, the designer reworked some of her signature fabrics, such as the Flou Bubble Jacquard as well as her Georgette Champion dresses for AW18, while experimenting with new styles. A dark, yet romantic collection, colours were rich and jewelled, with deep purples, red, navy, amber green and black with a touch of white.
Stand out pieces included a flowing floral jacquard coat in thick wool and floor-length floral coats which closed at the navel, with matching wide legged trousers. Silhouettes were long and modest, with lengths of fabric draped into lush folds and flounces. "The woman is turning inward and she's grounded and contemplating," said Lee on her muse for this season to WWD.
Photos: Catwalkpictures and FashionUnited
FashionUnited

|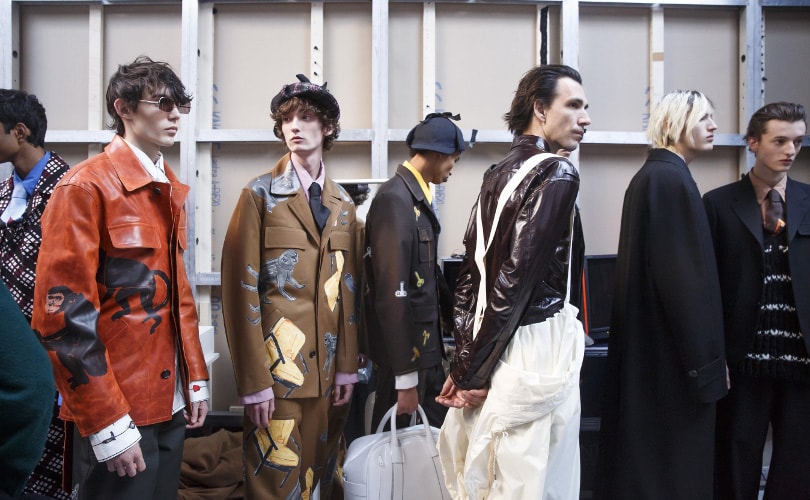 Trendstop's colour experts bring you the latest colour directions that will be impacting the menswear market into FW18-19 and beyond. Our team reveal the essential shades direct from the international runway shows that will be informing the core and fashion apparel, accessories and footwear palettes. Each season, our comprehensive colour forecasts identify the shades that will be crucial to your collections, with analysis and evaluation of each trend's commercial value and longevity that gives you the best possible basis for your decision making.
This week, FashionUnited readers get an exclusive look at three key men's colours integral to the FW18-19 season. Blackened undertones and surface casts enrich the foundation and fashion shades of Black Navy and Mangosteen as menswear colours evolve in a more refined direction. Spicy infusions lift the neutral palette, as Caramel comes with added richness and depth to elevate utility tones.
Black Navy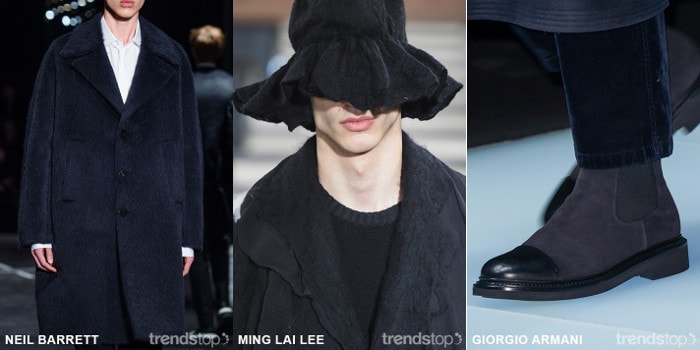 Classic navy blue evolves with a blackened cast, offering a more fashion-forward take on a staple colour. Inky tones provide a directional alternative to black for formal attire while bringing a higher level of sophistication to casual silhouettes. Soft, tactile fabrications and finishes enhance the depth of colour, preventing saturated hues from appearing overly flat.
Mangosteen
Sitting between red and purple, Mangosteen is another example of how fashion darks are evolving with a blacker undertone for a richer finish. Working across both casual and formal categories, Mangosteen lends a refined sensibility to utilitarian apparel and urban accessories and introduces an on-trend colour option to traditional suiting silhouettes.
Caramel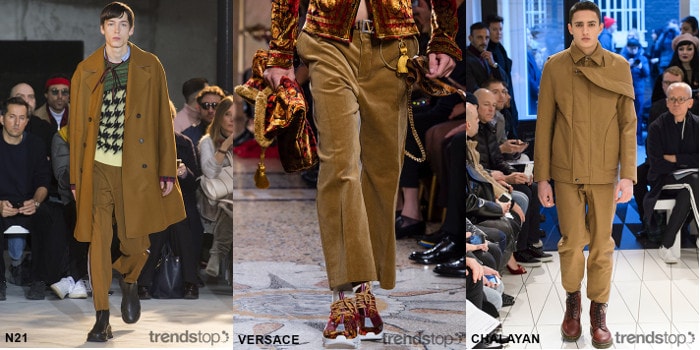 Staple shades are saturated and injected with a spicy yellow undertone for an update on traditional mustard, tan and camel colour-ways. Clean utility cottons, wool and corduroy are elevated through this modern twist on a classic hue while it's neutral qualities allow for top-to-toe wearability.
Exclusive Offer
FashionUnited readers can get free access to Trendstop's Spring Summer 2017 Men's Colour on the Catwalks report, featuring the key emerging colours from the season's top designer collections. Simply click the banner to receive your free report.

Trendstop.com is one of the world's leading trend forecasting agencies for fashion and creative professionals, renowned for its insightful trend analysis and forecasts. Clients include H&M, Primark, Forever 21, Zalando, Geox, Evisu, Hugo Boss, L'Oreal and MTV.
Images courtesy of Trendstop: Neil Barrett, Ming Lai, Giorgio Armani, Marni, MSGM, Alexander McQueen, N21, Versace, Chalayan all Fall Winter 2018-19.
Danielle Wightman-Stone

|
Mary Katrantzou unveiled an exclusive capsule collection of coats in collaboration with luxury Canadian outerwear brand Moose Knuckles Canada at her autumn/winter 2018 catwalk show during London Fashion Week.
The collection, which draws inspiration from the preciousness of Victorian interiors and the radical lines of Bauhaus, includes traditional bombers and parkas that have been transformed with pointillist embroidery, leather tufts and velvet flocked damask.
It's like opposites attract, the opulence, embellishments and signature prints that Mary Katrantzou is known for, have been joined with Moose Knuckles' workwear sensibility, heavy metal finishings, and stalwart construction.
Commenting on the collaboration, Mary Katrantzou said: "Moose Knuckles allowed me to bring femininity and colour to the rugged world of technical outerwear. We translated the key narratives of the season into a variety of high-end coats interwoven with signature patterns and customised damasks to elevate outerwear beyond the everyday."
Mary Katrantzou launching outerwear with Moose Knuckles Canada
Tu Ly, design director at Moose Knuckles, added: "Mary Katrantzou and I have a strong love of fashion which has made this process exciting and truly collaborative. Together we have completely transformed Moose Knuckles' signature jackets with Mary's incredible selection of rich fabrications and exclusive custom prints designs."
The Mary Katrantzou x Moose Knuckles Canada collaboration will roll out this autumn at select stores internationally.
Moose Knuckles might not be a household name in the UK, however, the brand has protecting Canadians from the cold since 1921, and launched Moose Knuckles Canada in 2007 to create the "leanest, toughest and most luxurious sportswear in the world". They offer a full-range of weatherproof coats, lightweight jackets, knitwear, shirting, and accessories, some of which are sold in retailers such as Selfridges in the UK.
This isn't Mary Katrantzou first major collaboration, the London Fashion Week designer has previously worked with Atelier Swarovski, Longchamp, Moncler, Topshop and Adidas Originals on capsule ranges.
Images: courtesy of Mary Katrantzou/Moose Knuckles Canada