Culture
Vivian Hendriksz

|
London - Calvin Klein has entered into a new partnership with The Andy Warhol Foundation for the Visual Arts, which gives the American fashion brand unprecedented access to the late artist's life work - much of which remains unpublished. The partnership comes after Calvin Klein's Chief Creative Officer Raf Simons expressed his interest in Andy Warhol's work after using his photographs as a source of inspiration for his second collection for the brand.
The global partnership, which will remain effective through to 2020, sees Calvin Klein supporting the foundation's endowment financially from which it distributes grants for contemporary visual art in exchange for access to Warhol's work. The partnership includes licensing projects across numerous Calvin Klein lines, as well as future initiatives within the Calvin Klein brand portfolio. "I am proud that through this licensing agreement with The Andy Warhol Foundation for the Visual Arts, Calvin Klein will be continuing its longstanding commitment to the celebration of American artists and their prolific work," said Steve Shiffman, Chief Executive Officer, Calvin Klein, Inc. "I look forward to the global rollout of this partnership across multiple levels of the Calvin Klein consumer experience."
Raf Simons' Spring/Summer 2018 Calvin Klein 205W39NYC runway show was the first iteration of the partnership, as the collection incorporates a selection of Warhol's artworks. The late artist's connection to fashion dated back to his first years working as an artist, when his shoe picture drew interest to Vogue and Harper's Bazaar. Warhol's links to the industry became stronger in the 1970s when he befriended a number of fashion designers in New York, including Calvin Klein himself. 30 years after the passing of Warhol, Simons aims to renew this relationship between Calvin Klein and Warhol through this new partnership.
"I've come to realize that Warhol's genius goes much deeper than cheerful Campbell's Soup paintings," said Raf Simons, Chief Creative Officer. "He captured all sides of the American experience, including sometimes its darker sides. Warhol's art tells more truths about this country than you can find almost anywhere else." In the past, The Andy Warhol Foundation for the Visual Arts Inc. has partnered with other fashion houses such as Dior and Comme des Garçons, but this marks its largest partnership to date.
Photo: courtesy of Calvin Klein
AFP

|
Meghan Markle says acting will take a back seat when she marries Prince Harry, following the example of screen icon Grace Kelly who abandoned Hollywood to marry into royalty. The 36-year-old has starred in legal drama "Suits" since 2011, but is likely to shed many outside interests as she joins the British royal family following the couple's engagement announcement, according to observers.
Markle confirmed in an interview with the BBC she would be giving up acting and would focus much of her attention on the causes that are important to her. "I don't see it as giving anything up. I see it as a change. It's a new chapter," she said. Markle and Harry, 33, will wed in spring next year, 62 years after silver screen icon Kelly abandoned her glittering career to marry Monaco's Prince Rainier III.
Hollywood branding expert Jeetendr Sehdev pointed out however that Markle is not in the same league as the Oscar-winning star of 1950s Hitchcock thrillers "Dial M for Murder," "Rear Window" and "To Catch a Thief." "Americans who have heard of Meghan will remember her as a working TV actor rather than an celebrity or a Hollywood star," Sehdev, bestselling author of "The Kim Kardashian Principle," told AFP.
He added that Britain's first mixed-race royal could nevertheless inspire the British TV industry to create more leading roles for actors of color. "Meghan Markle is the face of the modern princess and there's no reason why she shouldn't keep working in TV after her marriage. The palace will likely have a say in any of her future career choices and roles."
Reform too far?
But royal writer Catriona Harve-Jenner said in a commentary for British lifestyle magazine Cosmopolitan that Markle had made the right decision in shedding her acting ambitions.
"Being a senior member of the royal family is a full-time job, and it requires those who do it to patron charities, represent the UK on an international scale and generally maintain the traditions of the royal family," said Harve-Jenner.
"How would she balance all that with a full-time acting role on 'Suits?'" Markle will be the first American welcomed into the royals since Wallis Simpson -- famously also a divorcee -- but will probably not, in fact, be a princess. What is far more likely, say experts, is that the couple become a duke and duchess, like William and Kate.
As well as starring as paralegal Rachel Zane on "Suits," Markle is an entrepreneur, activist, blogger and fashion designer and would probably be expected to drop many of those pursuits too, to focus on royal activities. The actress appears to already be winding down her workload, having shut down her lifestyle website, "The Tig," in recent months.
Sarika Bose, a lecturer in Victorian literature at the University of British Columbia and a royal expert, said times had changed since Kelly was forced to choose between career and family life. But she added that having a working actress in the fold may yet be a modernizing reform too far for the British throne, which dates back to the merger of England and Scotland in the early 18th century.
'Very charismatic'
"Although British society and the monarchy have changed greatly over the last few decades, there are still possible assumptions people might impose on Ms Markle which are conflated with her acting roles, her life as a celebrity and her public role as a member of the royal family," she told AFP. Bose said she expected Markle to follow other members of the family in pursuing charitable activities.
"Well before meeting Prince Harry, Markle already demonstrated a serious interest and commitment to social justice initiatives, as a World Vision Global Ambassador and an advocate for political participation and leadership for women through the United Nations," she said.
Danielle Wightman-Stone

|
Flamboyant French fashion designer Jean-Paul Gaultier is to celebrate 50 years of pop culture seen through his eyes with a new stage musical, Fashion Freak Show that will premiere in Paris next October, before going on an international tour.
Gaultier renowned for his theatrical catwalk shows, will be incorporating his "eccentric, scandalous, and provocative" personality into a stage show that combines cabaret with a fashion show at the at the iconic Folies Bergere theatre in Paris.
"This show is the story of my life, things I have experienced, seen and loved. And also stories that I have never told before!"
The show will feature everything from his childhood to his early career, including his greatest fashion shows to "wild nights" in Le Palace and London, as well as pay tribute to artists that have inspired him including pop icons Madonna, Kylie Minogue, and Mylène Farmer to film directors Pedro Almodovar and Luc Besson, and dancers Régine Chopinot and Angelin Prejlocaj.
"This show is the story of my life, things I have experienced, seen and loved. And also stories that I have never told before!" explains Gaultier. "I discovered the entertainment world at the age of nine while watching a Folies Bergère revue on TV and I found out what a fashion show was through Jacques Becker's film, "Falbalas", in which Micheline Presle falls in love with a fashion designer played by Raymond Rouleau. With the Fashion Freak Show, I intend to bring these two worlds together. It is very exciting to be given the opportunity to stage the revue in the Folies Bergère."
Jean-Paul Gaultier to stage musical and fashion show in Paris from October 2018
For the 'Fashion Freak Show', which is described in the press release as a "grand party" where Gaultier "will surprise us yet again", will feature ten new exclusive outfits designed by the French designer to incorporate within an exuberant scenography.
Gaultier has written the show, and will co-direct and produce the set design, in collaboration with actress, scriptwriter and director Tonie Marshall, who co-directs the show, and Marion Motin, who has worked with Madonna, on the choreography. The cast will be actors, dancers and circus artists, who will take to the stage and play "outlandish, passionate, larger than life, rude, sexy, sassy creatures and personalities", explains the designer, while the music will range from disco to funk, pop and rock, basically the playlist of his life.
Describing what the show will cover, Gaultier said: "I will tackle new issues such as plastic surgery and the creatures it spawns, or the vanity fair of social media. All that has been an inspiration for a number of new costumes. Clothes can say so much about their time, the way we relate to femininity and masculinity, sexuality, about what we consider different and where the limits of society are.
"I want to show difference. For there is beauty to be found everywhere, it all depends on how one chooses to look at it. I've always loved freaks, weirdoes, agitators, the mixing of different aesthetics, the unexpected encounters. This transgressive energy will be on show for all to see. It will be about joy and dreams, I would like every member of the audience to leave in a happier mood than when they arrived. It's going to be a huge party! I hope that the audience will enjoy the show just as much as I did when creating it."
The 'Fashion Freak Show' will premiere on October 2, 2018, with tickets going on sale today, November 9 with tickets priced from 39 euros.
Image: courtesy of Jean-Paul Gaultier/Fashion Freak Show
Kristopher Fraser

|
The Metropolitan Museum of Art has announced that The Costume Institute's spring 2018 exhibition will be Heavenly Bodies: Fashion and the Catholic Imagination, on view from May 10 through October 8, 2018 (preceded on May 7 by The Costume Institute Benefit). Presented at The Met Fifth Avenue in both the medieval galleries and the Anna Wintour Costume Center, the show will also occupy The Met Cloisters. The thematic exhibition will examine fashion's ongoing engagement with the devotional practices and traditions of Catholicism. A group of papal robes and accessories from the Vatican will travel to the United States to serve as the cornerstone of the exhibition.
"The Catholic imagination is rooted in and sustained by artistic practice, and fashion's embrace of sacred images, objects, and customs continues the ever-evolving relationship between art and religion," said Daniel H. Weiss, president and CEO of The Met. "The Museum's collection of religious art, in combination with the architecture of the medieval galleries and The Cloisters, provides the perfect context for these remarkable fashions."
The Met's next Costume Institute exhibit to focus on fashion and Catholicism
Next year's Met Gala will be co-chaired by Amal Clooney, Rihanna, Donatella Versace, and Anna Wintour. Christine and Stephen A. Schwarzman will serve as honorary chairs. The event is The Costume Institute's main source of annual funding for exhibitions, publications, acquisitions, and capital improvements.
"Fashion and religion have long been intertwined, mutually inspiring and informing one another," said Andrew Bolton, curator in charge of The Costume Institute. "Although this relationship has been complex and sometimes contested, it has produced some of the most inventive and innovative creations in the history of fashion."
The exhibition will feature approximately 50 ecclesiastical masterworks from the Sistine Chapel sacristy, many of which have never been seen outside the Vatican. These will be on view in the Anna Wintour Costume Center galleries and will include papal vestments and accessories, such as rings and tiaras, from the 18th to the early 21st century, encompassing more than 15 papacies. The last time the Vatican sent a loan of this magnitude to The Met was in 1983, for The Vatican Collections exhibition, which is the Museum's third most-visited show.
In addition, approximately 150 ensembles, primarily womenswear, from the early 20th century to the present will be shown in the medieval galleries and The Met Cloisters alongside religious art from The Met collection, providing an interpretative context for fashion's engagement with Catholicism. The presentation situates these designs within the broader context of religious artistic production to analyze their connection to the historiography of material Christianity and their contribution to the perceptual construction of the Catholic imagination.
Designers in the exhibition will include Azzedine Alaïa, Cristobal Balenciaga, Geoffrey Beene, Marc Bohan for Dior, Thom Browne, Roberto Capucci, Callot Soeurs, Jean Charles de Castelbajac, Gabrielle "Coco" Chanel, Maria Grazia Chiuri for Dior, Dolce & Gabbana, John Galliano for Dior, Jean Paul Gaultier, Givenchy, Craig Green, Madame Grès for Alix Barton, Rei Kawakubo for Comme des Garçons, Christian Lacroix, Karl Lagerfeld for Chanel, Jeanne Lanvin, Shaun Leane, Claire McCardell, Laura and Kate Mulleavy for Rodarte, Thierry Mugler, Norman Norell, Guo Pei, Maria Grazia Chiuri and Pierpaolo Piccioli for Valentino, Pierpaolo Piccioli for Valentino, Elsa Schiaparelli, Raf Simons for both his own label and Dior, Riccardo Tisci for Givenchy, Jun Takahashi for Undercover, Isabel Toledo, Philip Treacy, Donatella Versace for Versace, Gianni Versace, Valentina, A.F. Vandevorst, Madeleine Vionnet and Vivienne Westwood.
Photos: Image 1 (left): El Greco, Cardinal Fernando Niño de Guevara (1541–1609), ca. 1600, oil on canvas; The Metropolitan Museum of Art, H. O. Havemeyer Collection, Bequest of Mrs. H. O. Havemeyer, 1929 (29.100.5); Image © Metropolitan Museum of Art
Image 2 (right): Evening Coat, Cristobal Balenciaga for House of Balenciaga, autumn/winter 1954–55; The Metropolitan Museum of Art, Gift of Mrs. Bryon C. Foy, 1957 (C.I.57.29.8); Image courtesy of The Metropolitan Museum of Art, Digital Composite Scan by Katerina Jebb.
AFP

|
The Museum of Modern Art is staging an exhibit of iconic clothing and accessories to examine the relationship between fashion and society.
On display are 111 high-impact items like Levi's 501 jeans, the little black dress, the sari, the pearl necklace and even tattoos -- all part of the cultural heritage of the West and elsewhere in this century and the 20th. In MoMA's first exhibit on fashion since 1944, the show features garments that seem timeless, like the Panama hat.
But it also includes items from everyday life or those denoting religious affiliation, such as the yarmulke for Jewish men and the headscarf for Muslim women. The exhibit is called "Is Fashion Modern?" It opens Sunday and runs through January 28.
It provides a chance to recall how certain garments symbolized what was considered modern in a given period of history. Although curators say the show is about objects, rather than their designers, the influence of Yves Saint Laurent permeates. His "Le Smoking" -- the first tuxedo for women, introduced in Paris in 1966 -- crystallized the evolution of women's status and their aspirations in life. Saint Laurent's signature black boots and espadrilles are also on display. Modernity was also the very 1960s futuristic aspiration of Paco Rabanne and his aluminum dress, and that of Pierre Cardin as seen in his bold Cosmos dress.
Fashion is also modern simply because it reflects the spirit of the times. This show looks at fashion's relationship to everyday street life and all that it inspires. The best illustration, however, is the powerful world of sportswear, born far from the catwalks of New York and Paris but now nestled intimately in every layer of society.
To wit: Converse All Star sneakers, sports jerseys, Lacoste polo shirts and track suits are all part of the show, and basics of many people's wardrobes. To accompany the exhibit, MoMA commissioned the manufacture and marketing of several garments based on beloved clothing from the past, such as a Breton sailor-style shirt by Armor-Lux of France and a seamless sweater by Issey Miyake. (AFP)
Photo: Jackie Mallon for FashionUnited
AFP

|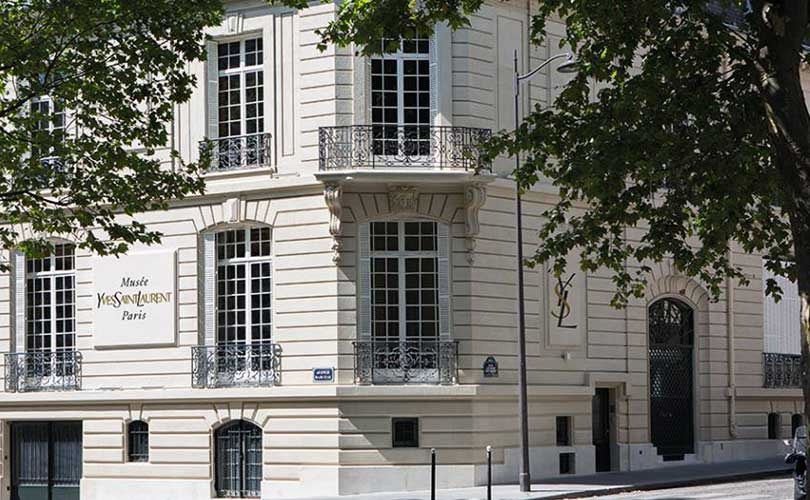 Ahead of the opening of museums in Paris and Marrakesh dedicated to the work of Yves Saint Laurent, here are some milestones in the life of the fashion icon.
Starting out
He is born on August 1, 1936 in Algeria's Mediterranean city of Oran and named Yves Mathieu-Saint-Laurent.

In his late teens, he moves to Paris in 1954 to study design and wins three of the four first prizes in the prestigious International Wool Secretariat competition for rising fashion talent.

In 1955 Saint Laurent is hired as a design assistant by Christian Dior. Two years later, when Dior dies unexpectedly, he is appointed chief designer.

Making a name

His first solo collection for Dior, in 1958, is the Trapeze Line of narrow shoulders and wide skirts that receives rave reviews, launching his name. The same year he meets future lover and business partner, Pierre Berge.

He and Berge start living together in 1961 and found the Yves Saint Laurent (YSL) luxury couture house.

His 1966 spring show features the first tuxedo for women, upending the rules at a time when most women did not wear pants. The first Saint Laurent ready-to-wear shop opens on Paris' Left Bank the same year.

The "safari look" and first see-through dress cause a sensation at his spring collection of 1968.

1971, in his mid-thirties, he poses naked for an advert for his first fragrance for men, "YSL pour Homme".

His perfume for women, "Opium", is launched in 1977, to become an enduring worldwide success.

In 1983 Saint Laurent becomes the first designer to have a retrospective dedicated to his work in his own lifetime. The exhibition at the Metropolitan Museum in New York is visited by a million people.

Towards retirement

YSL is sold to French industrial group Elf-Sanofi in 1993 for $650 million.

Gucci completes a takeover of Sanofi, parent company of YSL, in 1999 and appoints Tom Ford as creative director.

Saint Laurent marks the 40th anniversary of his fashion house on January 22, 2002, and formally announces his retirement, bringing down the curtain on an unparallelled career.

He dies on June 1, 2008 at his home in Paris, aged 71, suffering a brain tumour. His funeral is attended by celebrities and some of the biggest names in fashion.
(AFP) ​
Photo: Musee Yves Saint Laurent ​
AFP

|
Yves Saint Laurent was one of greatest yet most private fashion designers of the 20th century. Now only weeks after the death of his partner and lover Pierre Berge, the hard-nosed business brain behind the legend and the keeper of the flame, some of the creator's innermost secrets are coming to light.
The first of two new museums dedicated to his memory opens in Paris on Monday as a raft of new books and documentaries -- including one on his erotic drawings -- attempt to decode the mysteries of the painfully shy man who revolutionised women's fashion.
The Paris mansion where Saint Laurent shook up the dress codes for more than three decades has been turned into a museum for his haute couture creations. A much larger museum, also paid for by the foundation set up by Berge to safeguard his partner's legacy, opens next month in Marrakesh, the Moroccan city the couple loved and where Saint Laurent would often first sketch out his collections.
"Coco Chanel liberated women, but Yves Saint Laurent gave them power," Berge once said, by appropriating the symbols of power from the male wardrobe -- dinner jackets, safari suits and jumpsuits -- and remaking them for women.
Inner sanctum
"I had noticed men were much more confident in their clothes," Saint Laurent once said in a rare interview. "So I sought through trouser suits, trenchcoats, tuxedos and pea coats to give women the same confidence." His black tuxedo for women, known as "Le Smoking" -- often wore over bare flesh -- caused a scandal in 1966, with the New York socialite Nan Kempner dropping her pants when she was told by a Manhattan restaurant that women in trousers would not be admitted.
Saint Laurent would later design a jacket as a thigh-skimming mini dress just as Kempner, one of his best customers, had worn it. The heart of the new Paris museum is Saint Laurent's studio, the inner sanctum where he would work night and day in the run-up to his shows. It remains just as he left it in 2002, his desk festooned with photos of his inner circle of glamorous female friends which included Catherine Deneuve, Bianca Jagger and Paloma Picasso.
Pride of place, however, goes to a New Year's card he made from a painting his friend Andy Warhol did of his French bulldog Moujik. One wall of the room is completely mirrored, which allowed Saint Laurent to work directly on his live models so he could see his creation from all angles as it progressed.
The museum also gives revealing insight into Saint Laurent's creative process, developing his clothes from very basic sketches into complex designs that, in the case of some of his haute couture creations, could take thousands of hours to make.
Berge's enduring devotion
"Unlike many other designers Saint Laurent began systematically archiving his work in the early 1960s -- encouraged by Berge -- and so we can follow the evolution of each item," said a spokesman for the museum, which holds a treasury of 5,000 prototypes for his creations. Other rooms in the museum are given over to Saint Laurent's inspiration and the "imaginary voyages" his collections often took to Asia, Africa and most famously Russia.
But other than his sojourns in Morocco -- which reminded him of his native Algeria where he was born in 1936 while it was still French -- the designer was not much of a traveller. With Berge he built up a considerable art collection and he borrowed liberally from artists like Picasso, Matisse and Van Gogh, most famously with his Mondrian dress, which became an instant pop icon when it hit the catwalk in 1965.
Berge always believed that Saint Laurent -- who had begun his career by stepping into the shoes of Christian Dior when he was just 21 -- was nothing less than an exceptional artist, calling him "the greatest designer of the second half of the 20th century". Having "spent all my life helping Yves Saint Laurent build his work, which I want to last", Berge died earlier this month, just weeks before the museums opened.
His husband, the American landscape artist Madison Cox -- whom he married this summer -- told AFP that "10 days before he died he told me that 'I am going to die totally at peace', and I think that was true. He was a very determined man and he had put everything in place." Cox said the museums were also a tribute to Berge's work supporting and protecting the fragile Saint Laurent, who was haunted by drug and drink addictions.
"Of course I and the whole team are profoundly sad that he will not be here," added Cox, who now heads the pair's charitable foundation. "But he would have wanted that we go on." (AFP)
Image: Studio KO, Musee Yves Saint Laurent, Marrakesh
AFP

|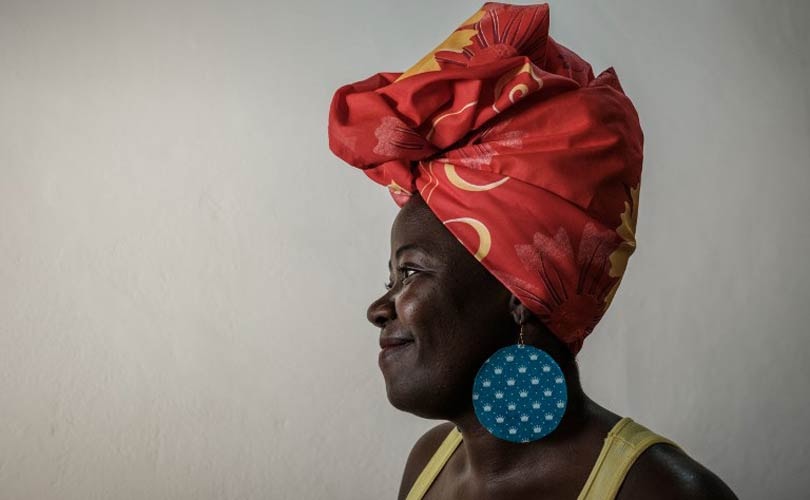 Rio de Janeiro - When Brazilian fashion designer Rogeria Ferreira was told to remove the turban she wears as a member of the African-inspired Candomble religion for an ID picture, she decided to fight back: the turban was her identity.
"For many people, it's just a piece of cloth, or fashion," said Ferreira, 36. "But this turban represents my ancestors. If I go outside without one, I feel naked. I feel humiliated." She had no choice last year when she was told to remove the headgear, since she urgently needed a new Rio de Janeiro identity card. But in Candomble, the turban serves to protect the "ori," which is the head but also the person's sacred force.
So she took legal action, claiming "racial and religious prejudice," and in March had her prayers answered when the Rio state prosecutor general said that any headgear "worn for reasons of religion conviction" will now be allowed in official photographs. That victory was just a small battle in what Candomble faithful say is growing oppression against a religion based on traditions brought by African slaves that incorporates aspects of Catholicism.
Only 0.3 percent of Brazilians identify with Candomble, according to state statistics, but it holds a rich place in Afro-Brazilian culture. With their white clothes, music and special dances in which worshippers traditionally believe they are possessed by Candomble gods called "orixas," Candomble faithful are part of the popular imagination. At New Year's, huge crowds of Brazilians dress in Candomble white and perform a ritual on beaches, while another Candomble festival honoring the queen of the sea Iemanja is also widely attended.
Evangelical backlash
But there's been a series of ugly incidents that illustrate rising intolerance against the minority religion. In late August, a 65-year-old woman from an African-inspired faith had stones thrown at her in the Rio suburb of Nova Iguacu. More recently, two videos emerged on social media showing apparently evangelical men forcing Candomble worshippers in Rio to destroy their sacred objects.
In early September, thousands of people from different faiths protested next to Rio's Copacabana beach against the attacks, which some blame on Brazil's ever-growing evangelical Christian community. The Roman Catholic archbishop of Rio, Cardinal Orani, supported the Sunday march, as did representatives of Jewish, Muslim and other faiths. "We are all equal before the law and in the eyes of the Creator," said a big placard at the protest. Some link the darkening mood to the new mayor of Rio, Marcelo Crivella, who is also a bishop in the Universal Church of the Kingdom of God, an evangelical megachurch founded by his uncle. In the past, he has spoken harshly about gays and Catholics, and since taking office he has been seen as unfriendly to both Candomble and the city's annual carnival.
"Our country is secular, but we are returning to a time of the Inquisition," Adriano, a Candomble priest, said at the protest. Evangelicals also took part in the march to support religious tolerance. Attacks are done by "minorities," said Edson Garces, 30, who belongs to a Baptist church in Baixada Fluminense, a strongly evangelical area outside Rio. But Garces said the mayor, who was elected last year, needs to show leadership. "Although he doesn't appear as promoting this absurd intolerance, he creates a favorable atmosphere for the ignorance behind it," Garces said. (By Carola Solé / AFP)
Photo: YASUYOSHI CHIBA / AFP
Simone Preuss

|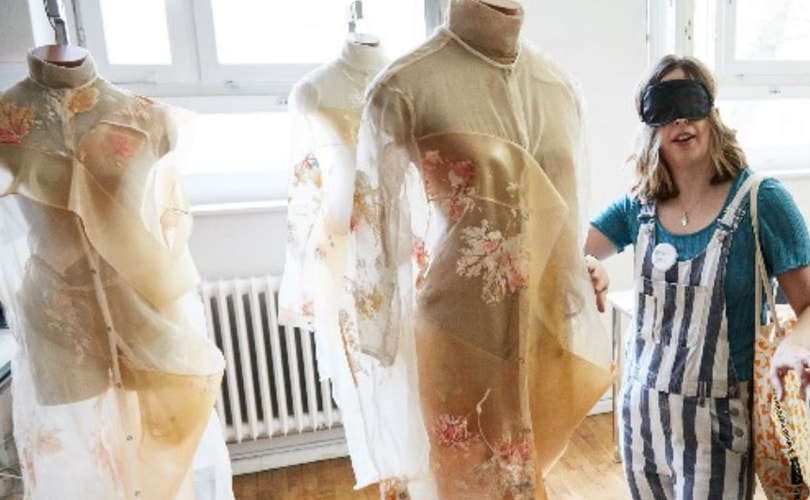 What does fashion feel like, smell like and sound like? With "Beyond Seeing", a research and exhibition project, the Goethe-Institute Paris explores innovative ways of fashion design that brings together the students of four renowned fashion schools from Germany, France, Sweden and Belgium and blind and visually impaired participants. The resulting works are stunning creations in between fashion and art, which will be presented for the first time at the ESMOD Graduate Show in Berlin on 14th September.
"The project is intended to make fashion discernible beyond the visual stimuli through interaction of sensory perceptions. Different target groups who never met before - students of design, blind and visually impaired participants as well as experts of different artistic disciplines - will be brought together for the first time in order to develop innovative design concepts," states the project's press release.
Given that sight provides 80 percent of all human perception, the research project explores the question of how blind and visually impaired people perceive fashion under those circumstances, being excluded from a whole universe of mass media images of fashion. 'How do they deal with the fact that they cannot see what is worn on the streets or how other people will react to the clothes they are wearing?', 'How do they experience colours, fabrics and surfaces?', 'What do they perceive that we fail notice or no longer do?', 'What does the term beauty mean for them?' and 'How can fashion be experienced with other senses than the visual one?' are some of the other questions "Beyond Seeing" explores.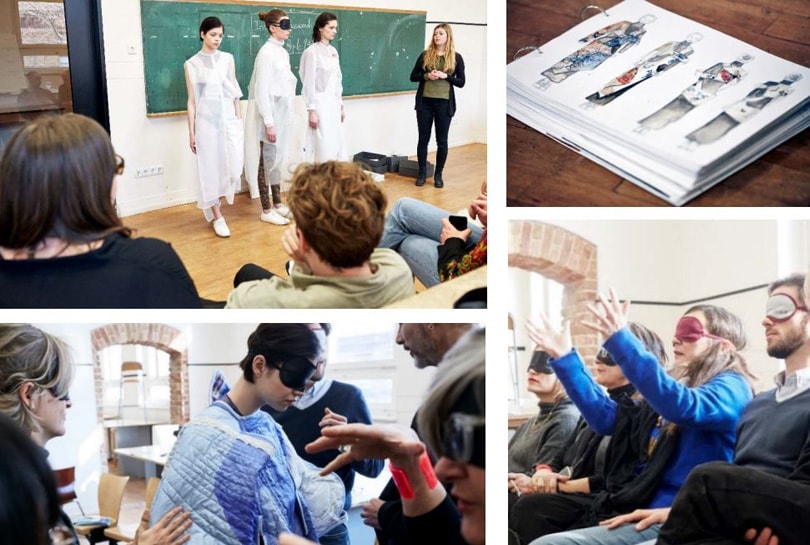 The four participating fashion schools are ESMOD in Berlin, IFM – Institut Francais de la Mode in Paris, La Cambre in Brussels and the Swedish School of Textiles in Boras. Altogether, 50 sighted and non-sighted people came together to participate in the project, which was kicked off with an incentive conference in October 2016 in Paris. Experts from various disciplines – seeing or not seeing – introduced the participants to the overall project in talks and lectures. The project was initiated by Silvia Kadolsky, founder and CEO of ESMOD Berlin, and Katharina Scriba, program curator at Goethe-Institut Paris, while Francine Pairon is the educational and artistic direction.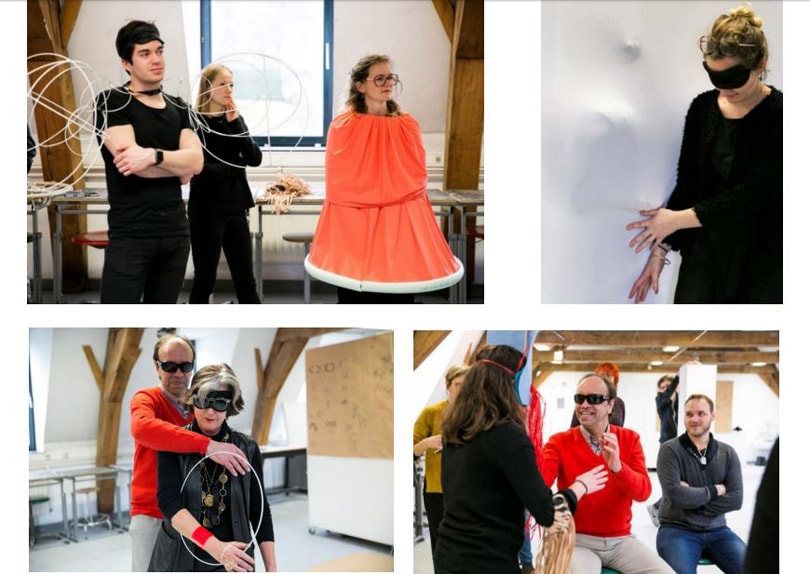 In February and March 2017, research workshops took place in all participating countries to develop in a participatory and dialogical process creative approaches of how fashion can be experienced beyond the sense of vision. A creation workshop in Berlin marked the third phase, in which the design and fashion students developed innovative concepts together with the seeing and not-seeing participants.
The fourth stage of the project focuses on the participants presenting their creations in a transdisciplinary and interactive exhibition with the aim of creating a multiple sensory experience. The visitors – seeing or not seeing – will touch, hear, smell and taste as well as experience and interpret fashion beyond the visual aspect.
In addition, a large program of events is planned. In January 2018, "Beyond Seeing" will be presented for the first time in a transdisciplinary and interactive exhibition at the WIP at the Parc de la Villette in Paris. After the opening event in Paris, the exhibition will be shown in Borås, Berlin and Brüssel in 2018.
Photos: courtesy of Beyond Seeing
AFP

|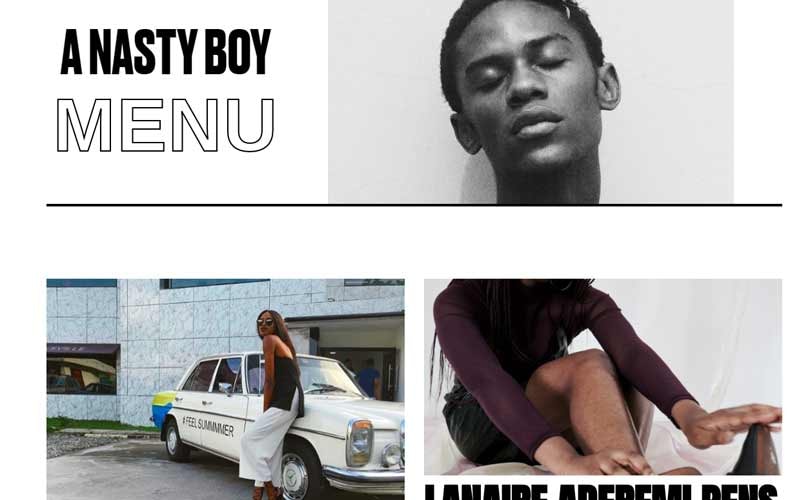 Make no mistake -- Nigeria's "A Nasty Boy" is not a gay online magazine. In a country where homosexual acts can be punished with 14 years in prison, this provocative website featuring photos of men in mini-skirts is simply "pushing the boundaries and exploring masculinity".
Richie Akuson, the 23-year-old founder, makes up for what he lacks in years with confidence and audacity. Even in "bum shorts" -- the local name for hot pants. "Last year, I challenged myself -- walking through Abuja with silk shorts," he told AFP. "People insulted me loudly, they were making insulting comments, it was quite a painful experience."
He decided to recount his experience in Bella Naija, the country's leading digital lifestyle magazine where he worked at the time as fashion editor. His article, titled "Why I Wore Bum Shorts Around Abuja For a Day!", provoked a fierce online debate. The comments flooded in -- many to accuse the young provocateur of exhibitionism, others to congratulate him for his principled stand against convention.
'Huge, huge ego'
"I was surprised by the reactions, and I thought that we really need to debate these issues, to debate around what is masculinity in Nigeria," he said. His site's first online posts, published last February, were at best baffling to many in a country where everything associated with homosexuality is seen as an affront to religion.
Androgynous male models wearing make-up were pictured posing on a beach in Lagos, oozing sex appeal. Another article was illustrated by men sporting oversized Afro-style wigs and towering on high heels, lifting their denim mini-skirts. The images are undoubtedly provocative, but never sordid, and their quality is on a par with the major fashion magazines on sale in Europe and North America.
Richie claims that Nigerian men typically have a "huge, huge ego", and that his work is intended to hold up a mirror. "Nigerian men are always on edge to protect what they define to be masculinity: you have to be strong," he said. "No compassion for others, and a lot of money. The paradox is that it makes them very fragile at the end, behaving like bullies."
Having scandalised many with his initial web offering, Richie now plans to launch a print magazine to extend his brand. In a shoot for an upcoming online feature, he handed out outfits to his four androgynous models -- two men, two women -- in an understated Lagos hotel room decorated with floral pattern wallpaper.
He said he wanted to "transcend existing genres". But not by the hotel pool, which would be far too public. "Can you put this dress on?" he asked a young man with close-cut hair and a slim face. Abstrakt, a 21-year-old Nigerian singer who describes himself on Instagram as a "model and madman", resents being pigeon-holed and wore a T-shirt emblazoned with the words "to be honest, I'm not normal".
And even if he was not overly enthused by the prospect of wearing a skirt, he did it anyway -- "for fashion". "And you... can you put on this men's blazer?" Richie asked a pretty young woman with long braided hair that reached down to her back.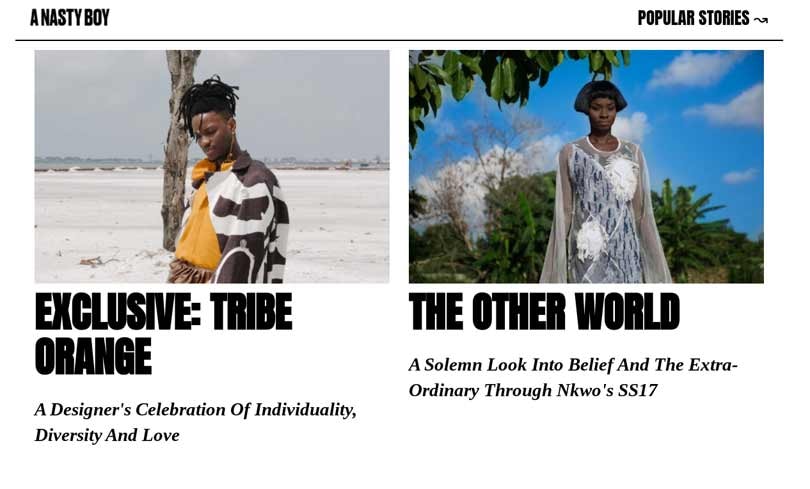 'I love controversy'
She wore the dark green velvet garment, created by a celebrated Nigerian designer, with neither bra nor trousers -- but with tights to preserve her modesty. "I love controversy, I've always been a rebel at heart," said the woman, Ajoke Animashaun, a law student and model. "In Nigeria we are so conservative. Girls have to be well dressed, be pretty, have their nails done... but I don't!"
For many women, painted nails are simply a matter of preference. Not in Lagos, where going unpainted is seen as an almost revolutionary feminist statement. Wole Lawal, a 22-year-old professional model, traded in his leather boots bought in London for baggy multicoloured trousers at Richie's request.
Like Nigeria's king of Afrobeat Fela Kuti, Lawal went shirtless for the shoot, joking that the hotel room's fierce air conditioning was freezing on his bare skin. "Nasty Boy allows men to show the other side of who they are," he said, in a deep voice, his face shimmering with glitter paint.
"(It's) an opportunity to know how it feels to be a woman... and I would say it's quite tough." (AFP)
Photos: Nasty Boy website