Business
Kristopher Fraser

|
Stitch Fix, Inc., an online personalized styling service, has announced they have filed a registration statement on Form S-1 with the U.S. Securities and Exchange Commission relating to a proposed initial public offering of shares of its Class A common stock. The number of shares to be offered and the price range for the proposed offering have not yet been determined. Stitch Fix intends to list its Class A common stock on the NASDAQ under the ticker symbol "SFIX."
Goldman Sachs & Co. LLC and J.P. Morgan Securities LLC will act as lead joint book-running managers for the offering, Barclays Capital Inc. and RBC Capital Markets, LLC will act as book-running managers for the offering and Piper Jaffray & Co., Stifel, Nicolaus & Company, Incorporated and William Blair & Company, L.L.C. will act as co-managers for the offering.
The offering will be made only by means of a prospectus.
Founded in 2011 by Katrina Lake, StitchFix delivers one-to-one personalization services through the combination of data science and human judgment. Today, the company employs more than 5800 people worldwide.
Angela Gonzalez-Rodriguez

|
The Korean asset manager IMM Private Equity has announced it will be acquiring a 60 percent stake in fashion retailer W Concept Korea from its parent firm ISE Commerce, for 61.2 billion won (circa 54.2 million dollars).
After the deal closes, ISE Commerce will retain a 20 percent holding in the fashion brand, according to a regulatory filing.
The purchase will be made through the private equity firm's IMM Rose Gold III Fund with payment in cash expected to be carried out from November, 30 to December, 29.
IMM is acquiring W Concept with its third funding round worth 1.5 billion US dollars.
W Concept, launched in 2008, operates an online store selling local designer brands. It reported a net income of 1.76 billion won in 2016, up 85 percent compared to 2015.
IMM Rose Gold III specialises in medium and large-sized companies in the consumer, retail, food and beverage, industrials, health care, technology, media, financial services and manufacturing sectors.
Vivian Hendriksz

|
London - H&M Group, parent company of leading Swedish fashion retailer H&M, has taken a minority stake in Swedish company re:newcell to help speed up its transition to a circular business model. Re:newcell uses a new technique to recycle used cotton, viscose, and other cellulosic fibers into a new, sustainable dissolving pulp. In turn, this pulp can be used to make new textile fibers and fed into the textile production cycle.
The investment will help H&M achieve its ambitious goal of using 100 percent recycled and other sustainably sourced materials by 2030. "Re:newcell´s technology has the potential to become a commercial and scalable solution for the industry and accelerate the journey from a linear fashion industry towards a circular one", said Cecilia Brännsten, Acting Environmental Sustainability Manager, and circular economy lead, at H&M group in a statement.
"I am proud that H&M group sees the advantages of our innovation," added Mattias Jonsson, CEO of re:newcell. "Together we can contribute to changing the way fashion is produced and recycled." In order for the H&M Group to move to a circular business model, it must find solutions to substitute the fibers it currently uses with recycled fibers or other sustainably sourced alternatives, which is why the group is working with numerous initiatives.
At its plant in Kristinehamn, Sweden, re:newcell uses both used clothes and residues from textile production to create new fibers, decreasing the amount of textiles dumped in landfills. Its plant features a closed loop production system for chemicals and water and uses renewable energy and is able to produce 7,000 tons of pulp per year, with additional units being planned.
"This is the link that has been missing from the production cycle. re:newcell has closed the loop," added Jonsson. "The way fashion is produced and consumed can hopefully be transformed into a never-ending loop in the future." News of the sustainable fiber investment comes as H&M stands accused of incinerating 12 tonnes of unsold, usable apparel per year in Denmark rather than recycling it. H&M has denied these claims, arguing the clothing destroyed was not safe for recycling.
Photo: courtesy of H&M
Danielle Wightman-Stone

|
Lighthouse, a middle market private equity firm focused on growth investments in India's consumer sector, has invested 760 million Indian Rupee in V2 Retail, one of India's fastest growing, pure play apparel value retailers.
V2 Retail provides a one-stop apparel solution for the whole family and the investment will be used to accelerate the group's store expansion plans, said the private equity firm.
For the 2017 fiscal year, V2 Retail achieved revenue of approximately 4.7 billion Indian Rupee, representing a compound annual growth rate in excess of 60 percent over the last five years. Currently, the retail group has 44 stores across 13 states in India and has set significant expansion targets of opening 100 stores in the next two to three years.
Ram Chandra Agarwal, chairman and managing director of V2 Retail, said: "We were highly impressed with Lighthouse's track record of investing in and building leading branded, consumer companies, and believe their assistance will be invaluable for us going forward.
"We plan to further penetrate in our core markets, such as Bihar and Uttar Pradesh, due to large number of high potential Tier II and III cities, which remain significantly underpenetrated in terms of organised retail."
Sachin Bhartiya, partner at Lighthouse Advisors, added: "We have been witnessing a structural change in the Indian retail landscape over the past few years, and are very excited to partner with V2 Retail.
"We have great confidence in Ram Chandra Agarwal, the pioneer of value retailing in India, and his team, and believe that the next few years will be transformational for the Company."
Prachi Singh

|
Asos has reported retail sales growth of 34 percent to 1,876.5 million pounds (2,484 million dollars) for the year to August 31, 2017, driven by strong product, proposition improvements and further price investments across major markets. Continuing profit before tax and exceptional items grew by 26 percent to 80 million pounds (105 million dollars), while profit before tax jumped 145 percent to 80 million pounds.
Commenting on the annual trading performance, Nick Beighton, Asos CEO, said in a press statement: "It's been a great year for Asos, with continued growth in sales and profits. Our international performance was excellent, as we reinvested FX tailwinds and benefitted from our continually improving customer proposition. In a competitive UK market, we achieved strong full price performance whilst further increasing market share. The investments we are making will see us add 1,000 new heads and will lay the foundations for a 60 percent increase in unit capacity and 4 billion pounds of net sales."
Highlights of Asos's annual results
The company said, as previously noted, the continuing FX tailwind enabled reinvestment at a faster rate than initially planned. Retail gross margin increased by 10bps to 48.6 percent as price investments in the US, Europe and some RoW territories were offset by a higher full price mix. Delivery receipts grew 18 percent aided by higher next-day delivery usage and the expansion of Premier globally.
The group generated retail sales growth of 34 percent during the year, with UK growth of 16 percent to 698.2 million pounds (925 million dollars) and strong international growth of 47 percent or 36 percent constant currency to 1,178.3 million pounds (1,561 million dollars), driven by investments in price and proposition. International retail sales accounted for 63 percent against 57 percent last year, of total retail sales.
Asos said, UK retail sales grew by 16 percent, a solid performance in a more promotional market. The A-List loyalty scheme, which annualised during the year, continued to aid increases in conversion and average order frequency. US retail sales grew by 46 percent or 31 percent in constant currency driven by price investments and the annualisation of improved delivery propositions coupled with key promotional events.
EU retail sales grew by 45 percent or 34 percent in constant currency aided by the introduction of free returns across the whole of the EU, alongside prior year price investments annualising. RoW retail sales grew significantly at 52 percent or 42 percent constant currency, driven by further price and proposition investments. Russia and Israel, the company said, were the stand out performers, achieving triple digit sales growth of over 200 percent and 150 percent respectively.
Delivery receipts increase of 18 percent lagged retail sales growth as customers increasingly took advantage of more extensive free shipping options. The number of premier customers increased by 55 percent.
Asos saw site visits increase by 24 percent year-on-year; average order frequency improved by 5 percent; average basket value increased by 2 percent alongside a 20bps improvement in conversion. Active customers are now at 15.4million, representing a 24 percent increase since last year.
Asos invests in technology platform, to launch new activewear label
The company added that rollout of Asos's new technology platform delivers micro-service architecture with fully native mobile experience in android and iOS apps and a vastly improved all new checkout. The platform allows for significantly greater transaction volume at enhanced levels of stability. The company continued to increase capacity and efficiency at Barnsley, successfully transitioned to phase 1 of the new Eurohub 2 fulfilment centre with ongoing work to further double its capacity and automate its operations.
In August, Asos signed a lease for a new fulfilment centre in the US, which is expected to be operational by Autumn 2018. The company expects investments Asos is making across logistics will lay the foundations for a 60 percent increase in unit capacity and 4 billion pounds (5.3 billion dollars) of net sales per annum.
The company said, sales of Asos brand account for 41 percent of sales. Each week 5,000 new styles are launched with 85,000 products in stock at any one point in time. Almost 200 new brands were introduced during the year whilst a similar number were edited out. Building on last year's launch, Asos is accelerating its activewear offering, with football and golf ranges now accompanying sports performance wear including gym, run and yoga. The Asos 4505 activewear range will launch in 2018 along with range extensions into snow and surf.
The company added that with it 'Fashion with Integrity' initiative, the company aims to ensure that the production of our products causes no negative impact on the environment. ASOS joined the Sustainable Apparel Coalition, giving Asos insights into environmental management systems across water and chemical management. Asos also signed the Cotton Communique with the Clarence House International Sustainability Unit, committing to 100 percent sustainably sourced cotton by 2025 and are on track to hit a sustainable cotton target of 70 percent for 2017. The company signed the commitment to a Circular Fashion System (Global Fashion Agenda, Copenhagen) to support the transition to a 'circular business'.
Asos raises sales guidance for FY18
The company said, new financial year has started well. Its increased sales guidance is 25-30 percent for FY18 inclusive of a modest FX tailwind, with EBIT margins stable at 4 percent in line with market consensus. Medium term reported sales guidance of 20 percent-25 percent, Asos said, is unchanged. The company expects EBIT margins to remain at a similar level into the medium term, with operating leverage in payroll and distribution offset by ongoing investment in technology and warehousing infrastructure to support continued growth.
Currently Asos has seven country specific websites. For the first time in four years, the company will add new local foreign sites, up to 13 by the end of FY18, ultimately giving the potential to cover all of 200 markets. Also to further drive global growth, the company plans to launch additional payment methods, new language sites and delivery propositions.
Picture:Facebook/Asos
Kristopher Fraser

|
One of the biggest headline makers throughout the fashion industry over the past several weeks has been the state of Marchesa after co-founder Georgina Chapman's husband Harvey Weinstein has been unveiled as a serial sexual assaulter. The question of whether the Weinstein scandal will affect the Marchesa brand .
Chapman has decided to leave Weinstein in the wake of this scandal, but she's not the only one jumping ship. The New York Post has reported that most of the staff at Marchesa is attempting to seek employment elsewhere.
Marchesa was known as a tough place, as Weinstein was allegedly notorious for being verbally abusive to Marchesa staffers.
Marchesa initially rose to fame thanks to Weinstein's powerful and influential Hollywood connections, as well as him requiring women who starred in his movies to wear Marchesa at least once on the red carpet.
Now, with Weinstein's name tainting Marchesa's reputation, even after Chapman decided to leave him, things are looking less than stellar for the brand. Helzberg Diamonds has cancelled their collaboration with the brand, and many soon-to-be brides are turning their back on the idea of wearing a Marchesa gown as well.
Chapman and Marchesa co-founder Keren Craig decided to cancel their press preview last week. Aside from Helzberg, no other retailers have announced whether or not they will drop Marchesa. The brand declined any requests for comment.
FashionUnited will continue to monitor this story as it develops.
Sara Ehlers

|
Global provider of comfort solutions from textiles and yarns PrimaLoft just announced a new management change. The company just added a new group of investors led by private equity firm Victor Capital and Allstate Corporation.
These new additions will help Primaloft's management and investments in its company. Financial details of the transaction were not publicly disclosed. In the past, president and chief executive officer of PrimaLoft Mike Joyce stated that the the company has worked with many outdoor, fashion, and home textile manufacturers. Moving forward with these partnerships, the company can work towards more technology-driven innovations as well as growing its market presence. The deal will help develop the high-consumer brand move forward and continue its successes.
Primaloft currently is a provider for wellness products used by international top brands of outdoor and fashion industry. The company serves as a benchmark for comfort solutions in all weather situations currently. Through its production of sustainable textiles, Primaloft serves as a leader in research and development of comfort and high-performance products. With its new transaction, the company can help further invest its quality of product as well as moving forward as a business.
Angela Gonzalez-Rodriguez

|
Saint, an established Australian motorcycle clothing label, business Saint has broken into the U.S. market with its pioneering bike jeans, a stretch version of the single-layer jeans, which eliminates the need for a secondary kevlar layer.
The lighter and more flexible jeans come in at 499 dollars a pair and are the flagship product for the Aussi brand's "Unbreakable" motif.
Created in 2014 by Mike Lelliott and 2XU founder Aidan Clarke, Saint now gets 60 percent of its business in the U.S. where he sells through 25 stockists.
As reported by Australian paper the 'Herald Sun', Clarke said that with more than 8 million motorcycles in the U.S., the potential market was enormous.
Now with a silent partner and another partner, Xavier Unkovich, on board, Saint had a turnover of 2 million dollars last financial year and came close to breaking even. Looking ahead, Clarke said recent sales growth indicated turnover could at least double this year.
Online sales still make for the bulk of Saint's business. The brand is closely following the increasing number of female riders, as women are a growing market for them, representing 10 percent to 15 percent of sales now.
Angela Gonzalez-Rodriguez

|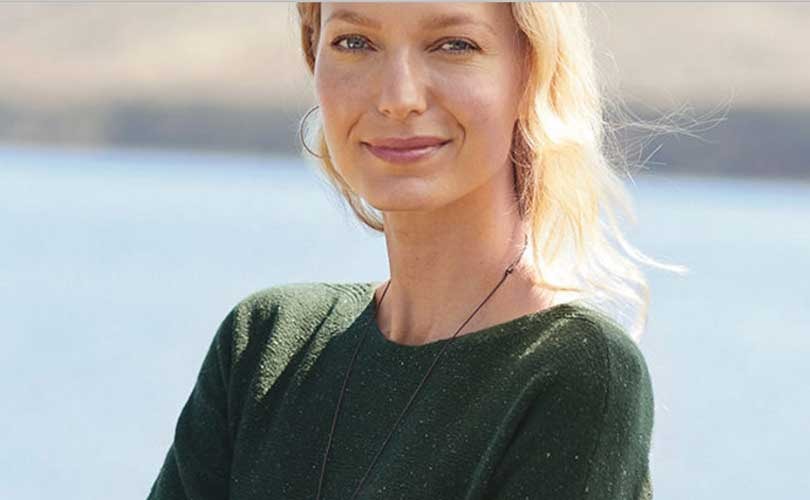 ANALYSISShares of J. Jill Inc lost half their value on Thursday, after the U.S. womenswear chain slashed its third-quarter profit forecast due to a slowdown in traffic to its stores.
"We see the miss as largely explainable, and believe the company is sufficiently nimble to address the missteps in short order," Jefferies analyst Randal Konik said, adding that the ongoing issues were expected to reflect on the company's performance through October.
Analysts cited by Reuters said the company's problems were compounded by the overall slowdown in traffic to apparel stores due to unseasonably warm weather.
J.Jill shares hit record low since IPO
As a result, the Massachusetts-based J. Jill saw its shares sink to a record low of 4.85 dollars, well below its March IPO price of 13 dollars. The main reason for this major low seems to lie in the company's forecast drop in quarterly same-store sales.
Meanwhile, analysts at Deutsche Bank slashed its price target on the stock by 5 dollars to 11 dollars, while Jefferies cut its target to 13 dollars from 16 dollars. Five out of nine brokerages following the stock recommend to 'hold' onto the shares, while the remaining four rate the stock 'buy' or higher. Their median price target is 9 dollars.
The company went public in March amid a tough environment for apparel retailers, several of which have gone out of business in the last couple of years as they struggle to cope with changing consumer tastes and growing pressure from Amazon.com Inc and other online retailers.
Image:J.Jill Web
Danielle Wightman-Stone

|
IN DEPTH Italian fashion house Gucci is to go fur-free from next year and will be auctioning off all of its remaining animal fur items, the label's president and chief executive Marco Bizzarri announced at the 2017 Kering Talk at the London College of Fashion.
Gucci joins a host of the luxury fashion labels and retailers including Armani, Hugo Boss, Yoox Net-a-Porter, Ralph Lauren, and Stella McCartney, which is also owned by luxury conglomerate Kering, and will become part of the international Fur Free Retailer Program, an initiative from the Fur Free Alliance, an international group of more than 40 organisations that campaigns on animal welfare and promotes alternatives to fur in the fashion industry.
"Sustainability is a big issue in a corporation, especially in fashion. We are not perfect, but we are doing our best to improve what we are doing," said Bizzarri. "Sustainability to me is to make a company like Gucci, sustainable or recyclable, as well to create an environment for everyone to live well, to earn a proper salary."
Bizzarri added: "Today the world is changing so fast, it's not even an option not to change."
One of the big announcements that came from the Kering Talk was the fact that Gucci will become fur-free with its spring-summer 2018 collection, a move that came about thanks to Gucci's creative director, Alessandro Michele, who was appointed in 2015, said Bizzarri, who he expressed has "a shared belief in the importance of the same values".
Bizzarri added: "Being socially responsible is one of Gucci's core values, and we will continue to strive to do better for the environment and animals. With the help of Humane Society International and LAV, Gucci is excited to take this next step and hopes it will help inspire innovation and raise awareness, changing the luxury fashion industry for the better."
Commenting on the news, Kitty Block, president of Humane Society International, said: "Gucci going fur-free is a huge game-changer. For this powerhouse to end the use of fur because of the cruelty involved will have a huge ripple effect throughout the world of fashion.
"A staggering one hundred million animals a year still suffer for the fur industry, but that can only be sustained for as long as designers continue to use fur and consumers purchase it. So we commend Gucci's compassionate decision, and for helping to ensure that the future of fashion is fur-free."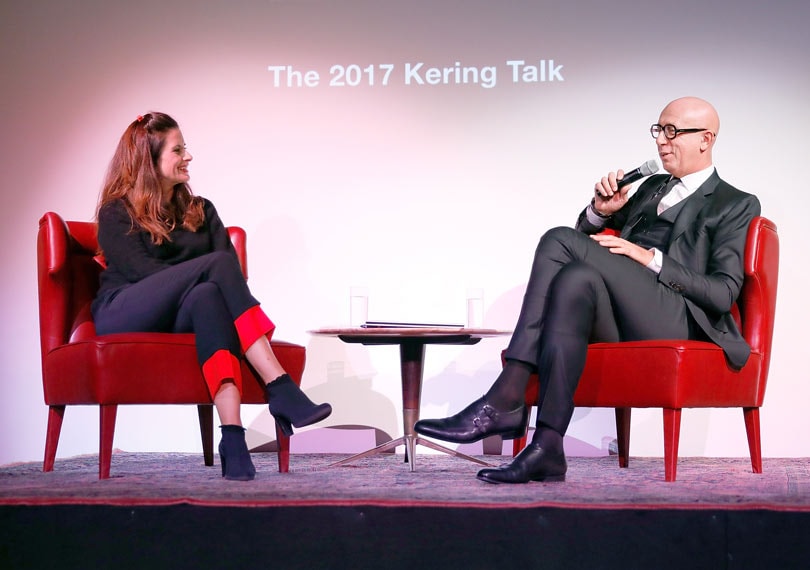 Gucci to go fur-free from spring/summer 2018
Gucci's fur-free policy will include mink, coyote, raccoon dog, fox, rabbit, and karakul (otherwise known as Swakara, Persian lamb or astrakhan) and all others species specially bred or caught for fur. The Italian fashion label will instead replace its fur products with pieces made of faux-fur, wool and new fabric innovations.
As part of the change, the fashion house's remaining animal fur items will be sold at auction, with the proceeds going to the animal rights organisations Humane Society International and LAV.
Joh Vinding, chairman of Fur Free Alliance, added: "Gucci's new fur free policy marks a game-changer for the whole luxury fashion industry to follow. Gucci is taking a bold stand for animals, showing the world that the future of fashion is fur-free."
PETA, which has long been critical of Gucci's use of fur in its collections, released a statement from president Ingrid Newkirk stating: "After more than 20 years of PETA protests against Gucci's kangaroo-fur loafers and seal-fur boots, Gucci has finally pledged to join Armani, Ralph Lauren, and Stella McCartney in the ranks of fur-free fashion houses.
"The writing was on the wall: Today's shoppers don't want to wear the skins of animals who were caged, then electrocuted or bludgeoned to death. Until all animal skins and coats are finally off the racks of clothing stores worldwide, PETA will keep up the pressure on the clothing and fashion industry."
Gucci commits to female empowerment with Unicef donation
The move is part of the luxury brand's wider 10-year 'Culture of Purpose' sustainability plan, which is focused on three major pillars: environment, humanity, which focuses on the welfare of its employees through gender equality, diversity, and inclusion, and 'new models', an incubator that will promote innovation within the company.
The approach, Bizzarri explained is making "sustainability an intricate part" of the Gucci business.
In addition, the fashion house also confirmed that it is to donate 1 million euros as a founding partner of Unicef's Girls Empowerment Initiative to fund teenage education and health drives. The moves comes as Bizzarri added that over 60 percent of Gucci's employees are women and that gender diversity was a priority for the luxury label.
Images: courtesy of Kering