Business
DPA

|
Shares of Industria de Diseño Textil SA or Inditex were gaining around 4 percent in the morning trading in Spain after the fashion retailer reported Wednesday higher profit and sales in the nine-month period. Regarding the fourth-quarter 2017 trading, the company noted that online and offline store sales increased 13 percent in local currency terms between November 1 and December 11.
For the nine months, net profit of 2.34 billion euros increased 6 percent from last year's 2.20 billion euros. Earnings before interest and tax or EBIT was 2.99 billion euros, up 6 percent, and EBITDA, a key earnings metric, also grew 6 percent to 3.82 billion euros. Gross profit grew 9 percent year-over-year to 10.32 billion euros, while gross margin fell to 57.4 percent from 57.9 percent a year ago. From February 1 to October 31, net sales rose 10 percent to 17.96 billion euros from 16.40 billion euros last year. The company said it achieved a strong operating performance in the period, and made further progress on the global roll-out of its fully integrated store and online model.
Chairman and CEO Pablo Isla said the company continues to develop its integrated offline-online platform, rolling out same-day delivery in six cities and next-day delivery in six markets, including Spain, France, the UK and China. Inditex reported that its store count reached 7,504 with a footprint in 94 markets, having opened its first stores in Belarus in the third quarter. The retail brands opened new stores in 52 different markets during the reporting period, including in the US, Vietnam, China and Turkey. The firm's online presence reached 45 markets, following the launch of www.zara. com in India. Bershka's online platform also went live in the US. In Spain, Inditex shares were trading at 31.94 euros, up 3.84 percent. (dpa)
Kristopher Fraser

|
The online economy is growing, and not just in the United States. South Asia is all about the e-commerce train, and the proof is in the pudding. Business of Fashion has reported that South Asia's internet economy, will reach 50 billion dollars this year. This puts it on trajectory to grow fourfold by 2025.
A large portion of Southeast Asia's economic growth was due to startup businesses developing there. As reported by Business of Fashion, of the 12 billion dollars of capital invested in Southeast Asian internet companies since 2016, 9 billion of those dollars were raised by startups with more than 1 billion dollar valuations.
The increase in the number of smartphone users has contributed to this growth. Southeast Asia is also expected to have 330 million internet users by the end of the year.
According to an article by Tech Crunch, Southeast Asia is now the world's largest region for internet users. Although online travel is still the largest segment for spending, but e-commerce and ride-sharing saw the highest growth this year.
According to a report by Tech Crunch, E-commerce, not including second-hand/consumer-to-consumer sales, grew at a compound annual rate of 41 percent to cross 10 billion dollars for the first time in 2017.
Southeast Asia has become the major global economy to watch, and international investors should take notice.
Danielle Wightman-Stone

|
Shopping centre giant Westfield, which has two centres in London, is being acquired by Paris-based Unibail-Rodamco to create the "world's premier developer and operator of flagship shopping destinations" in a 24.7 billion dollar deal.
The deal, which has been unanimously recommended by Westfield's board of directors and Unibail-Rodamco's supervisory board, will see the creation of a global property leader worth 72.2 billion dollars, strategically positioning its combined shopping centres in 27 of the world's most attractive retail markets and cities including in the UK, Australia, France, Spain and the United States.
France's Unibail will pay shareholders in Australia's Westfield Corporation, which owns 35 shopping centres in the United States, including in New York and Los Angeles, and in the UK at London's White City and Stratford, 7.55 cents a share at a 17.8 percent premium.
Unibail chief executive and chairman of the management board, Christophe Cuvillier said: "The acquisition of Westfield is a natural extension of Unibail-Rodamco's strategy of concentration, differentiation and innovation.
"It adds a number of new attractive retail markets in London and the wealthiest catchment areas in the United States. It provides a unique platform of superior quality shopping destinations supported by experienced professionals of both Unibail-Rodamco and Westfield."
In a statement, Unibail-Rodamco stated that the acquisition is expected to result in 100 million dollars in cost savings per year across the 104-strong property group, while adding that they are still committed to the "progressive roll-out of the world famous Westfield brand in the Group's flagship shopping destinations".
It also notes that the deal will see the creation of a collection of 56 high quality flagship shopping destinations, representing 84 percent of the GMV, with an average footfall of 15.7 million per annum, such as Westfield London, Westfield Stratford City, Les Quatre Temps, Westfield Century City, Le Forum des Halles, Westfield World Trade Center, La Maquinista, Shopping City Süd, Mall of Scandinavia, Centrum Chodov and Arkadia.
Westfield group to be bought by France's Unibail-Rodamco
Cuviller added: "We believe that this transaction represents a compelling opportunity for both companies to realise benefits not available to each company on a standalone basis, and creates a strong and attractive platform for future growth. We look forward to welcoming Westfield's security holders as shareholders in the new Group and continuing to create significant value for our existing and new shareholders."
Westfield chairman, Frank Lowy, said: "The transaction announced today is the culmination of the strategic journey Westfield has been on since its 2014 restructure. We see this transaction as highly compelling for Westfield's security holders and Unibail-Rodamco's shareholders alike.
"Unibail-Rodamco's track record makes it the natural home for the legacy of Westfield's brand and business. We look forward to seeing Westfield continue to grow as part of the world's premier owner of flagship shopping destinations."
This is the latest consolidation in the shopping centre market, earlier this week Hammerson agreed an all-share takeover of rival Intu in a 3.4 billion pounds deal to create Britain's biggest property company. Its portfolio will include Intu-owned Trafford Centre and Lakeside joining the Bullring in Birmingham under one roof, forming a 21 billion pound shopping centre giant in the UK.
Image: courtesy of Westfield Stratford City
Angela Gonzalez-Rodriguez

|
Private equity advisory firm Apax Partners LLP has raised a technology-focused fund, called Apax Digital, with 1 billion dollars in capital commitments. The fund's first investment has gone towards online retail platform Moda Operandi.
The Anglo-American private equity firm has raised and advised more than 48 billion dollars in assets under management since inception. Normally focusing on the technology and telecommunications, business services, healthcare and consumer goods sectors, Apax' new fund, Apax Digital, will make minority and buyout investments in high-growth tech and consumer internet businesses globally.
As explained by the company in a corporate release, Apax Digital fund, advised by a dedicated team of 14 investment professionals based in New York and London, will target individual equity investments between 30 million and 150 million dollars. The capital raise of Apax Digital follows the close of Apax IX in December 2016 with 9 billion dollars in capital commitments.
Apax Digital's first investment has been awarded to Moda Operandi Inc. The online luxury retailer has secured 165 million dollars in growth capital from the newly created fund.
Apax Digital's investment in Moda Operandi will be used to help "fuel continued international growth and increased development across several key business verticals."
Additionally, the funding will help accelerate improvements in mobile tech, customer acquisition programs, and marketing strategies. Prior to this round of funding, New York-based Moda Operandi has raised more than 132 million dollars since inception in February 2011.
Angela Gonzalez-Rodriguez

|
Nautica will be extending its marketing partnership with PGA Tour player Cameron Tringale for an additional year. This will mark the sixth year for the partnership.
To add to its bid for the golf apparel and lifestyle segment, the brand owned by VF Sportswear, a subsidiary of VF Corporation, is introducing 24-year-old PGA Tour player Michael Kim as a golf brand ambassador.
Born in Seoul, South Korea, Kim moved to the United States when he was 7 and later played for the University of California, Berkeley where in 2013 he became the first Cal men's golfer to ever win national player of the year honours when he received both the Jack Nicklaus Award & the Haskins Award. He is known as one of the dominant young players in the game.
As part of the agreement, both golfers Tringale and Kim will wear Nautica apparel on course, focusing on the brand's NavTech performance golf shirts and pants, as well as complementary sweaters, belts and outerwear.
"We are excited to continue our partnership with Cameron Tringale and add Michael Kim to the team for 2018," said Brendan Sullivan, President of Nautica. "Both athletes are great representatives for the Nautica brand, and all that it stands for: an active lifestyle, youthful energy, and strong determination."
In addition to wearing the brand's apparel, Tringale and Kim will both be featured in Nautica digital advertising campaigns along with in-store POS, and will be showcased throughout the Nautica website and social media channels.
Danielle Wightman-Stone

|
Students of Design (SODS) has launched a crowdfunding campaign to raise 300,000 pounds to fuel its global expansion.
The Students of Design platform, which offers emerging independent designers "who wish to champion continuity and sustainability in their work" a marketplace to sell their collections. Each designer creates a brand profile from anywhere in the work and then they can market their items and complete sales transactions easily using the SODS integrated logistic set-up.
Founded by Lindy Staadecker, Anoesjcka Gianotti and Michelle Parekh, the marketplace has 50 designers worldwide using the platform, and a recent collaboration with Vivienne Westwood giving the brand more visibility and credibility. In addition, The University of the Arts, New Designers, Prince's Trust and Google Campus London have already partnered with SODs to further its mission.
The marketplace has shown continued sales growth through the first year, with online retail sales predicted to double to 4.4 trillion dollars by 2021, the brand states, and that's why it is looking to raise 300,000 pounds to grow the platform.
Students of Design has stated it will use 75 percent of the funds to grow its existing marketplace, while 25 percent will be used on its digital trade development, which it hopes will change the trade show landscape, by allowing users to 'attend' trade shows online using the latest virtual reality technology, saving brands valuable time and budget.
"Students of Design is an innovative marketplace that expertly caters for the new wave of independent artists, homeware and fashion designers who put sustainability at the forefront of their work. These designers can now offer a premium service, user experience and delivery method directly to customers which allows them to independently compete with large established companies with virtually no setup cost," the company states. "The current retail system is failing emerging designers due to the small margins, while trade shows see dwindling footfall. We provoke a new way to think about online consumerism by opening doors to an entirely new global buying audience and by bringing significant change to the conception of trade show formats."
The Crowdfunding campaign is about to launch on Crowdcube but potential investors can register their interest on the SODS dedicated investment page - sodscrowdfunding.com, with no obligation before the campaign goes live.
Image: courtesy of The Students of Design - co-founders Michelle Parekh, Anoesjcka Gianotti and Lindy Staadecker
Sara Ehlers

|
Heritage Global Patents and Trademarks (HGPT), global brokerage and advisory service, just announced that it will manage an auction for British Wellington Rain Boot Company. The sale will include all assets of the company including its trademarks and intellectual property.
The sale will also include all product formulations, manufacturing contracts, retail distribution and more according to a statement released by the company. The brand, which has been renown for its rain boots, has merged fashion along with utilitarian use. By capitalizing on the rain boot market, the company holds value for its status as a footwear company.
Interested buyers can find out more information on the company's assets through a non-disclosure agreement (NDA) available on the Heritage Global website. As the company is now accepting offers for the Wellington Rain Boot company, it seems the footwear brand will be acquired soon.
Danielle Wightman-Stone

|
Moda Operandi, the first online luxury retailer to provide consumers access to full collections straight from the runway, has secured 165 million dollars in growth capital to "fuel continued international growth and increased development across several key business verticals".
The new round of investment was led by billionaire entrepreneur Adrian Cheng, who has acquired a "significant stake" in Moda Operandi through his C Ventures and K11 investment vehicles, whose family businesses include Chow Tai Fook Jewellery, New World Development, Rosewood Hotel and Resorts and K11.
Apax Digital, a new growth capital fund advised by the global private equity firm Apax Partners, also took part in the 165 million dollar investment. They join existing investors including New Enterprise Associates, LVMH and Fidelity, among others.
The significant boost in funding will be used to continue the company's global expansion, with a particular focus on the Asian and Middle Eastern markets, as since their last round of funding in 2014, the business has more than tripled in size, with international markets now representing more than one-third of total demand led by Asia and the Middle East.
Expansion of Moda Operandi's showroom concept and stylist program will aid in continued international growth as the "high-touch client services complement the high-tech business approach," said the company.
Billionaire entrepreneur Adrian Cheng invests in Moda Operandi
Moda Operandi's chief executive officer, Deborah Nicodemus, said: "Moda Operandi is the only multi brand e-commerce site where the shopping experience is dedicated to elevating the brand's digital presence. Our continued success demonstrates the strength of our business, and gives new and existing investors the confidence in our capacity to pursue tremendous global growth.
"We look forward to continuing the momentum behind the transformation of the online luxury experience for our global clients. Through the leadership of the Moda team, and the bench strength of our existing investors coupled with the new partnership of Adrian Cheng and Apax Digital, we are defining the future of luxury e-commerce."
Additionally, the new funds will be used for key categories expansion and the launch of new businesses, to support its strategies across marketing, customer acquisition initiatives, to further develop the existing brand portfolio and expand new brand relationships, as well as to "accelerate improvements" in mobile technology, advancements in customisation, personalisation, and internationalisation, the company added.
"I am hugely excited about Moda Operandi as an investment prospect. Its business model is cutting edge, with a curated customer experience that has a lot of potential within C Ventures' and K11 Investment's networks of brands, which collides the worlds of fashion, creative media and art to service millennial consumer interests in the global market. I'm looking forward to seeing how the brand grows and taps into this big business opportunity"
Dan O'Keefe, managing partner of the Apax Digital team, added: "We are delighted to partner with Moda to help accelerate this next phase of its growth. We have been so impressed with the power of Moda's brand and its positioning in the luxury market. Our partnership further confirms our commitment to growth within the luxury digital arena. We believe our unique operating capabilities and global platform can help drive the business even further and accelerate its international presence."
Moda Operandi launched in February 2011 as the only place to preorder looks straight from the unedited runway collections of the world's top designers months before they are available anywhere else. It offers a bespoke shopping experience that includes hand-selected recommendations from personal stylists, and access to haute couture. To date, it has raised over 132 million dollars in funding ahead of this round.
Image: Moda Operandi website
Vivian Hendriksz

|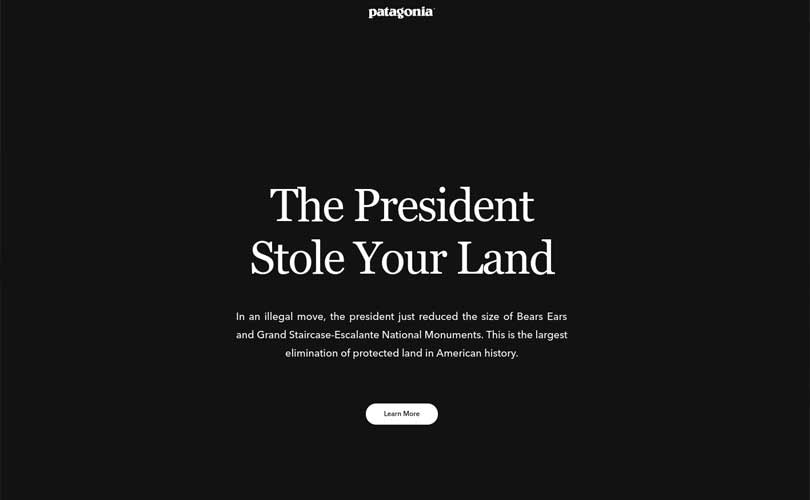 London - Anyone paying a visit to Patagonia's website will be greeted with a chilling message: 'The President Stole Your Land.' The lifestyle brand has threaten to take legal action against President Donald Trump and his adminstration after plans to drastically reduce the size of two national monuments in the United States were announced.
Patagonia, together with other groups fighting to protect public lands in the United States, plans to sue President Trump over the "illegal move." On Monday, Trump's administration announced that the Bears Ears National Monument in Utah will be decreased by 85 percent, in addition to reducing The Grand Staircase National Monument in Nevada by 50 percent. "This is the largest elimination of protected land in American history," said Patagonia in a statement. Both the Bears Ears and Grand Staircase-Escalante sit on millions of arces of land.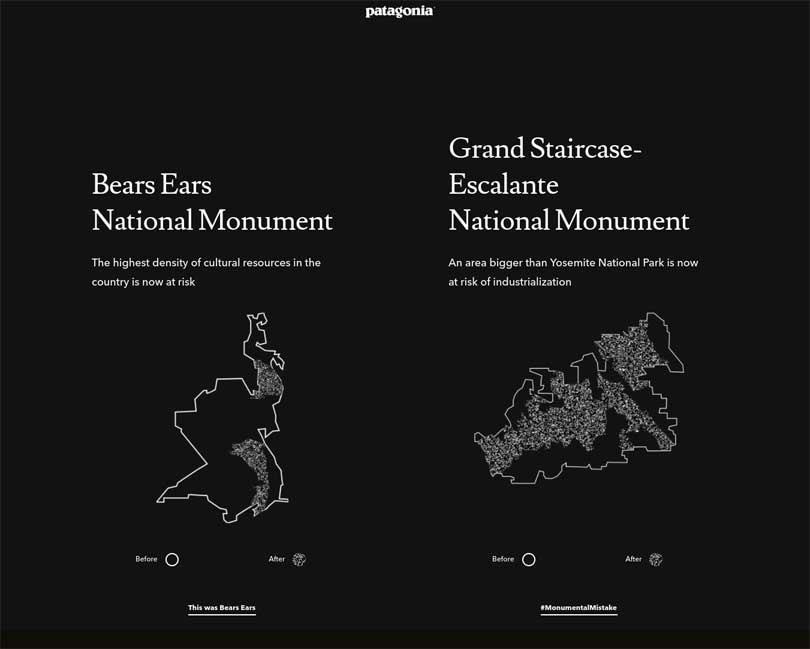 Patagonia to take a stand against President Trump to protect public lands
The US President stated that the Antiquities Act does not give the federal government unlimited power to hold millions of acres of land and water, and that it is time to end "this abusive practice" by giving the land back to the people. In addition to vastly cutting down the size of the national monument, Trump's administration also aims to introduce new land management policies which would lead the way for commercial fishing and grazing to take place on federal lands.
Following the announcement a number of environmental campaigners and brands came together to stand against Trump Administration's decision. "Americans have overwhelmingly spoken out against the Trump administration's unprecedented attempt to shut down our national monuments," said Patagonia president and chief executive officer Rose Marcario in a statement. "The administration's unlawful actions betray our shared responsibility to protect iconic places for future generations and represents the largest elimination of protected land in American history. We've fought to protect these places since we were founded and now we'll continue that fight in the courts."
Patagonia has fought to protect public lands for close to 30 years, and is "proud" to have played a role in the establishment of several national monuments, including Bears Ears National Monument in Utah and Basin and Range and Gold Butte National Monuments in Nevada. The US outdoor company argued that downsizing any national monument "could have a devastating impact on local economies and the multi billion-dollar outdoor recreation economy that America's public lands and waterways support," while underlining the fact that outdoor recreation is among America's largest industries, contributing 887 billion US dollars in annual spend with a collective workforce of 7.6 million jobs - "far outpacing the jobs and spending generated by the oil and gas industry."
The US outdoor brand, together with The North Face and other outdoor labels, previously stood against an executive order from President Trump in April. At the time Trump signed an order which led to the Interior Department's review of lands receiving designations from 1996 and onwards, which totalled more than 100,000 arces on the basis of a number of factor, including the lands were granted federal resources to maintain them and how the act defines such designations.
Photo: Patagonia, website
Danielle Wightman-Stone

|
A new report from European payments company Trustly has revealed that shoppers across Europe are helping to turn the UK into the "world's third largest market for e-commerce trade", and for some EU countries the UK is even surpassing USA as the second largest market meaning that the UK is more important to Europe for online trade than vice versa.
Consumers from Germany are some of the most eager online shoppers for UK goods and services, with 32 percent of Germans surveyed saying they have bought goods online from the UK in the past 12 months, making the UK the second largest destination for online shopping in Germany, after China.
Germany is followed by Italy (32 percent) and Sweden (30 percent) as buying more from the UK than anywhere else, except China, and the UK is now the third largest market for e-commerce trade in both Spain and the Netherlands, quickly gaining ground on Germany in terms of the value of e-transactions.
Consumers from all but one of the Continental European countries surveyed said they bought goods more frequently from the UK than they did from the USA. The only exception was France, where online shoppers favourite market was China (37 percent), followed by Germany (30 percent) and the USA (20 percent), with the UK trailing in fourth with 19 percent of online shoppers buying from the UK.
Trustly's 'State of Online Shopping' report, which surveys online consumer habits across Europe, states that the results demonstrates the "strength and pace" of UK e-commerce, adding that British shoppers are far less reliant on other EU countries for online goods, preferring to buy from China and the USA.
European consumers turning UK into world's third largest market for e-commerce trade
Nearly one in four, 38 percent of UK shoppers have bought something online from another country in the past 12 months, reveals the report, of those, 45 percent purchased goods from China, 36 percent from the USA and 16 percent from Germany. Other online transactions were made in France (10 percent) and Spain (6 percent).
However, most people said they would do more cross-border shopping if they didn't have to give out their card numbers to unknown foreign merchants (55 percent) or if they could get refunds quicker and easier (50 percent), with more than half (52 percent) said the exchange rate was an issue when buying abroad.
Oscar Berglund, chief executive of Trustly, a Swedish-based online banking payment provider, said: "The UK continues to be an important market for European consumers. It is an established e-commerce nation and our report shows how UK cross-border online commerce export is significant with continental Europe.
"The strong performance of UK retailers among EU shoppers reflects the highly developed online market that the UK has created, and the growth of this sector can only be good news for the UK, particularly post-Brexit."
The research was conducted in collaboration with Nepa, a leading research bureau and the first partner of Facebook operating outside of the US.
Image: courtesy of Pexels